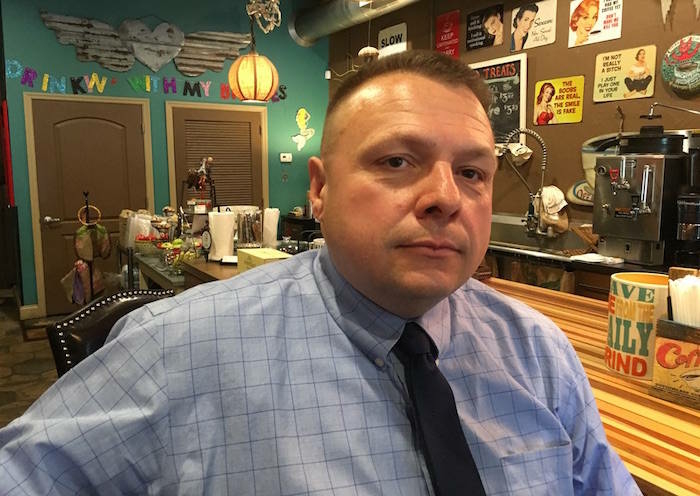 Puente is a three-time Pulitzer Prize nominee.
One of the Tampa Bay Times' most seasoned and decorated journalists is headed to California.
Mark Puente is leaving Florida's largest newspaper for a position at the Los Angeles Times where he will cover the Los Angeles Police Department.
In a Wednesday Facebook post, Puente said the new position was his "dream job" and that "the allure of a dream beat tilted the scale."
"This decision couldn't happen without Laura's support. Fortunately, she is an amazing worker at a global firm based here. Her job is headed to Los Angeles. She'll work remotely and frequently visit St. Pete. I'll tag along sometimes," he wrote.
"To be clear: I'm not unhappy at the Tampa Bay Times. I'm thankful that CEO Paul Tash, executive editors Neil Brown and Mark Katches, editors Jennifer Orsi, Graham Brink, Amy Hollyfield, Jamal Thalji, Bill Varian and Mike Van Sickler allowed me to chase stories in a way I love: shoe-leather reporting, knocking on doors and chasing all the thread I could find."
Continued Puente, "The move to Los Angeles, however, takes me back to my roots. I covered the Cleveland Division of Police from 2007 through 2010 and later tussled with the Baltimore Police Department. As we know, cops are tough nuts to crack. It's a challenge to squeeze them for information. My best work in Cleveland, which turned a sheriff into a felon, came after good cops grew tired of a corrupt sheriff and his cronies. With fair reporting, trust follows."
"I'm eager to play again in that sandbox." he said.
A three-time individual Pulitzer Prize nominee, Puente has made his mark as an investigative journalist. 
Puente most recently uncovered problems within the CareerSource Pinellas and CareerSource Tampa Bay job centers.
The investigation, as described by the Times, "revealed how the local offices took credit for finding jobs for thousands of people who never sought help."
The coverage prompted ousters of board members and employees and resulted in state and federal investigations.
In a memo to Times staff announcing Puente's departure, senior editor Amy Hollyfield also highlighted Puente's work "unearthing how Florida's only independent construction board failed to protect residents from shoddy and illegal contractors" and how his inquiries prompted the resignation of Visit St. Pete/Clearwater CEO David Downing.
"That's not to mention several other hard-hitting stories about government misconduct and questionable spending of taxpayer dollars," writes Hollyfield.
Puente began writing for the Times after more than five years at The Plain Dealer in Ohio. He worked a stint at The Baltimore Sun from 2014 to 2016, when the Sun, along with Puente, were Pulitzer finalists in the Breaking News category.
Last year, then Pinellas County Commission candidate Amy Kedron called the police on Puente after he tried to ask her questions outside of a political fundraiser.
Tampa Bay Times political editor Adam Smith recently left the Tampa Bay Times to work in public relations. 
A portion of Puente's online Times bio reads: "When I am not talking to tipsters, reading public records or revealing government waste, I spend free time with my bride making homemade sausage and smoking meat on my Big Green Egg—called Precious."
Feb. 15 is Puente's last day at the Times.