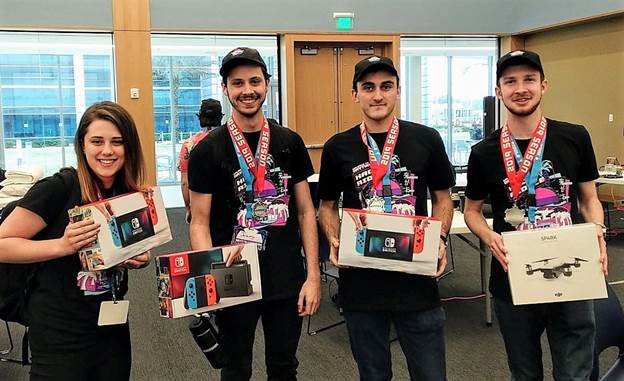 The HackRiddle competition is a 24-hour hackathon held at the prestigious school every year.
Four Florida Polytechnic University students have become the first to take top honors at a well-known "hackathon" at Embry-Riddle Aeronautical University.
HackRiddle is an annual 24-hour competition held at the prestigious aviation and aerospace school.
The school announced this week that the Florida Poly team took first place out of 28 teams, with more than 200 participating college students. Another Florida Poly team won the Best Domain award.
Senior Vamsi Hanumanthu and junior Delaney Jester won the Best Domain award. Their project aimed at creating a tool to expedite identifying forensics details for digital forensic law enforcement.
The students on the winning team included senior Alison Hart, senior Caleb Long, junior Greg Willard, and senior Jeremy Eudy. The goal of their project was to use computer vision and facial recognition to sign people in and take attendance.
This experience enabled these computers science students to not only put their skills and imagination to the test for long hours and no sleep but also to work successfully as a team looking for solutions to challenging problems. The final product, they say, is always rewarding.
"I always enjoy walking around at the end of the hackathons and seeing all of the projects that people manage to come up with, design, and implement in the limited time that we all have," Long said. "It's impressive."
In past years, Florida Poly students have participated in HackRiddle, but this is the first time they took home the big awards. Winners walked away with Nintendo switches, a DJI Spark drone, and Raspberry Pi kits. However, they say the best reward they received was the motivation to continue challenging themselves.
"These competitions are an open space for creativity and innovation, with no limits on what you can build," said Hart. "I always leave a hackathon inspired by my peers, with a renewed excitement to bring new ideas into the world."
As the state's youngest public university, Florida Poly is rapidly making a name for itself as a go-to tech school. Most of the winning students this year were from Florida, but most were from outside the Tampa Bay area; a few were from out-of-state.