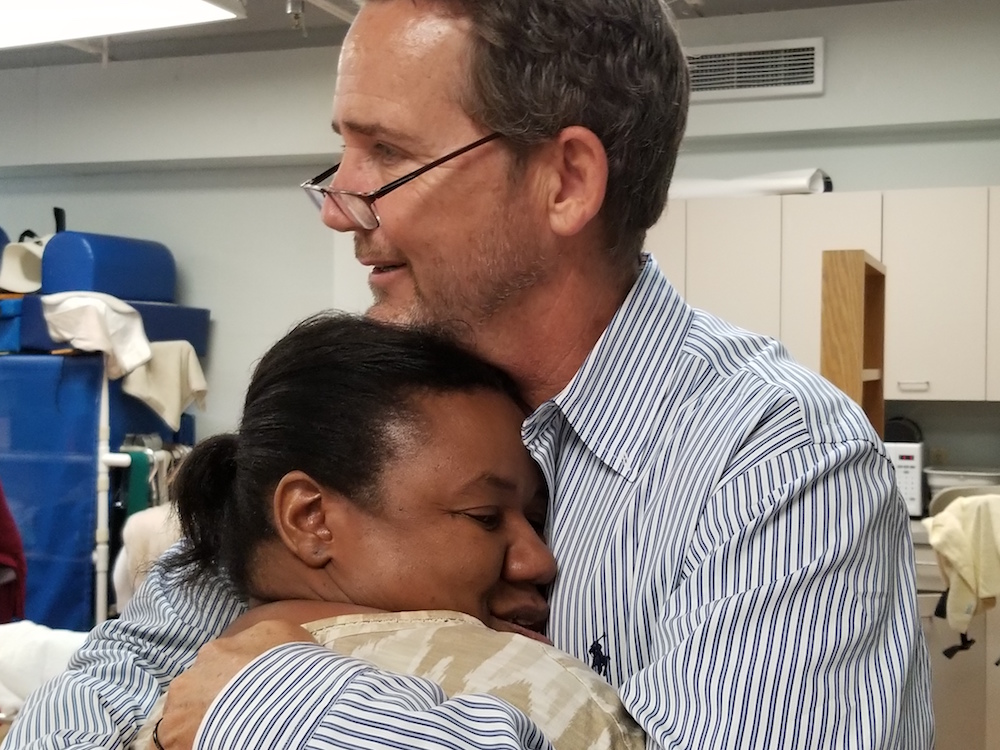 Leaders say every dollar invested saves $17 in future costs.
Patty greets guests only with her eyes and expression. Deaf and mute since childhood but never trained in sign language, she remains limited in communication well into adulthood.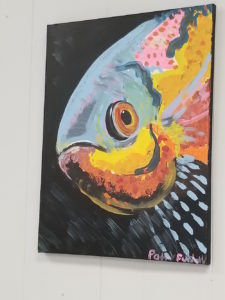 But on a wall at Easter Seals Southwest Florida, a picture hangs with her name painted at the bottom. A close-up of a fish, a betta with eyes bulging and iridescent color aglow, looks like the work of a professional.
Indeed, she and her colleagues have sold a substantial amount of art painted in the facility's studio. A recent State of the Arts Gallery event featuring the work of artists at Easter Seals helped raise $7,000 through the sale of 55 paintings.
Patty embodies the huge progress Easter Seals can deliver. A client who just a couple of years ago suffered from depression, she now not only has a joyous outlet but can contribute to society despite her communication challenges.
It's a sign how even those disadvantaged by physical and mental limitations can still find a place to thrive.
Patty's story and others put a constant grin on the face of George Pfeiffer, vice president of marketing and development for Easter Seals Southwest Florida. "It's just amazing what people can start to do," he said.
And the story for Patty started largely in adulthood. The Sarasota area non-profit strives to reach more people at younger ages each year. Adult patients, some of whom have partaken of Easter Seals services for decades, occupy just a small part of a campus.
Ages of care
In other rooms, classes full of five- and six-year-olds overcome communication obstacles of their own presented by autism and other conditions. A growing elementary school operation cares for these children in the same classrooms as normal-abled students.
A high school provides academic and jobs training while regularly connecting students with employers. And a physical therapy room in the back pushes otherwise sedentary people to lift out of chairs and step forward on their own two feet.
But all of this takes resources. And while Pfeiffer wants to turn his attention each day toward the successes of individuals young and grown at the facility, he has his eyes trained now on Tallahassee.

More than $2 million in appropriations requests for Easter Seals Southwest Florida remain pending with the Florida Legislature this year. But leaders hope lawmakers see funding as an easy decision.
Minimal investment, maximum impact
Tom Waters, president and CEO for Easter Seals Southwest Florida, said money spent now by the state of Florida will direct to direct savings down the line.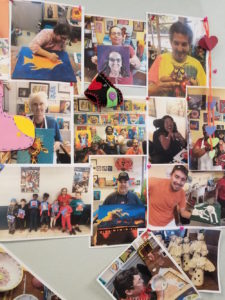 "Every dollar spent will save $17 in future costs," he said. "It takes a minimal investment to have a maximum impact."
State Reps. Will Robinson and Tommy Gregory, both Republican freshmen, bear the responsibility to keep these properly programs funded and thriving.
Having seen the work done at Easter Seals, Gregory feels good about the chances of success in Tallahassee. The Sarasota Republican notes the Easter Seals brand carries weight around the state of Florida. Nobody questions the good work accomplished by chapters everywhere.
"Long-term, it's not just a socially responsible, morally ethical thing to do," he said. "It's also fiscally responsible."
The individuals empowered by Easter Seals programs, without job training and artistic outlets, could end up a burden of the state.
"Easter Seals is able to take people who would otherwise be a high demand, through no fault of their own, on tax dollars," he said. "In many cases, it turns these people to become a net positive."
Gregory has a bill filed (HB 2409) seeking $743,000 in state funding for vocational training and adult education at Easter Seals.
Robinson, a Bradenton Republican, meanwhile filed legislation (HB 2083) pursuing $1.7 million in appropriations for early childhood therapeutic autism at Easter Seals Southwest Florida.
"It's not only great for children who have been dealt a bad hand," he said. "It's spending less money down the road for special education services. I'm a big believer in the program."
Both individuals toured the facilities before winning office in November, and they'd like to deliver aid before the end of their first legislative session.
It helps that Easter Seals boasts tons of private supporters and community partners. The group doesn't rely entirely on government funding to stay open. The money, though, will make a big difference in the lives of Easter Seals clients.
Early intervention
Pfeiffer walks through a special classroom of elementary age children suffering severe autism. While a playground on the other side of school bustles with students on the spectrum sharing toys and crayons with standard students, these kids largely interact just with teachers and one another.
There's a room designed to soothe the senses, a place where if students throw the occasional tantrum they can go calm down by leaning into cushions or gazing at dazzling reflective domes. In the classrooms, teachers encourage dialogue with one another.
Pfeiffer notes a six-year-old boy in the room who a few months ago never said a word . He'd never read a book and struggled with any level of communication. The child will now speak in short words and phrases and picks out his own reading material in class.
Bridging the gap
The school today has about 22 elementary students, but only has classes for pre-school through third grade. There's a separate school for high schoolers, but Pfeiffer hates that children can go through formative years here, then ship out to another elementary school for two years before heading into middle school.
Robinson's bill could change that and allow the opening of fourth and fifth grade classes here.
That will further bridge the work done with the very young and the training provided for older clients.
On the opposite side of campus from the youngsters overcoming obstacles, Tiny Watkins teaches a class to adults with a variety of chronic conditions.
Today's lesson centers on the Biblical story of the Good Samaritan. Watkins said the pupils may just have as much to offer, though, when it comes to helping others.
"Many think people won't do as much because of their disability," Watkins said.. "Oh no. These people will do even more because of their abilities."
She's found on field trips and job training that many of the clients here show anxiousness to contribute and lend a hand to all around. That's helped inspire her to work at Easter Seals for almost 24 years.
"These people have so much to complain about but they never do," she said.
The stories hopefully inspire lawmakers from across Florida to provide that $2.4 million for Easter Seals Southwest Florida. Organizers here feel sincerely its of long-term benefit to the state.
And as the number of young people diagnosed with autism skyrockets—new figures show 1 in 59 children now get diagnosed as on the spectrum—it actually will become imperative for students to go from effective wards of the state to functioning members of society at large.