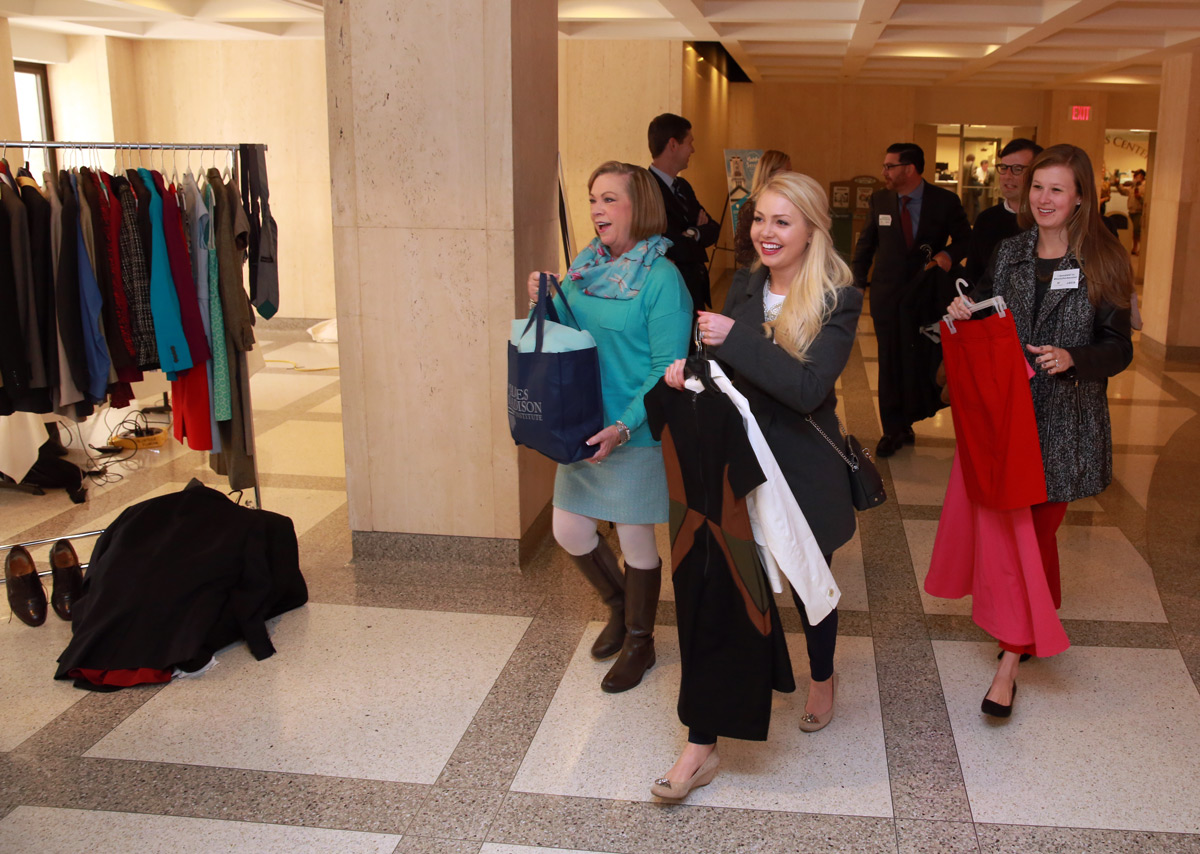 Kiosk opens Thursday in Second Floor Rotunda.
To help Hurricane Michael victims professionals at the Florida Capitol are willing to give them the clothes off their back.
Volunteer Florida and Uber will set up a Suits for Session kiosk Thursday on the Second Floor Rotunda. There, lawmakers, staffers, and anyone else in The Process  can donate professional attire, whether new or gently worn.
"This year more than ever, we are proud to partner with Suits for Session Capitol service project in support of individuals re-entering the workforce after Hurricane Michael," said Kasra Moshkani, head of Uber South U.S.
"Uber and our driver partners make donating easy and convenient for Uber users to support our communities."
It's the fourth year for the annual clothing drive. Volunteer Florida leaders said the decision was made this year to direct all gifts toward the storm-struck region.
Hurricane Michael made landfall in Florida in October.
"Volunteer Florida is especially proud to host Suits for Session this year," said Clay Ingram, Volunteer Florida CEO.
"Through our partnership with Uber, we will help our family, friends and neighbors in the panhandle gain the confidence they need to land good jobs and ultimately get back on their feet."
Suiting Up for Service
Volunteer Florida was established in 1994 as a way to manage national service programs. Since that time, it has become the state's lead agency in mobilizing volunteers before and after disasters.
Suits for Session has become a yearly tradition in the Capitol, with the organization helping supply proper wardrobes for those in need of interview attire.
It's an effort that's built up fans among Tallahassee's top leaders.
House Speaker Jose Oliva went so far this year as to encourage his entire chamber to drop off a donation.
"First impressions are vital to the success of young men and young women entering the workforce as well as those older folks perhaps returning to the workforce," he said.
"I'd encourage the entire House of Representatives to consider donating suits to the cause and wish Volunteer Florida all the best success."
His fellow chamber leader also talked up the value of this particular clothing drive.
"Finding affordable attire for the workplace can be overwhelming for someone who is just starting out, in the midst of a career transition, returning to the workforce, or rebuilding their life after a devastating event like Hurricane Michael," said Senate President Bill Galvano.
"We want job-seekers to have the resources they need to feel confident in both job interviews and in a new work environment. I appreciate Volunteer Florida's commitment to this important effort."
The kiosk, open from 9 a.m. to 5 p.m. Thursday, will collect men's and women's suits, jackets and blazers, shirts and blouses, trousers, dresses, skirts, ties, belts, shoes and handbags.
All items will donated to organizations providing support specifically to those trying to re-enter the workforce in Michael-impacted areas.
For those who cannot make it to the kiosk Thursday, Uber will send Tallahassee area drivers to pick up and deliver donations. To use that service, use the Uber app between 9 a.m. and 4 p.m. and select "GIVE."
Uber will take donations from anywhere in Leon County. Donations must be bagged, and those giving items must bring them out to drivers. Tax receipts can be received from Volunteer Florida afterward.
Gubernatorial Garb?
Expect some of Florida's most powerful politicians to donate their duds as well.
The clothes this year will go to individuals in need of a way back into the workforce in the aftermath of the storm.
One element of Volunteer Florida's involvement in this clothing drive remains access to Florida's leading pols.
So just maybe, someone soon could show up for an interview wearing a sports jacket once worn by Gov. Ron DeSantis or a power suit previously adorned by Attorney General Ashley Moody.
DeSantis and First Lady Casey DeSantis have made several trips to the Panhandle since he took office. The Governor touted obtaining 45 days of full federal funding reimbursement for counties impacted by the storm.
He signaled his own support for this effort.
"I commend Suits for Session's mission to empower and support our fellow Floridians as they seek to re-enter the workforce and rebuild amid ongoing recovery efforts," DeSantis said.
Moody said the concept behind Suits for Session always provides a noble service. This year, it could prove especially valuable to those out of work because of the storm.
"Suits for Session is a great project to help people trying to reenter the workforce, and I am especially grateful that this year's donations will go to those trying to recover following Hurricane Michael," she said.
Chief Financial Office Jimmy Patronis indicated his support for the effort. Patronis, a Panama City pol, knows well the impact of the storm of Florida's Panhandle and Big Bend area. The Cabinet member in the past year has constantly supported recovery efforts and helped individuals dealing with economic hardships because of the storm.
"Suits for Session is an opportunity to connect people with the resources needed to make a good first impression and to empower them on their path to take charge of their economic future," he said.
"Creating a strong and diverse workforce will foster a robust economy which benefits all Floridians."