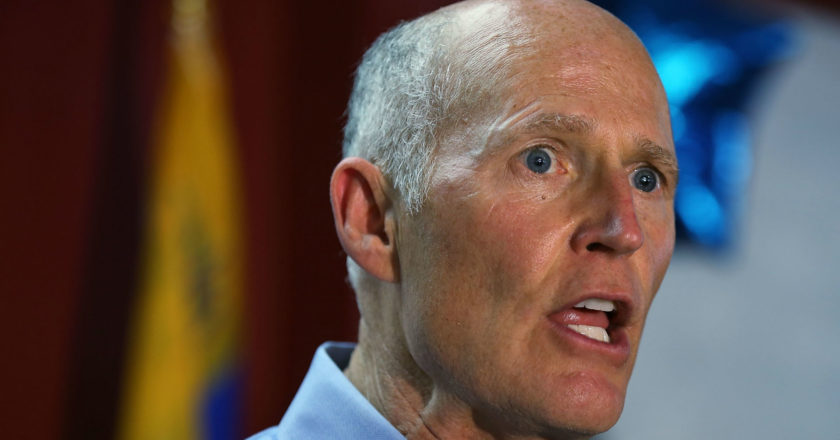 Charges United Kingdom, France, Spain, Germany with hypocrisy.
Republican U.S. Sen. Rick Scott went after the European Union and 17 of its member countries including the United Kingdom, France, Germany, and Spain Tuesday in his crusade to promote the overthrow of the government of Venezuelan dictator Nicolás Maduro and to punish Maduro's allies in Cuba.
On Tuesday Scott released a statement demanding that European countries and the European Union stop supporting Cuba because it supports Maduro.
His call came after he finished his second Latin American trip promoting an overthrow of Maduro in Venezuela, which included a speech at the Concordia Summit in which he declared that those supporting Maduro are "co-conspirators" in his genocide.
Last week Scott called on the United States Navy to prepare for a naval blockade of Cuba to prevent the inflow of oil from Venezuela. The week before he suggested U.S. military intervention in Venezuela.
The countries he called out for supporting Cuba are the United Kingdom, Germany, France, Spain, Austria, Croatia, Czech Republic, Denmark, Estonia, Finland, Latvia, Lithuania, Luxembourg, Netherlands, Poland, Portugal and Sweden. All of them have declared opposition to Maduro and support for Juan Guaidó as the legitimate Venezuelan president. But Scott accused them of hypocrisy because of their trade dealings with Cuba.
There are 28 countries in the European Union. Among those not specifically rebuked by Scott were Greece, Ireland, and Italy.
"Juan Guaidó is the legitimate president of Venezuela, and I'm thankful for the numerous European nations that have recognized his leadership," Scott said in the statement released by his office Tuesday. "However, these are the same European countries that continue to support and do business with the Cuban regime — the most powerful force propping up Maduro as he starves and kills his own people in Venezuela.
"Chavez and Maduro kept the Cuban regime afloat for decades, and now Cuban operators are keeping the Maduro regime in power," Scott continued. "It is time for the international community to recognize that these problems are one and the same. Claiming to support freedom for Venezuela while also supporting Cuba is the height of hypocrisy. I'm calling on these nations to end the hypocrisy and cut off ties with Cuba. As we unite against dictators throughout the world, it is time for all countries to come to the table and act responsibly. I look forward to visiting Europe next month, where I hope to get an update on how the EU plans to support those fighting for freedom."