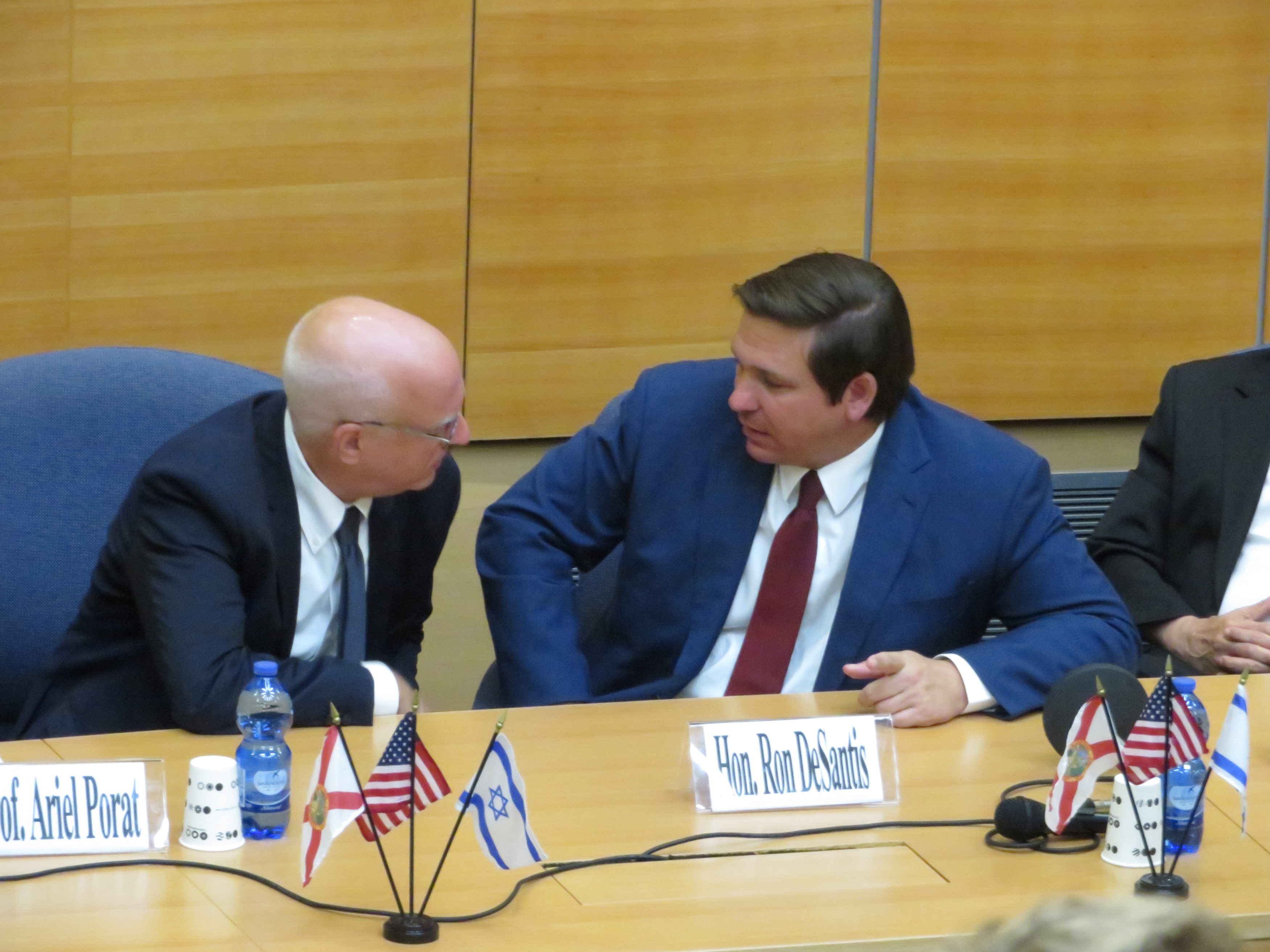 The delegation moves through its second day.
TEL AVIV — Sometimes the political is indeed personal.
During a trip to Tel Aviv University, Jamal Sowell — CEO of Enterprise Florida — took center stage for a few moments, illustrating the emotional backdrop for his agency's investment in the trip.
Speaking to a group of students from Florida, Sowell described himself as a "pro-Israel activist," who came over on a similar trip in 2005 through AIPAC, the American-Israel Public Affairs Committee.
This, said Sowell, allowed him to "expand [his] network, and learn about the relationship between U.S. and Israel."
Sowell spoke briefly, but dynamically, on the subject.
The Enterprise Florida Director is not always a lively quote, but his passion for this issue illustrated one reason this was the DeSantis Administration's first trade mission.
Recent news, meanwhile, is foreboding. Israel launched airstrikes into Syria on Monday evening in response to a shot fired at a military jet.
It is well established that Israel defends its prerogatives in such situations.
"Our position is clear," said Prime Minister Benjamin Netanyahu in the wake of the latest skirmish with Syrian forces.
DeSantis meets with the U.S. Ambassador to Israel Tuesday (a closed press event), then he'll be at the American Embassy in Jerusalem Wednesday for a Cabinet meeting, and — presumably — will address the latest violence at some point.
MOUs (memorandums of understanding) also were signed between Tel Aviv University and Florida schools Tuesday afternoon.
Florida Atlantic University will collaborate with the Tel Aviv University on neuroscience research. And TAU will team up with the University of Central Florida on emergent blockchain technology.
"This trip to Israel headed by Gov. Ron DeSantis is key in helping us at FIU create and deepen important partnerships in a number of strategic areas," said FIU President Mark B. Rosenberg, who is part of the Florida delegation visiting Israel this week.
"At FIU, we look for partners interested in leveraging our respective strengths to break new scientific ground and bring economic activity to Florida and Miami-Dade County. Israel is entrepreneurial and ripe for this kind of collaboration."
All told, eight MOUs covering six schools, DeSantis said, including Florida International University, will address treatment for a "critical mental health need … for children and adolescents with anxiety disorders.
FIU will get a $5.2 million grant for this research.
Miami-Dade College also inked an MOU for cyber attack prevention. And St. Leo University and Florida Gulf Coast University also inked MOUs, the latter involving venture capital.
The UCF MOU was the first one in the world for blockchain, said Dr. Moshe Zviran of Tel Aviv University.
Cabinet members on hand were impressed.
Dr. Moshe Zviran explaining block chain and crypto currencies to the attendees at @TelAvivUni #flapol #fintech #FLIsraelMission pic.twitter.com/0nfNBWSjcr

— Jimmy Patronis (@JimmyPatronis) May 28, 2019
In other business:
Water issues — Department of Environmental Protection head Noah Valenstein kicked off a water quality symposium noting the Florida/Israel shared interest in water issues.
"We all face a challenge in water supply," Valenstein said. "We too have water conservation issues … we have to continually get more creative … despite the fact that our individual challenge is different from Israel."
Israeli experts noted that recycling water is not a problem, and that wastewater can be repurposed. Startup culture is bigger than the country's capacity to fund it and so international collaboration is key to the model.
Alon Tal, an environmental activist on the roundtable, lauded DeSantis for showing that the environment is not a partisan issue.
Tal noted that common-sense moves like sewage treatment plants for dairy cow excrement helped water quality: "It is cleaner than when Jesus walked the lake years ago," Tal quipped.
One suspects that Tal may have interesting solutions to septic runoff and issues created by lawncare practices in rivers like the St. Johns.
Multiple speakers advanced solutions to algae issues, including technology that reduces effluence.
DeSantis expressed interest in the solutions offered by the panel, such as Lake Guard Technology, which could be a solution to algae blooms.