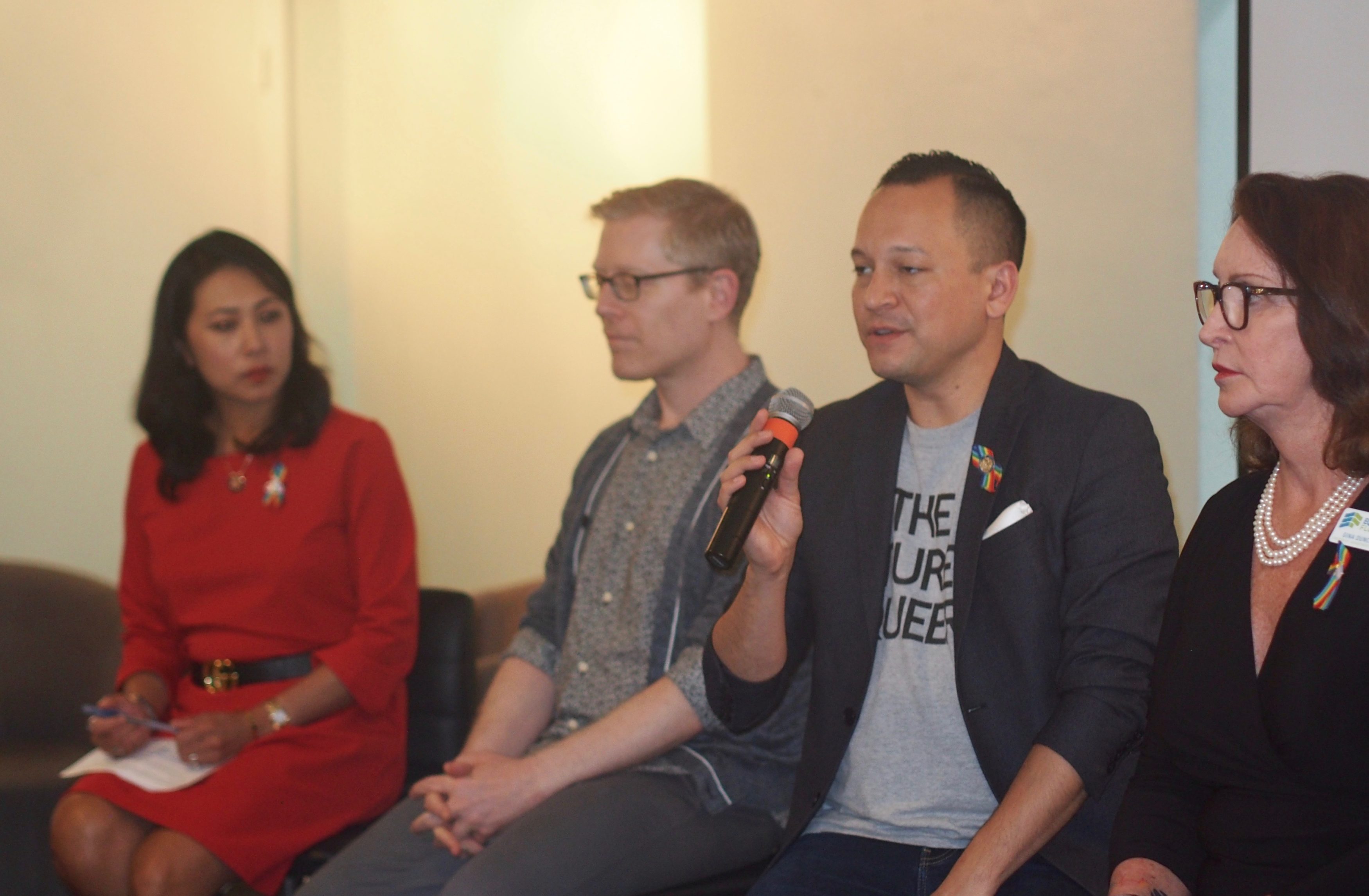 Federal bill passed U.S. House but state bill stalled in Florida House
Nearly three years after the Pulse tragedy united the Orlando community in broader support of gay rights, efforts to pursue LGBTQ equality achieved at least a symbolic milestone in Congress but continues to stall in the Florida Legislature, Democratic U.S. Rep. Stephanie Murphy and Democratic state Rep. Carlos Guillermo Smith said Thursday.
Participating in a panel organized at Orlando's  LGBTQ+ Center, Murphy touted the federal Equality Act approved by the U.S. House of Representatives earlier this month as a historic win for gay rights, though the bill is not expected to go far in the U.S. Senate. Meanwhile Smith and others on the panel decried the lack of movement for the Florida Competitive Workforce bill, which Smith contended would pass were it not for legislative leadership's opposition.
They were joined on the panel by Anthony Rapp, a member of the original Broadway cast of the musical "Rent" who also appeared in the 2005 movie version; Carlos Carbonell, founding board member of the OneOrlando Alliance; Gina Duncan, director of transgender equality at Equality Florida; and Kellie Parkin, executive director of the Metropolitan Business Association of Orlando, Orlando's LGBTQ chamber of commerce.
"We're about three weeks shy of observing the three-years since our community was shaken by the tragedy of Pulse, and I think we continue to struggle with what happened and why it happened. But I think one thing is for certain, we really showed the world why we're Orlando Strong," Murphy said. "It's not just a slogan, it's a recognition of the character of this community. In the aftermath of unspeakable tragedy, this community came together and it empowered ourselves for speaking out and speaking up in support of equal rights of every American, no matter who it is that they love, or who they are."
But while that same spirit has shown itself in the U.S. House with the passage of the Equality Act, which like the Florida Competitive Workforce Act, would extend non-discrimination laws to LGBTQ people, the federal bill faces long-shot odds in the U.S. Senate, and the state bill has yet to clear a committee in the Florida House.
Murphy told the packed room of perhaps 75 people that as a member of the Congressional Equality Caucus she co-introduced the Equality Act and worked for its passage. It was backed by every Democrat and eight Republicans, including U.S. Rep. Mario-Diaz-Balart of Miami.
"It is such an important piece of legislation because it provides consistent and explicit non-discrimination protections for the LGBTQ community across key areas of life, whether it's employment, housing, credit, education, etc.," Murphy said. "This is the first time that major legislation to protect LGBTQ people has ever been passed by any chamber of Congress. So it was a historic win.
"It still kind of baffles me that here we are in 2019 that we still have to vote to protect the rights of people in the LGBTQ community," Murphy said.
Smith noted that the Florida bill keeps getting more co-sponsors every Legislative Session, 74 this spring, and he predicted it would surely pass if it ever got to the floor. He predicted it would eventually pass, but, he said, the LGBTQ community and its allies need to keep pressing on human and economic arguments, including that more and more international corporations are looking for gay-friendly state laws before they are willing to consider locating major front-office and research operations.
"A handful of people in leadership decided the political consequences of inaction are less than the political consequences or benefits from action," Smith said. "They do not want to move it forward because they do not believe they will pay a political price from inaction. It is up to us to make sure they understand the reality."