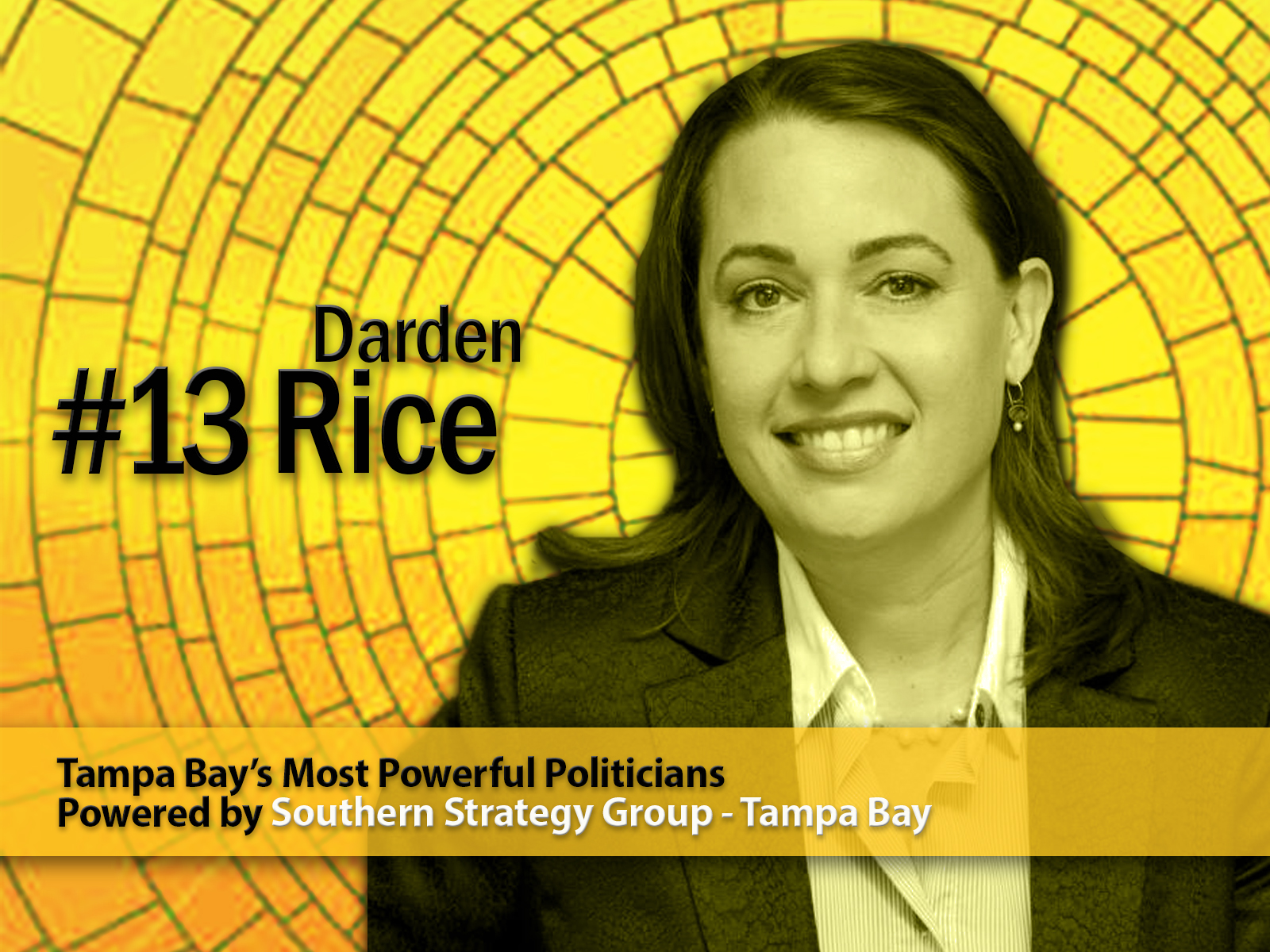 It's no secret she has her eye on St. Pete's top elected position
Darden Rice is a veteran St. Petersburg City Council member serving her second and final term on that board and has a strong claim to the 2021 Mayor's race to succeed Rick Kriseman.
Her future mayoral prospects catapulted Rice from No. 22 on last year's list of Tampa Bay's Most Powerful Politicians to an almost top-10 ranking this year.
While Rice has not officially declared her candidacy, it's no secret she has her eye on St. Pete's top elected position. She has already launched a political committee and raised nearly $60,000 two years ahead of the Mayor's race.
The committee is already showing signs of support from powerful players in Democratic political circles including former St. Pete City Council member Karl Nurse, Tampa City Council member Bill Carlson and Reproductive Rights advocate Amy Weintraub, among others.
"She is bold and strategic. Her razor-sharp aptitude for policy and navigating the rocky waters of St. Petersburg politics has propelled her to one of the most formidable mayoral candidates to replace current Mayor Rick Kriseman," said Christina Barker, who serves as vice president of Community Partnerships and Policy at Vinik Family Office. "The notoriety is well deserved. Council member Rice is committed to a better quality of life for the people she serves and she delivers results."
Rice was first elected in 2013 after years of speculation she would rise through the ranks of St. Pete politics.
Since then, Rice has shone as an outspoken advocate on issues relating to the environment and affordable housing. She doggedly supported plastic straw bans and has been forward-thinking on affordable housing in a city where home ownership has become increasingly out of reach for middle-income earners and rentals in the city are on the rise.
In 2017, Rice also helped lead efforts to ban political action committee spending in municipal elections, a move that drew both praise and ire in the local political community.
"Councilwoman Darden Rice is a powerful force in Tampa Bay politics thanks to years of regional work on environmental protection, health care and transportation issues. She received national attention for her successful push for campaign finance reform in St. Petersburg elections, further cementing her progressive credentials," said Democratic political consultant Meagan Salisbury. "Councilwoman Rice was also instrumental in securing Mayor Bloomberg's American Cities Climate Change Challenge Award, making St. Petersburg one of the leading cities in the country fighting the causes and impacts of a warming planet. Darden is no longer a rising star in local politics, she's a star, period."
Rice is also a defacto symbol of diversity. She, along with colleague Amy Foster, brought an LGBTQ voice to council. Elected alongside Foster, the two brought the number of openly gay City Council members to three. In 2017, Rice became part of a majority female board, another win for diversity in city representation.
Rice's political might was also on full display after she launched her political committee when it drew skepticism from Kriseman. He issued a statement questioning the wisdom of launching campaign efforts just one year into his second term. Kriseman's statement was seen by many as an indication of concern that her exploratory campaigning could draw attention away from the incumbent's final term.
"Councilwoman Rice has not slowed down on pushing issues across the finish line that are important to her. With a mayoral election is sight, expect her advocacy to only get stronger," said Laura Boehmer of Southern Strategy Group.
In addition to her other advocacy, Rice has also been a stalwart supporter of public transportation. She serves as vice chair of Forward Pinellas, the county's transportation planning arm, and is on boards for the Pinellas Suncoast Transit Authority and Tampa Bay Area Regional Transit Authority. She has also been a vocal supporter for the Central Avenue Bus Rapid Transit route connecting downtown St. Petersburg and St. Pete Beach. That project represents a huge win for transit projects as it awaits likely federal funding.
Joe Henderson's take: 2021 is closer than you think, and Rice won't yet say that she is running to be St. Petersburg's next Mayor. But she won't say she isn't. With her track record and progressive agenda, she would be hard to beat.
Follow the entire list here, on Facebook, and on Twitter with #Top25InTB.