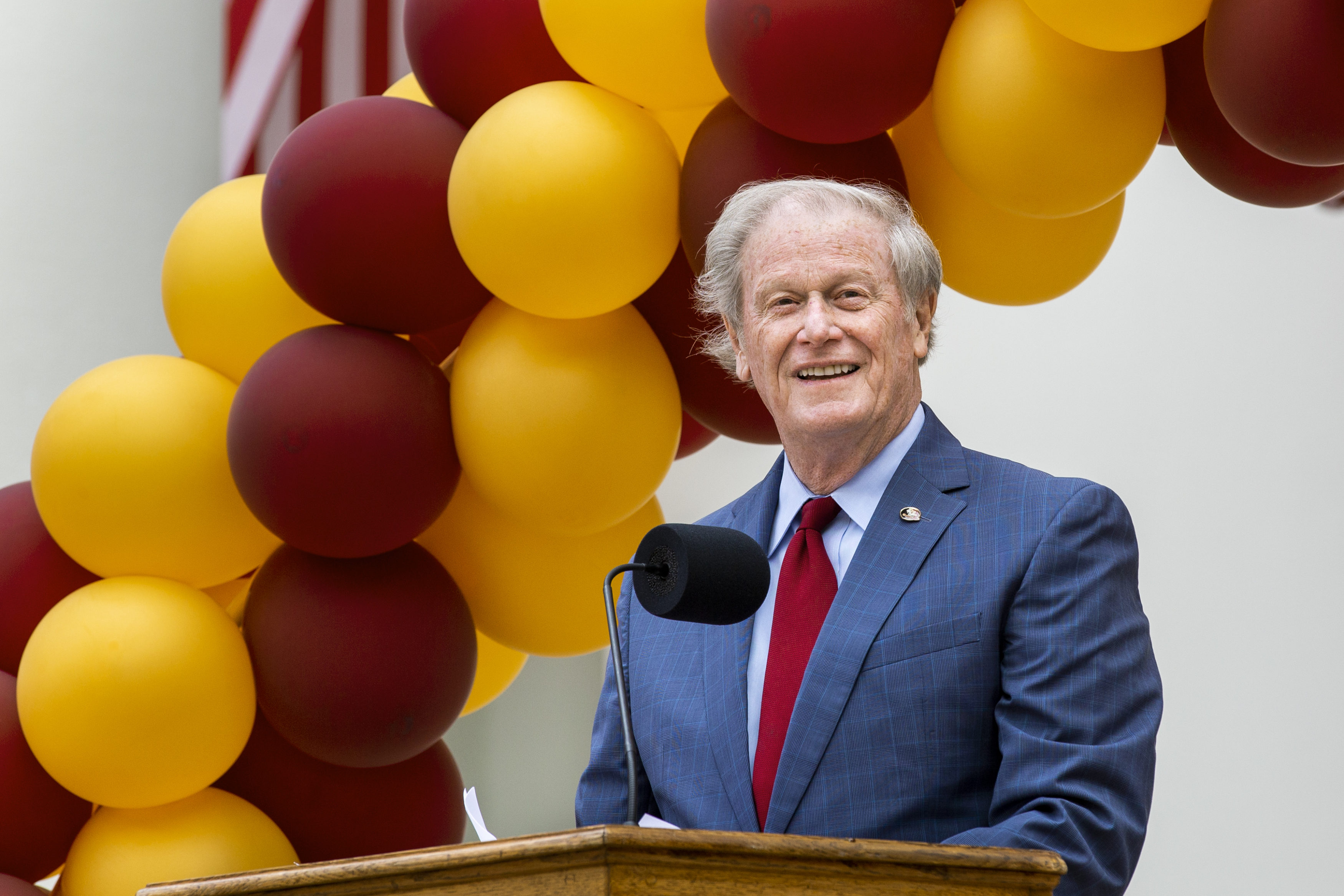 FSU's ranking success was not a happy accident
Borrowing a turn of phrase from Gov. Jeb Bush (who borrowed it from a corporate how-to book), political mover-and-shaker John Thrasher brought a pair of "Big Hairy Audacious Goals" with him when he became president of Florida State University.
"We wanted to be recognized as a Top 25 university and we wanted to raise $1 billion," he told the lunch crowd at the Capital City Tiger Bay Club Thursday. "I gotta admit, both of those were kind of daunting."
Thrasher used his appearance before the politics-minded group to take a victory lap because, five years into his tenure as president, both those missions have been more than accomplished.
When Thrasher started in November 2014, FSU was 43rd in the rankings for public colleges and universities by U.S. News and World Report. In the 2020 Best Colleges rankings, the university ranked 18th, tied with the likes of Penn State, Purdue and the University of Pittsburgh.
And fundraising efforts blew past the original goal, with nearly $1.2 billion pledged.
However, no laurel-resting in sight for FSU's president, who turns 76 in December.
Thrasher predicts he's "going to be involved a lot more in the Legislature than I have been" to continue receiving "preeminence resources" from the state. "We're 18th in the country now and in order to get movement up higher, it's a lot more expensive to do that," he said.
FSU's ranking success, which included a record-setting eight-place jump between 2019 and 2020, was not a happy accident, Thrasher contended, but the result of creating a "road map" for success that included measurable goals.
And he shared many of those metrics with attendees: More than 50% of FSU's classes have less than 20 students. 93% of freshmen return for a second year. The four-year graduation rate is 72 percent, first in Florida's university system and in the Top 10 among public universities nationwide. Last year, FSU received 60,000 applications for the freshman class and he said applications are up over 9% for 2020.
"People want to come to Florida State University, and these students are brighter than ever," he said. "I hate to tell you this, but some of you (who) may have gone to Florida State a while back would probably have trouble getting in today. I know I would. Back when I got in if you had a pulse, that was basically it."
Well before he became FSU's president, Thrasher was already a huge booster for his alma mater, where he received an undergraduate business degree and, after a stint in the Army, returned to earn a law degree. As a member and speaker of Florida's House and in the state Senate, he was instrumental in gaining funding for the creation of FSU's Medical School.