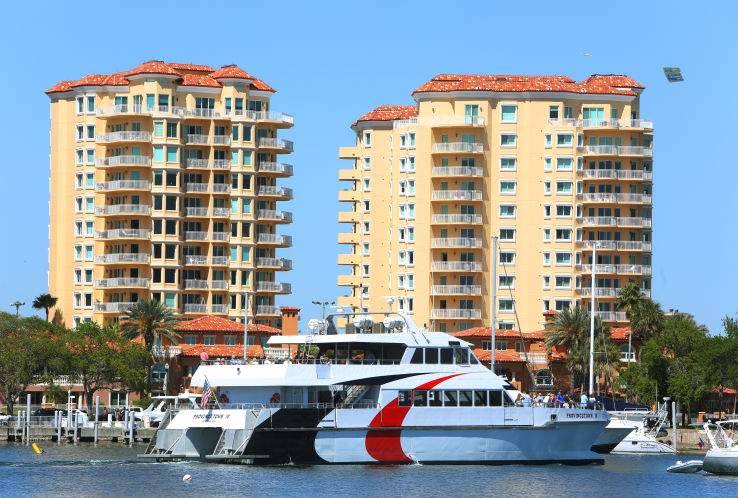 Ridership increased 25% over last year.
The Cross Bay Ferry increased its first-month ridership 25%, according to data released by its operator, HMS Ferries.
The ferry carried 11,622 passengers in November compared to 9,268 passengers last November.
The seasonal service runs annually from November through April.
St. Pete Mayor Rick Kriseman who has long been a champion for the service, took to Facebook to celebrate the first month numbers.
Nearly three quarters of the total ferry trips in November were at or near capacity.
"Keep riding, Tampa Bay," he wrote.
A rider survey found the Cross Bay Ferry has also been good for local business. About 60% of respondents indicated they only traveled to Tampa or St. Pete because the ferry was available. The rest indicated the took the ferry instead of driving.
More than 60% of riders surveyed said they spent more than $40 per person on their trip to one of the two cities while 20% said they spent between $15 and $40 per person.
Dining out was the most popular expense for ferry riders with 78% saying they ate at a local restaurant on their trip. About a third spent time in museums or other attractions and 20% shopped.
The survey also found that nearly 91 percent of riders "strongly support" permanent, year-round service between the two cities on weekends and weeknights as well as daytime commuter service between south Hillsborough County and MacDill Air Force Base.
Another 8% said they "somewhat" supported that plan.
The Hillsborough County Commission is moving forward, albeit slowly, with plans to implement permanent service.
The MacDill service would serve military and civilian personnel at the South Tampa base, a move supporters say would take cars off the road and relieve congestion between south Hillsborough and South Tampa. Critics argue it's not true public transportation because it serves such a narrow group and that it should not be funded using local tax dollars.
The plan has hit several snags including environmental studies and the phosphate company Mosaic at first saying it would not sell Hillsborough County land needed for a dock. Mosaic has since said it would consider parting with some of its land for the project.