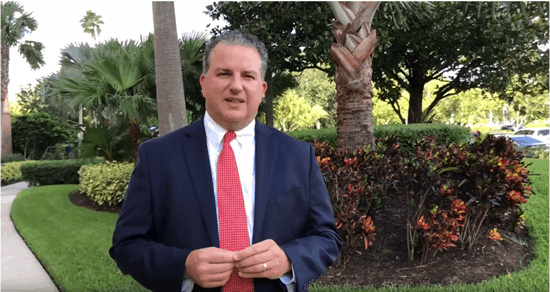 DeSantis and Patronis defended the time it took to replace Rubin in the $166,000-a-year job.
Florida Chief Financial Officer Jimmy Patronis expressed hope Tuesday there will be no more turmoil involving the state Office of Financial Regulation as added background checks were conducted before Coral Gables securities lawyer Russell Weigel was hired to run the agency this week.
Addressing reporters a day after he joined Gov. Ron DeSantis and Attorney General Ashley Moody in picking Weigel to become commissioner of the Office of Financial Regulation, Patronis also characterized as a "rookie move" a decision by Agriculture Commissioner Nikki Fried to abstain from voting on the hiring.
"I think it was just a mistake on her part, not fully thinking through what was her obligation," Patronis said.
Fried, the lone Democrat on the state Cabinet, on Monday questioned the hiring process and a list of three finalists.
"I am glad that the Office of Financial Regulation will finally have leadership, but I wish this had been a more transparent process," Fried said. "While I appreciate all applicants for the position, I am not confident that the most-qualified applicants were among the final candidates. Because of these concerns, I did not participate in today's vote to appoint a new commissioner."
The financial regulator's position has drawn heavy attention in recent months after former Commissioner Ronald Rubin was accused of sexual harassment and publicly clashed with Patronis. DeSantis, Patronis and Moody approved firing Rubin in July, leaving the job open until Monday's vote to hire Weigel. Fried walked out of a Cabinet meeting before the vote to fire Rubin.
On Tuesday, DeSantis and Patronis defended the time it took to replace Rubin in the $166,000-a-year job.
"We definitely took a deeper dive," Patronis said, noting the finalists had their social media accounts reviewed and that the Florida Department of Law Enforcement was asked to conduct background checks.
"I think there's been an incredibly public process that has taken place," Patronis said.
DeSantis pointed to Weigel's experience and understanding of issues handled by the agency, which has nearly 360 employees and oversees banks, credit unions, other financial institutions, finance companies and the securities industry.
"Given what had happened with the original appointee, we just wanted to make sure this was going to be a smooth leadership," DeSantis said.
DeSantis also said the agency appeared to run better the past four months without a leader.
"I actually think it's run a lot better since we got rid of the other guy, just in the interim," DeSantis said.
Rubin was hired in February, after his predecessor, Drew Breakspear, resigned in June 2018 under pressure from Patronis.
Questions about the state's background checks in Rubin's hiring were raised after Bloomberg Law published a report detailing allegations of inappropriate behavior by Rubin toward female colleagues at prior jobs and inconsistencies in his self-reported employment history.
Patronis, who originally championed Rubin for the position, had defended the background check his office conducted, which included Rubin's criminal background but excluded social-media screening.
Rubin has denied all allegations of acting inappropriately.
DeSantis and the Cabinet members did not comment during Monday's conference-call meeting about the selection of Weigel, whose application said he worked 11 years as a federal Securities and Exchange Commission enforcement attorney and later started a firm that represents clients in a variety of securities-related issues.
In a release issued Monday by the Office of Financial Regulation, Weigel said he was pleased to be selected.
"I look forward to working with Governor DeSantis, CFO Patronis, Attorney General Moody, and Commissioner Fried to continue to fulfill OFR's mission of growing the financial services industry and protecting Floridians from financial fraud," Weigel said in a prepared statement.
No date has been set for Weigel to begin with the state.