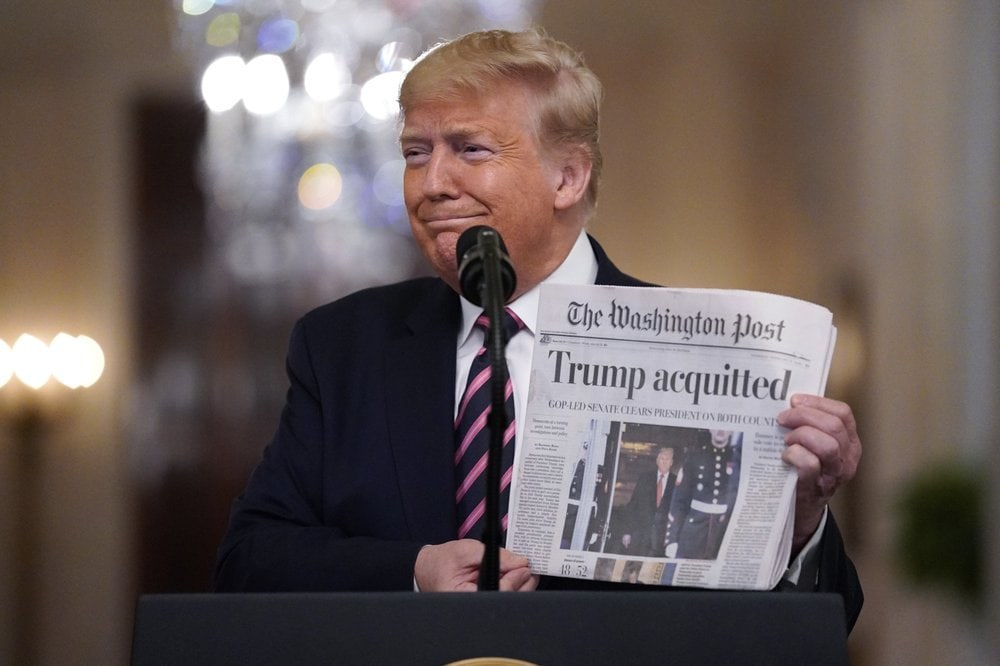 The President took a scorched-earth victory lap Thursday.
Exulting in his impeachment acquittal, a defiant President Donald Trump took a scorched-earth victory lap Thursday, unleashing his fury against those who tried to remove him from office and pointing ahead to his reelection campaign.
Triumphantly waving newspaper front pages that declared him "ACQUITTED," Trump denounced the impeachment proceedings as a "disgrace" and portrayed himself as a victim of political foes he labeled "scum," "sleaze bags" and "crooked" people. Hours earlier, he unleashed broadsides that stunned the crowd at an annual bipartisan prayer breakfast.
In a brief Rose Garden address, Clinton was somber: "I want to say again to the American people how profoundly sorry I am for what I said and did to trigger these events and the great burden they have imposed on the Congress and on the American people."
The only contrition Trump offered was to his own family, apologizing "for having them go through a phony, rotten deal."
Trump had plenty else to say, however. Venting for more than an hour, he ticked off names of the "vicious and mean" people he felt had wronged him: House Speaker Nancy Pelosi, Intelligence Committee Chairman Adam Schiff and former FBI Director James Comey. And he reveled in the verdict handed down by the GOP-controlled Senate Wednesday, saluting one-by-one in Oscar acceptance speech-fashion the "warrior" GOP lawmakers who had backed him both in the Capitol and on television.