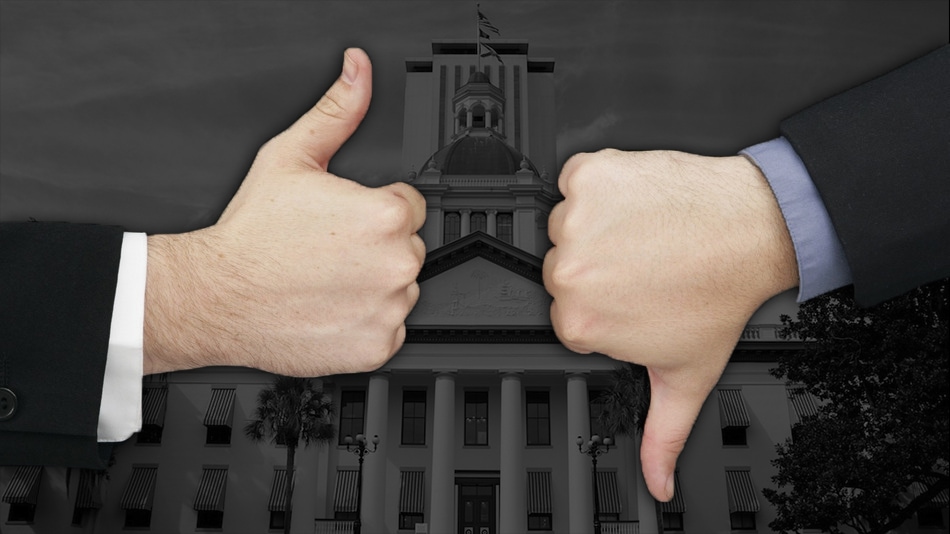 Today, we start with two major stories that link directly to Florida — Gaetzgate and Georgia's fallout from its voter suppression tactics.
Major League Baseball pulled its All-Star Game out of Atlanta in response to Georgia's blatant new voter suppression law. Commissioner Rob Manfred said, "I have decided that the best way to demonstrate our values as a sport is by relocating this year's All-Star Game."
What does this have to do with Florida?
Maybe plenty, because a similar proposal is working its way through the Legislature now – right down to the prohibition of giving water to people standing in line to vote.
What kind of person even thinks up something like that?
That's just meanness.
You can book it that Major League Baseball won't be the last large-scale operation to punish Georgia, and the same thing can happen in Florida. If big conventions and gatherings start going elsewhere because Florida followed what Georgia lawmakers did, Republican lawmakers won't be the ones to suffer.
It will be cities, worker bees, restaurant and bar employees. Hotels rooms will be empty. The ripple effect of a major boycott could crush a tourism-based economy just as it is struggling to recover.
U.S. Rep. Matt Gaetz of Florida's CD1 also made headlines, but that's nothing new.
The Department of Justice is investigating to discover if Gaetz committed a crime by transporting a 17-year-old girl across state lines for sex. You might have heard about that.
He has denied that.
His spokesman, Luke Ball, resigned Friday, and no one will be shocked if other staffers follow suit. Before all this broke, Gaetz hinted he might not run for re-election anyway. Rumor has it he could join uber-conservative Newsmax. We must admit he would be a perfect fit there. He is bombastic, loose with the facts, often wrong but never in doubt.
I'm not thinking about Gaetz, though. He brought this on himself, and there aren't a lot of people jumping to his defense.
If – and it's a big IF – the allegations are true, the minor girl is the victim. She's the one with whom we should concern ourselves. Many of Gaetz's enemies revel in his troubles, but if he did this thing, people's first thoughts should be with the girl.
Winners
Honorable mention: Nikki Fried and Will Robinson. Fried, Florida's Agriculture Commissioner, and Republican state Rep. Robinson of Manatee County set great examples when they shared that they had received the COVID-19 vaccination.
We need more of this, what all the misinformation out there about the vaccines.
Fried said, "Really just want to encourage everybody to get their vaccines when they're eligible. Right now, it's 40 and up. That's when I'm qualified to do so."
Robinson shared his news via Twitter.
"I am 40++ and now eligible for the COVID vaccine," he tweeted. "Very easy process. No issues. Lots of happy and thankful people in line with me here @Walmart in Tallahassee."
Almost (but not quite) biggest winner: Florida churches. On Easter Sunday in 2020, many Christians across the land and Florida found their church doors closed. They stayed that way for months as the effects of COVID-19 spread across the planet.
Pastors and church leaders turned to virtual services via Zoom and Facebook Live. Many of them had to learn new delivery skills to reach and keep an online audience. Finances suffered in many cases, and attendees often battled internet issues to watch the services.
It's different this year. Many – but not all – churches are open for in-person worship (with masks and social distancing). That's welcome news on the holiest day of the year in the Christian faith.
Belief in the resurrection of Jesus Christ is the bedrock for the faithful, and celebrating that with other believers is essential.
But like we said, some churches today will offer online services only. By this time next year, perhaps it really will be 100% back to normal.
The biggest winner: Tyndall Air Force Base. The base, located between Panama City and Mexico Beach, sustained catastrophic damage in 2018 from Hurricane Michael.
But you can't keep a good base down, and Tyndall rose from that destruction to score a major victory. Air Force leaders chose the base as the new home for three new squadrons of the F-35A Lightning II.
"Adding F-35 squadrons at Tyndall (AFB) ensures Airmen will continue to have a strategic advantage as the 325th Fighter Wing enhances fighter training and combat readiness," Col. Greg Moseley said. He is the 325th Fighter Wing Commander.
The aircraft will arrive in September 2023.
Following the hurricane, planners decided to rebuild Tyndall into a so-called "base of the future."
It was great economic news for the Panama City area in the wake of Michael. The ongoing rebuild and expected influx of Air Force personnel will help the area's ongoing recovery.
Republican Congressman Neal Dunn celebrated the news. He represents Florida's CD 2, which includes Tyndall. Dunn called the base "the perfect choice."
"… I'm grateful to the U.S. Air Force for committing to rebuilding the base immediately following the storm," he said in a statement. "This addition is exactly what the base and the surrounding area need to further recover and thrive."
Losers
Dishonorable mention: Broward schools. Hackers broke into the school district's computer system. They threatened to release sensitive information, including pupils' and employees' Social Security numbers, addresses, and dates of birth, unless the district paid a $40 million ransom.
The district released a statement that said it has "no intention of paying a ransom" and hired a cybersecurity firm to investigate the attack.
The district also is skeptical about the hackers' claims about having sensitive data.
"At this point in the investigation, we are not aware of any student or employee personal data that has been compromised as a result of the incident. If the investigation uncovers any compromised personal data, the District will provide appropriate notification to those affected."
Almost (but not quite) biggest losers: Gaetz's cronies. If Gaetz had any illusion that Republicans would stampede to defend him when this scandal broke, he quickly learned otherwise.
Even Fox News, which gives ample air time to the Mouth of the South, backed away. After Gaetz said he had spoken with Fox about a gig after he leaves Congress, a network issued this terse statement to The Wrap: "No one with any level of authority has had conversations with Matt Gaetz for any of our platforms, and we have no interest in hiring him."
Ah, but he still has some supporters – albeit straight from the rogue's gallery.
Start with state Rep. Anthony Sabatini, who tweeted that "DOJ and the Media is a shady group of lying creeps—we've seen this movie before."
Here's what else we've seen from Sabatini. Last summer, he tweeted this last May during protests over the death of George Floyd. "Attention potential "protesters" coming near Lake County, FL. This is an AR-15—this will be a very common sight upon illegal entry at any Lake County business—FYI!"
And there was the whole black face photo thing.
Roger Stone, a dirty trickster and convicted felon (pardoned by Donald Trump), He's on Gaetz's side and noted on Parler that the allegations are a "smear" and an attempt to "destroy" Gaetz's career.
State Rep. Alex Andrade, a Pensacola Republican and Gaetz's friend, is viewed as a potential successor when/if Gaetz leaves his seat. He apparently knows his audience because Gaetz is extremely popular in his district.
"I've no reason not to believe Congressman Gaetz," Andrade said.
But DeSantis, who has been one of Gaetz's buddies … crickets.
The Governor's press office said there would not comment because of the Department of Justice investigation.
The biggest loser: Florida's water suit. The U.S. Supreme Court gave the back of its hand to Florida and its claim that Georgia's overuse of water led to Apalachicola Bay's oyster industry's destruction.
Justice Amy Coney Barrett wrote, "Florida has not shown that it is 'highly probable' that Georgia's alleged overconsumption played more than a trivial role in the collapse of Florida's oyster fisheries."
It was a unanimous ruling.
The dramatic decline in the oyster population led the Florida Fish and Wildlife Conservation Commission to shut down oyster harvesting in the Bay through the end of 2025. In a suit filed originally in 2013, Florida tried to show that Georgia uses too much water from the Flint River, which combines with the Chattahoochee River to form the Apalachicola River.
The reduced water flow, Florida claimed, led to the steep oyster decline.
The Supreme Court did not agree, and, well, that's that.