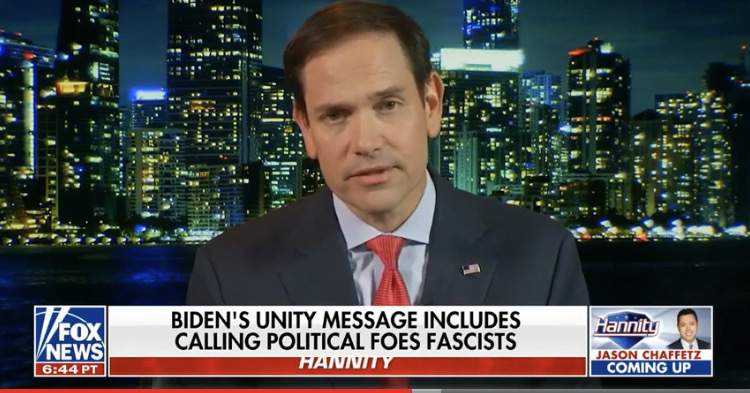 "They are not attacking political leaders alone, they are attacking voters."
A Florida Senator is speaking out against the President, claiming Democrats and President Joe Biden are "criminalizing and dehumanizing" Republicans.
"There are two things happening here. The first is they are criminalizing and dehumanizing their opposition. So this is what they have been doing for a while," Marco Rubio claimed on Hannity Wednesday night.
Rubio outlined familiar complaints, including Biden's objections to election law changes in Georgia and a contention Biden was "basically calling the Supreme Court illegitimate" when he objected to the Court decision in the Dobbs case overturning Roe v. Wade. He continued, arguing a double standard is in play regarding partisan rhetoric.
"If you criticize them, they will claim that you are putting them in danger. They, on the other hand, do not criticize Republicans, they try to dehumanize, defame and smear Republicans by calling not Republican officeholders, but Republican voters, everyday people, by calling them semi-fascist," Rubio asserted.
The President used the term "semi-fascist" days ago, and his words were defended by White House Press Secretary Karine Jean-Pierre Wednesday after a question about that not being "unifying language." She cited Florida Gov. Ron DeSantis' quip about throwing "little elf" Dr. Anthony Fauci "over the Potomac" as an example of the "dangerous trends that we're seeing."
Rubio extended his critique to DeSantis' opponent in the Governor's race.
"Last week in Florida Charlie Crist running for Governor once again here said he did not want the support of anyone who had voted or supported Ron DeSantis, which is the majority of the state," Rubio said incorrectly, as DeSantis only got 49.6% in 2018, short of a majority.
"They are not attacking political leaders alone, they are attacking voters, which in Florida is the majority of voters," Rubio lamented.
Rubio's comments serve as a prebuttal to a widely anticipated Biden speech Thursday, in which the President is expected to address the "soul of the nation." Expect remarks like these from other prominent Republicans in the run-up to Biden's Thursday night speech Thursday.