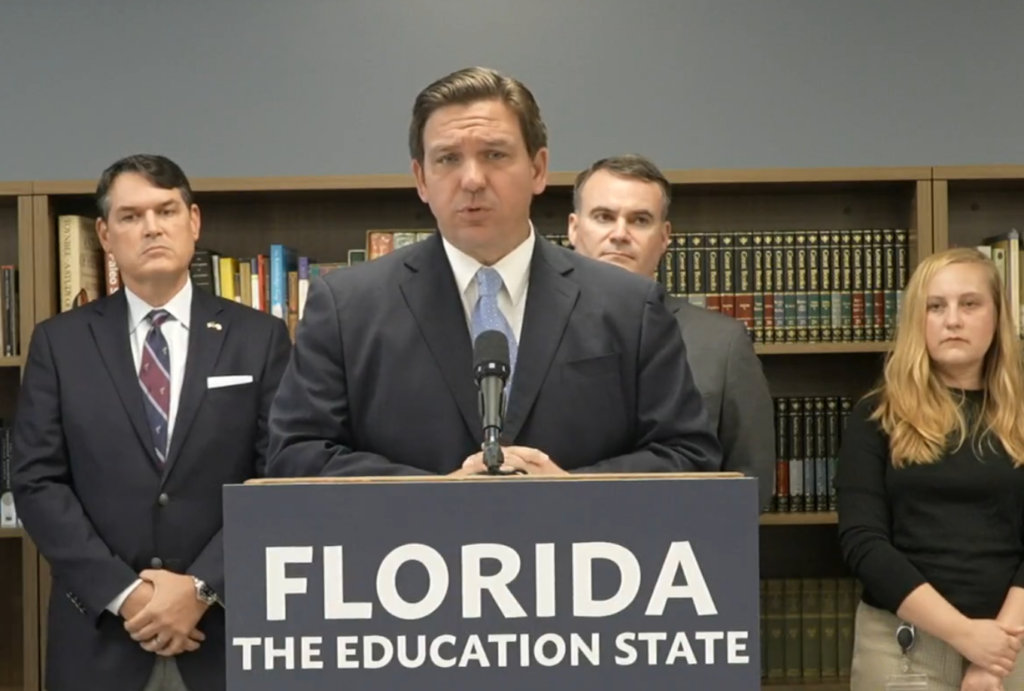 'That is somebody pushing an agenda on our kids.'
Gov. Ron DeSantis continues to attack the College Board's Advanced Placement class in African American studies, a pilot course banned by the state last week.
At a charter school in Jacksonville Monday, DeSantis singled out the course's treatment of "queer theory" as being on the "wrong side of the line for Florida standards."
"This course, on Black History, what's one of the lessons about? Queer theory!"
"Now who would say that an important part of Black History is queer theory? That is somebody pushing an agenda on our kids, and so when you look to see they have stuff about intersectionality, abolishing prisons, that's a political agenda. And so, that's the wrong side of the line for Florida standards."
"When you try to use Black history to shoehorn in queer theory," DeSantis continued, "you are clearly trying to use that for political purposes."
Intersectionality, abolishing prisons, and Black Queer Studies were among the tropes Education Secretary Manny Diaz objected to last week on Twitter, messaging the administration's side of the course ban. DeSantis also denounced the mentioned topic Movement for Black Lives as unduly political.
"If you read what's in there, they advocate abolishing prisons, that's a radical political position." DeSantis said, although allowing people are "free to take that position."
"But how is that being taught as fact to be able to do that? And I also think that it's not fair to say somehow that abolishing prisons is somehow linked to (the) Black experience," he added, saying that Black people want "law and order, just like anybody else wants law and order."
DeSantis said the state prefers to "do history," which is "just cut-and-dry history."
"You learn all the basics, you learn about the great figures. And you know, I view it as American history. I don't view it as separate history. We have history of a lot of different shapes and sizes," the Governor said. "People that have participated to make the country great. People that have stood up when it wasn't easy. And they all deserve to be taught."
Advocates for the course stress the focus on African American culture, literature, and political and social movements, meanwhile, suggesting there is a gap between the course work and DeSantis' seeming belief African American studies can be absorbed into larger American studies or history courses.
The ban was first messaged nationally. The conservative and arguably pro-DeSantis National Review Wednesday first reported a pilot version of the AP African American Studies would not be offered, though the leak suggested a course "with lawful, historically accurate content" would be acceptable.
Florida Democrats decry the ban, meanwhile.
Sen. Bobby Powell said the ban put DeSantis' "racial bias on full display." Democratic Sen. Shevrin Jones of Miami-Dade said Florida was trying to "tilt the scales and shut down important, much-needed discussions of race, slavery, stolen lands and undeniable history that have led to where we are as a society today."
Miami area Rep. Christopher Benjamin wondered how the course ran "afoul of the law." And Jacksonville Rep. Angie Nixon said the Governor was "devastating" and predicted things would only get worse.