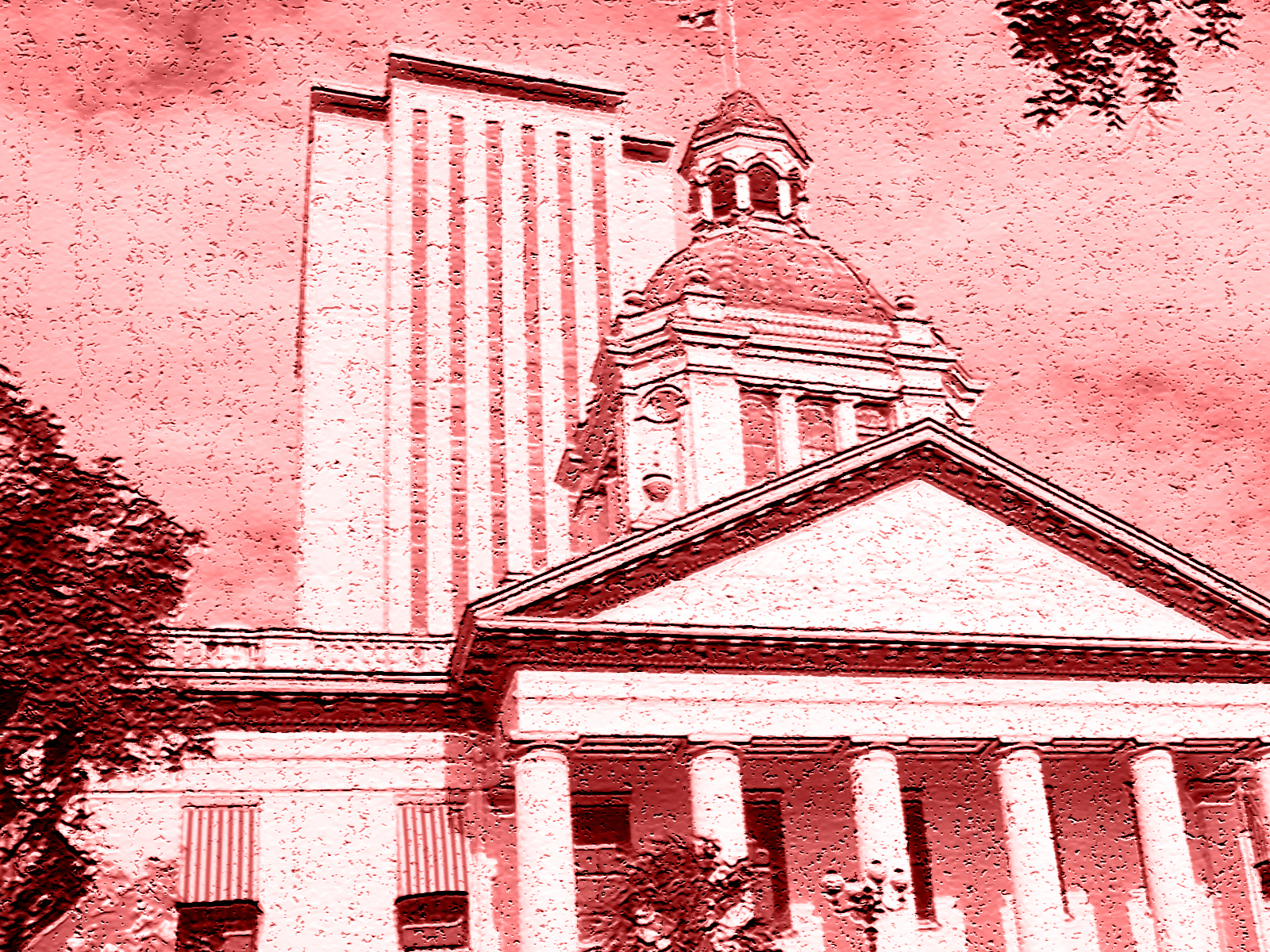 What's inside? All things Session.
Sixty Days — A prime-time look at the 2023 Legislative Regular Session:
The Last 24
Gov. Ron DeSantis' expected run for President is the unstated backdrop to much of the action in the 2023 Regular Session that began this week, but that prospect burst into the open during the debate over a bill allowing for permitless concealed carry of firearms. Frustrated by the GOP-led Legislature's refusal to add a provision to the bill allowing gun owners to carry firearms openly in public, some gun rights advocates turned their ire on DeSantis. "This inaction by the Legislature undermines the Governor's agenda, which of course hurts his chances in the upcoming Presidential Primary," one said during testimony on SB 150. Here's your nightly rundown.
Phones down: Members of the House Choice and Innovation Subcommittee unanimously voted to advance a bill (HB 379) to restrict access to Facebook, Instagram and Twitter and ban TikTok on district networks and devices.
Uncategorized: A House committee advanced legislation (HB 221) that will stop financial institutions from tracking purchases made at gun shops.
Upheld: A federal appeals court upheld Florida's law passed in the wake of the 2018 Parkland massacre that prohibits the sale of rifles and long guns to people under the age of 21.
KidCare: As Florida begins Medicaid "unwinding," there's a move underway to expand eligibility for a subsidized children's health insurance program.
Greyson's Law: A bill (HB 97) that would evaluate threats against an ex-partner or spouse in determining visitation and custody is heading to a final House committee stop.
Catch some Zs: A bill (HB 733) advancing through the Legislature would let the early bird keep that proverbial worm and give middle and high school students more time to sleep.
Win-win: The House Agriculture, Conservation and Resiliency Subcommittee voted unanimously to advance a bill (HB 399) that would get food to those who need it while benefiting state farmers.
No bubbles: The House advanced a memorial bill (HM 581) that would request that soft drinks be added to the list of items that can't be purchased using federal Supplemental Nutrition Assistance Program (SNAP) funds.
Quote of the Day
"We simply cannot risk snatching defeat from the jaws of victory because of an all-or-nothing approach."
— Sen. Jay Collins, on gun rights advocates' quibbles with the permitless carry bill.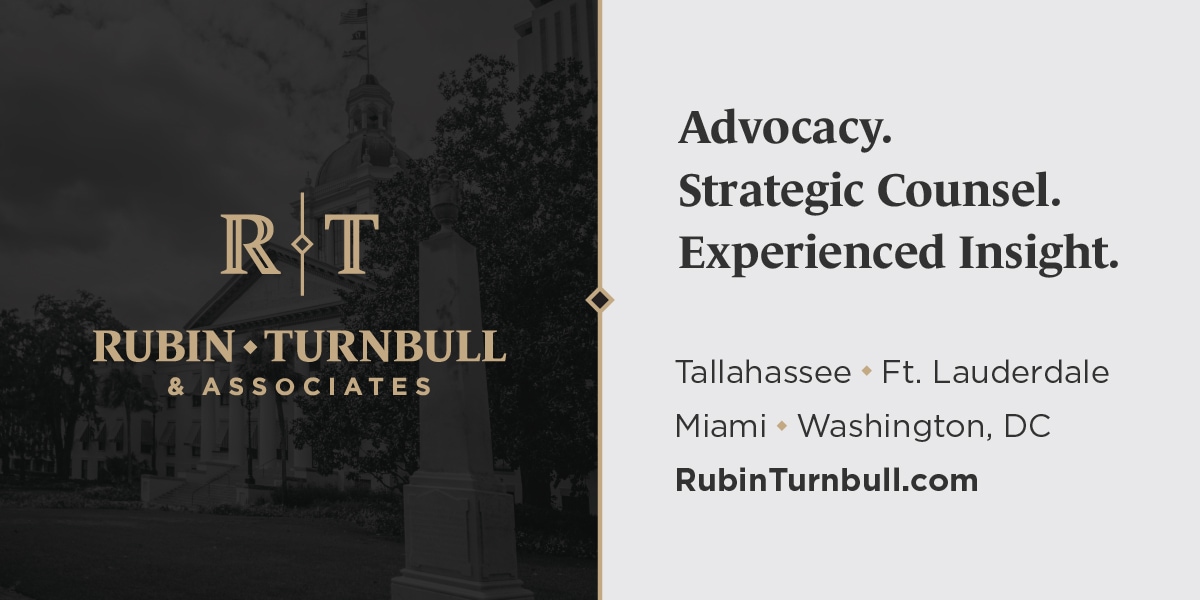 Bill Day's Latest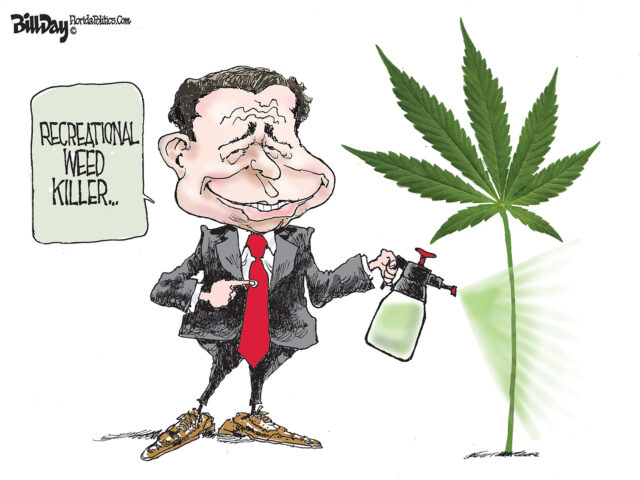 3 Questions
The Florida Healthy Kids Corporation Board of Directors held a meeting in Tallahassee Thursday at the Hotel Duval to discuss the upcoming 2023 Legislative Session and its legislative agenda. Florida Politics asked FHKC Board of Director Chairman, Dr. Stephanie Haridopolos, three questions.
Q: It's not often that the 'stars align' and leadership supports an income eligibility expansion. What is your hope for this Session?
Haridopolos: We are grateful for Speaker (Paul) Renner's leadership on this issue. Our hope is to see a Florida KidCare bill make it to the finish line. Our mission has always been to help more children get the health insurance they need and deserve; at a price their parents can afford. Speaker Renner said it best on Tuesday when he described the problem we're hoping to solve in his opening Session remarks — "Too often the welfare system punishes working parents by abruptly taking away government benefits when they earn a few extra dollars. No family should ever have to choose between a pay raise and their children's health care, so we will make it easier for moms and dads to move from welfare to work and on the way to their 'American Dream.'
We're confident this is the year we will get it done!
Q: KidCare premium assistance following natural disasters has been controversial in the past but not so this year … the Governor is recommending earmarking money in his budget. What do you attribute the change of heart to?
Haridopolos: Gov. DeSantis supported several initiatives to support Florida families after Hurricane Ian devastated part of our state, including waiving premiums for Florida KidCare. We are thankful to have the Governor's continued support of our program and efforts to help enrolled families rebuild and recover.
Q: There was a decline in Florida Healthy Kids enrollment due to the pandemic and now enrollment is expected to soar. Is FHKC ready for this?
Haridopolos: We've been preparing for the Medicaid Redetermination process for months, and we are ready to welcome children to Florida KidCare. As our team told the Board this morning, we've developed a strong referral strategy in concert with DCF, to help children leaving the Medicaid program transition into another affordable Florida KidCare option. We've created messaging tools to educate families and our partners in the field. We've hosted conference calls with community-based organizations to answer questions, led training with children's hospital staff to prepare them to meet with parents seeking care, as well as briefed the Legislature on what's to come. We are prepared to begin this enormous initiative, and we are ready to adjust, if necessary, to best meet the needs of Florida families during this process.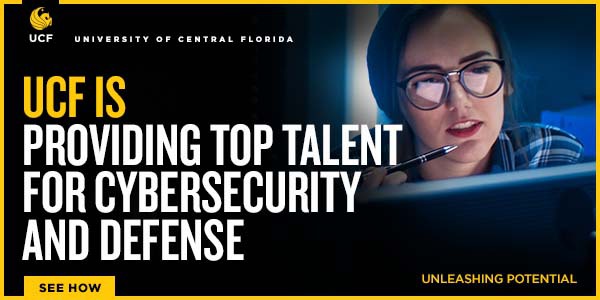 Lobby Up
TikTok is in the crosshairs this Session.
Lawmakers on Thursday advanced a bill that would ban the popular app featuring video shorts from being accessed in K-12 public schools.
TikTok isn't the only target of the proposal (HB 379) — Facebook, Instagram and Twitter are also included — but it's the only app a statewide elected official has referred to as "digital fentanyl."
The measure would also prohibit students from using cellphones in class, authorize teachers to designate a specific area for the devices to be placed during instructional time, and mandate new lessons on cyberbullying, predatory behavior and human trafficking.
TikTok has gotten more heat than other apps largely due to its Chinese origin. Critics claim the app allows the Chinese government to access users' data. FBI Director Christopher Wray recently told the U.S. Senate Intelligence Committee that China could use the app to control the data of millions of users. Like the state, the feds are considering legislation to restrict or ban the app.
In the app's defense, it's not available in China — the offering there is known as Douyin — and the Chinese government owns just a 1% stake in a domestic subsidiary of its parent company, ByteDance.
Still, it has a tough job convincing lawmakers in D.C. and statehouses nationwide that it's not beholden to Beijing. That takes lobbyists.
TikTok has some muscle in Florida, with three in-house advocates working on its behalf: Eric Ebenstein, Samantha Kersul and Geneve Villacres. The company is also contracted with James Daughton, Douglas Bell, Leslie Dughi, Allison Liby-Schoonover, Aimee Lyon, Andrew Palmer and Karl Rasmussen of Metz Husband & Daughton.
Breakthrough Insights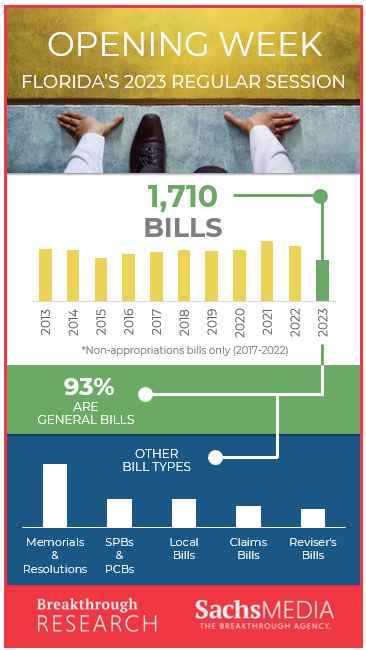 The Next 24
9 a.m. — The House Education Quality Subcommittee will take up a bill (HB 1) that would expand school voucher eligibility to all students, regardless of family income. Room 102, House Office Building, The Capitol.
9 a.m. — The House Local Administration, Federal Affairs & Special Districts Subcommittee meets will consider legislation (HB 101) that would expand a property tax exemption for widows or widowers of first responders killed in the line of duty to also include the survivors of federal agents. Room 17, House Office Building, The Capitol.
9 a.m. — The Revenue Estimating Conference discusses fiscally constrained counties. Room 117, Knott Building, The Capitol.
9:15 a.m. — The Revenue Estimating Impact Conference meets. Room 117, Knott Building, The Capitol.
10 a.m. — The Senate holds a floor session. Senate Chamber, The Capitol.
Also, the following committees will meet.
9 a.m. — The House Transportation & Modals Subcommittee meets. Room 404, House Office Building, The Capitol.
Full committee agendas, including bills to be considered, are available on the House and Senate websites.