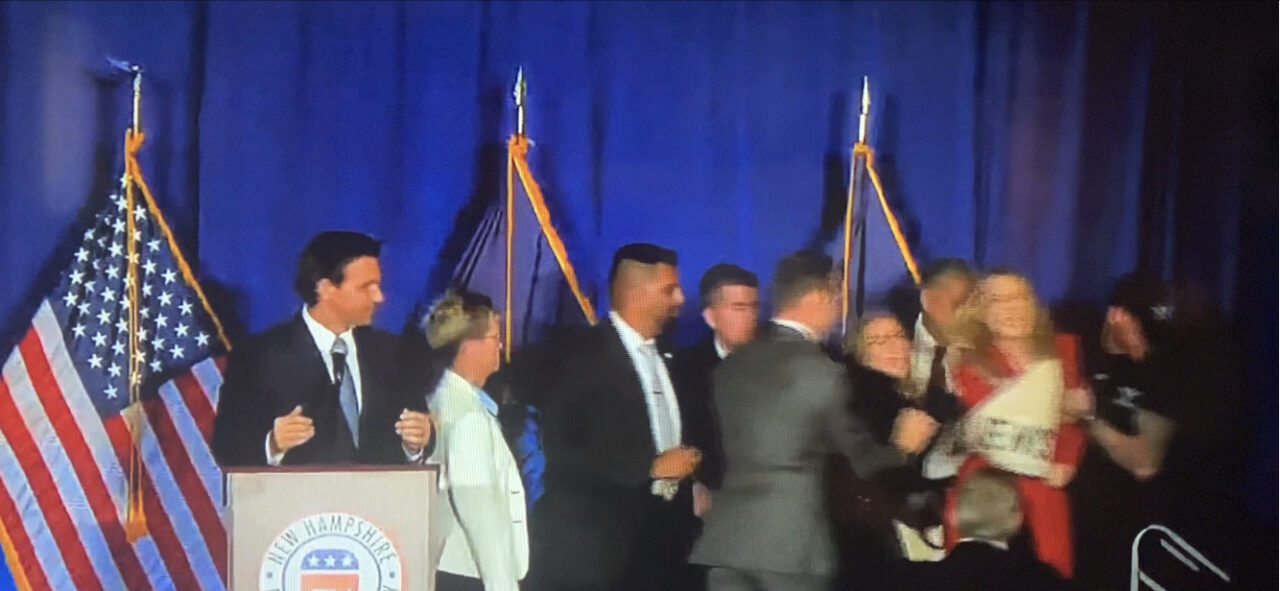 'You've got to come to New Hampshire, you've got to step on that stage.'
New Hampshire's Governor doesn't like the protests Ron DeSantis dealt with Friday, but he suggests they are part of campaigning in the Granite State.
On Fox News Saturday morning, Chris Sununu told Neil Cavuto that while the situation at the Amos Tuck Dinner when the Governor dealt with some women storming the stage chanting "Jews against DeSantis" wasn't ideal, candidates like the Florida Governor nonetheless have to "step on the stage" and deal with it.
"Well, look, you never like to see it. Like, as a fellow governor, there's always potential threats out there and that sort of thing," Sununu said. "But at the same time, you've got to come to New Hampshire, you've got to step on that stage."
"I know Ron did a great job last night. I think he was working the crowd, which is exactly what you want all of these potential candidates to do and see. You got to kind of 'see me, touch me, feel me,' shake the hands, spend some time listening," Sununu added.
"But when there's disruptions like this, it raises alarms and you've got to make sure security and protocols are in place, but it looks like they handled it, handle it fine and we'll move on."
Sununu suggested DeSantis and others need to be aware of the realities and necessities of campaigning in the First in the Nation Primary state.
"But candidates are going to keep coming to New Hampshire. We're still going to have the First in the Nation Primary," Sununu said, calling it "quite a roller coaster circus."
After rushing the stage, the protesters were removed, with the Governor looking only briefly concerned before offering a quip to return proceedings to normalcy.
"You've got to have a little spice in the speech. You've got to have a little fun. Why do you want to pay the ticket for that to get in? But different strokes for different folks," DeSantis said, before returning to his familiar stump speech.