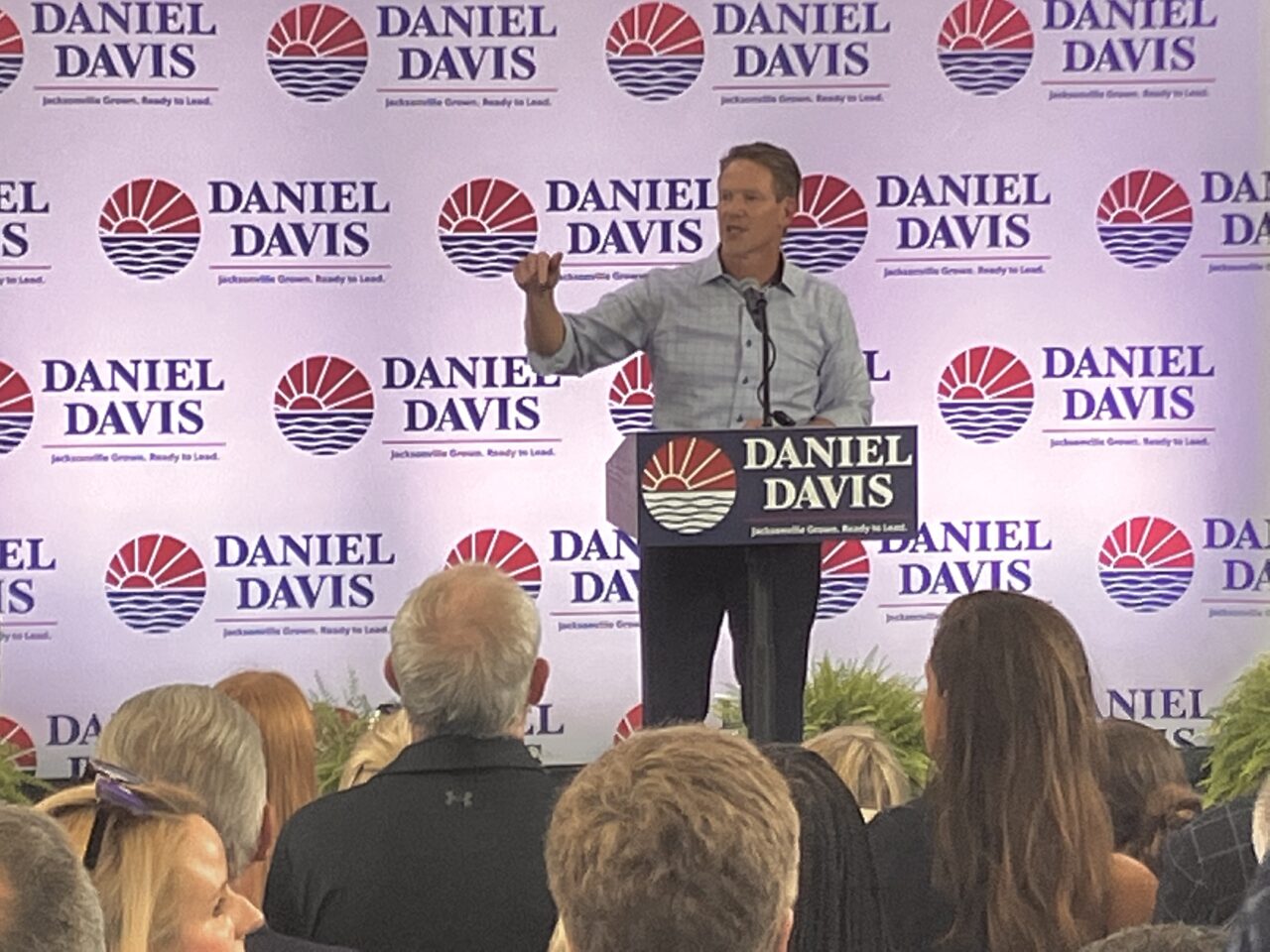 The Republican has a town hall event of his own the same evening.
A mayoral candidate forum for Jacksonville General Election candidates will be one candidate short.
Republican Daniel Davis will not be participating in Wednesday night's forum, a joint production of WJXT and First Coast News featuring panelists Anthony Austin, Kent Justice, Nate Monroe and Melissa Ross, leaving the whole event for Democrat Donna Deegan.
However, the Davis campaign has good reasons, among them a scheduling conflict. The campaign has its own event May 3, a "conversation with parents" that Davis announced a week ago he and his wife Rebekah would attend. That was before the candidate forum was finalized and announced.
For their part, people close to the WJXT event planning say the Davis campaign knew about this event since January and did not suggest opportunities for an alternative date.
The conversation with parents will be held at the Fraternal Order of Police building, which has hosted Davis events throughout the campaign.
Davis spokesperson Erin Isaac offered more context Saturday.
"In just the last 10 days we have done a TV debate, a radio debate and appeared for another community debate at Beaches Watch. Tuesday, they will appear together at a Fleet Landing forum. That's to say nothing of the multiple times in the First Election we appeared at debates and forums. With such a short time in between elections we cannot accommodate every request," Isaac said Saturday.
Indeed, Deegan and Davis have had one televised debate since the March election, hosted at the University of North Florida and televised by Action News Jax. They also have participated in mayoral forums hosted by WOKV (which was livestreamed) and Beaches Watch more recently.
"Daniel looks forward to a (previously scheduled) town hall with Jacksonville parents to discuss parental rights, school choice and neighborhood safety on Wednesday," Isaac added. "With just over two weeks until Election Day, Daniel and our team continue knocking on thousands of doors every week, prioritizing direct voter contact at folks' front doors."
Deegan actually did not attend a town hall event that seemed stacked toward Davis, a symposium with area sheriffs at the Fraternal Order of Police building. The police union and Jacksonville Sheriff TK Waters have both endorsed the Republican, with Waters appearing in ads framing Deegan as a risky choice for law enforcement interests.
Deegan also did not attend a town hall with the Realtors and Builders, groups that also endorsed Davis early.
A survey released earlier this month from the University of North Florida Public Opinion Research Lab shows Deegan with a statistically insignificant lead over Davis, 48% to 47%, with 5% undecided.
That lead is well within the poll's margin of error of +/- 3.8%, and the latest indication that Davis is managing to bring Republicans and NPAs to his side who were not there in the First Election in March.