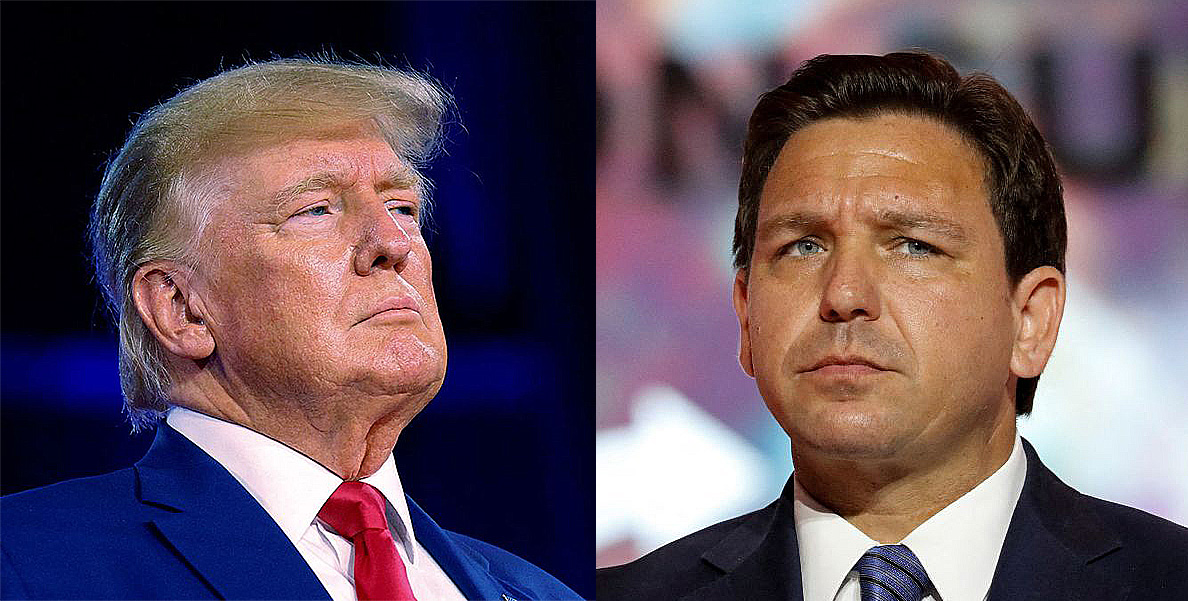 'MAGA will never forget!'
Donald Trump is casting doubts about Ron DeSantis' imminent 2024 campaign launch.
"After campaigning for five months, and going nowhere but down, it looks like Ron DeSanctimonious will soon be entering the race," Trump posted Friday morning to Truth Social. "He has ZERO chance, and MAGA will never forget!"
The Trump dismissal of DeSantis' 2024 chances comes in the wake of reports that DeSantis is telling donors, unsurprisingly, that Trump can't win.
That was the message he put forth on a call to donors organized by his Never Back Down super PAC Thursday, ahead of a trip to New Hampshire Friday to consolidate support.
"You have basically three people at this point that are credible in this whole thing," Mr. DeSantis told donors, as reported by The New York Times.
"Joe Biden, Trump and me. And I think of those three, two have a chance to get elected President — Biden and me, based on all the data in the swing states, which is not great for the former President and probably insurmountable because people aren't going to change their view of him."
DeSantis' argument rests in battleground state polls that have shown him consistently outperforming the former President in head-to-head matchups against Biden. These include April surveys from Public Opinion Strategies in Arizona, Pennsylvania, Nevada and Wisconsin.
DeSantis' launch is widely reported to be May 25. DeSantis is expected to file paperwork and formally launch in Dunedin, the Gulf Coast community where he grew up. He will meet with donors next week in Miami, with those supporters, in turn, soliciting more financial support for the 2024 operation.
DeSantis is amassing endorsements already, including from 99 Republican members of the Florida Legislature, 51 New Hampshire elected officials, and three dozen Iowa legislators.
Yet the major problem for DeSantis may be that at least half of Republican voters want Trump, while less than a quarter want DeSantis, at least according to polling averages.
The RealClearPolitics (RCP) polling average pegs DeSantis at just under 20% support in the 2024 Republican Primary field, with Trump at 57%.
The FiveThirtyEight polling average has DeSantis at just over 21%, with Trump still holding majority support at 53%.
The Race to the White House average is more forgiving to the Florida Governor. Trump only musters 53% support in that model, with DeSantis' nearly 22% standing as the best of the three major averages.