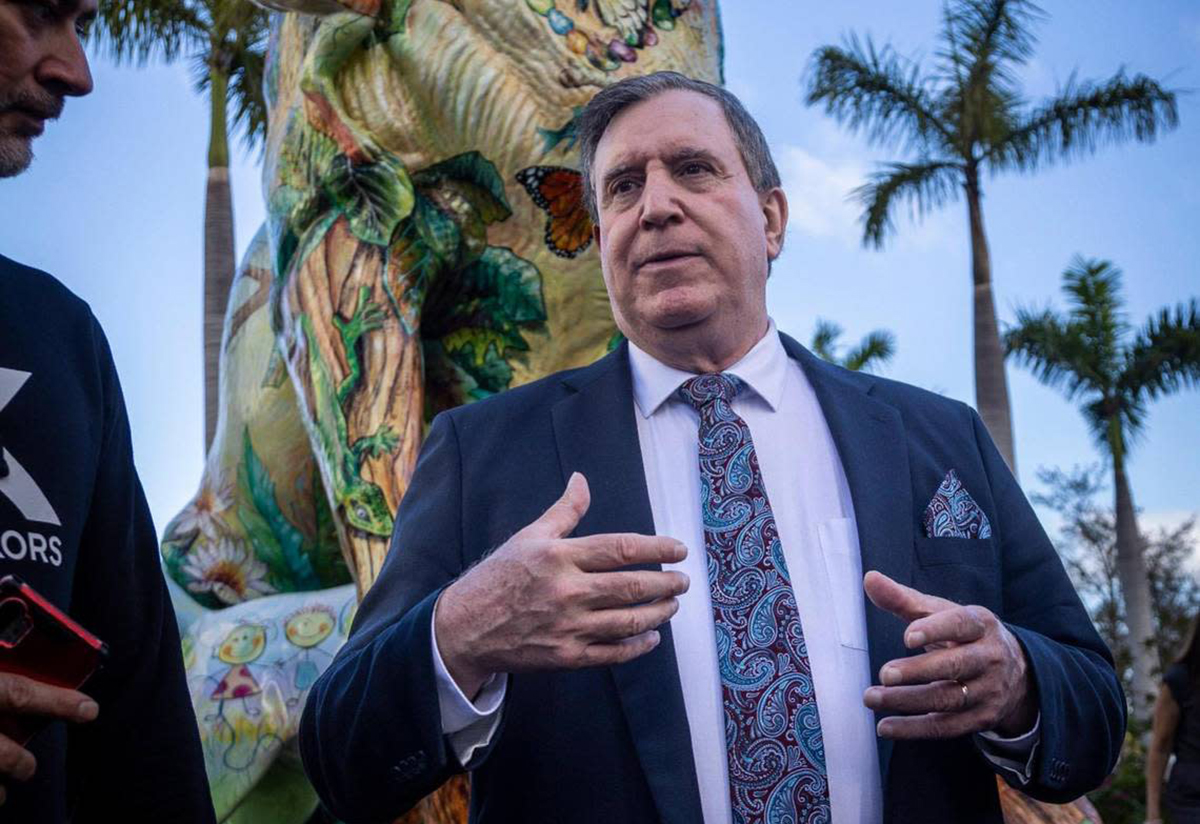 'It feels great to finally smoosh that cucaracha.'
A Broward jury has found Miami Commissioner Joe Carollo liable for violating the First Amendment rights of two business owners in his city, awarding the plaintiffs $63.5 million in compensation.
It's not yet certain whether money would come from Carollo's bank account or Miami coffers. The city has already spent some $2 million on his legal fees.
Carollo says he's plans to appeal.
The jury delivered its staggering verdict Thursday, capping a tumultuous federal civil trial that drew national — and uniformly negative — attention to Miami City Hall and its officials.
Meanwhile, Miami faces a separate, $28 million suit the plaintiffs, William Fuller and Martin Pinilla, filed through the corporate entity that owns the Ball & Chain nightclub in Little Havana.
The club is among businesses the men own that they say Carollo targeted as part of a years-long vendetta he pursued against them after they supported his opponent, Alfonso "Alfie" Leon, in a 2017 race for the City Commission.
"Five and a half years, not only was he a bully but he was also a coward," Fuller told reporters on the steps of the courthouse after the verdict. "It feels great to finally smoosh that cucaracha."
The six-member panel deliberated for just over four hours before making its decision, ending a two-month trial in which the plaintiffs argued Carollo "weaponized' city resources and personnel, including police and code enforcers, to harass their businesses.
The plaintiffs, represented by attorneys Jeff Gutchess and Courtney Caprio, presented evidence that several of their businesses were routinely sent code inspectors and police to their properties, forcing the closure of one and relocation of another.
Carollo's lawyers — Ben Kuehne, Mason Pertnoy and Marc Sarnoff — maintained Carollo never ordered city employees to focus on plaintiffs or their businesses, which received more than a dozen citations for improper or missing permits.
Current and former city staff weighed in on both sides of the argument. City Manager Art Noriega backed Carollo, testifying he never pushed city employees to focus on Fuller and Pinilla. Former Police Chief Art Acevedo, whom Carollo led a September 2021 push to fire, said "Crazy Joe's" scorn of the businessmen was no secret in the department.
Fuller and Pinilla sued Carollo in 2018, claiming he'd infringed on their right to free speech during and since a rally they held for Leon in November 2017 at one of their properties. They filed a complaint with the Miami-Dade Commission on Ethics and Public Trust.
The trial, which began April 10, included video showing police and code enforcers entering their properties, including Ball & Chain, demanding permits from the businesses' staff readily available on city computers. One video featured Carollo, a former two-term Mayor of Miami notorious for his bellicosity in local politics and policymaking, outside the club at night bickering with valets over parking.
Carollo's defense: He was acting in response to complaints from residents about noise and street disruptions, which were the result of serial permit abusers who had no concern for those living in the areas surrounding their businesses.
His attorneys said the more than a dozen witnesses who testified for the plaintiffs, including three former police chiefs and a former city manager, lied under oath.
"It's just that simple," Pertnoy said during the trail. "It's not about targeting."
Caprio presented Carollo's actions as far from benevolent, calling his cations "pure intimidation … meant to punish" Fuller and Pinilla.
The jury ultimately sided with the plaintiffs, awarding $8.6 million in compensation and $25.7 million in punitive damages to Fuller, and $7.3 million in compensation and $21.9 million in punitive damages to Pinilla.
Following the verdict Thursday, Carollo told the Miami Herald he will "be moving forward" in representing his district in City Hall.
A Friday morning press conference organized by the Miami-Dade Democratic Party to call for Carollo's resignation has been postponed until next week "due to an increase in interest from speakers and residents."