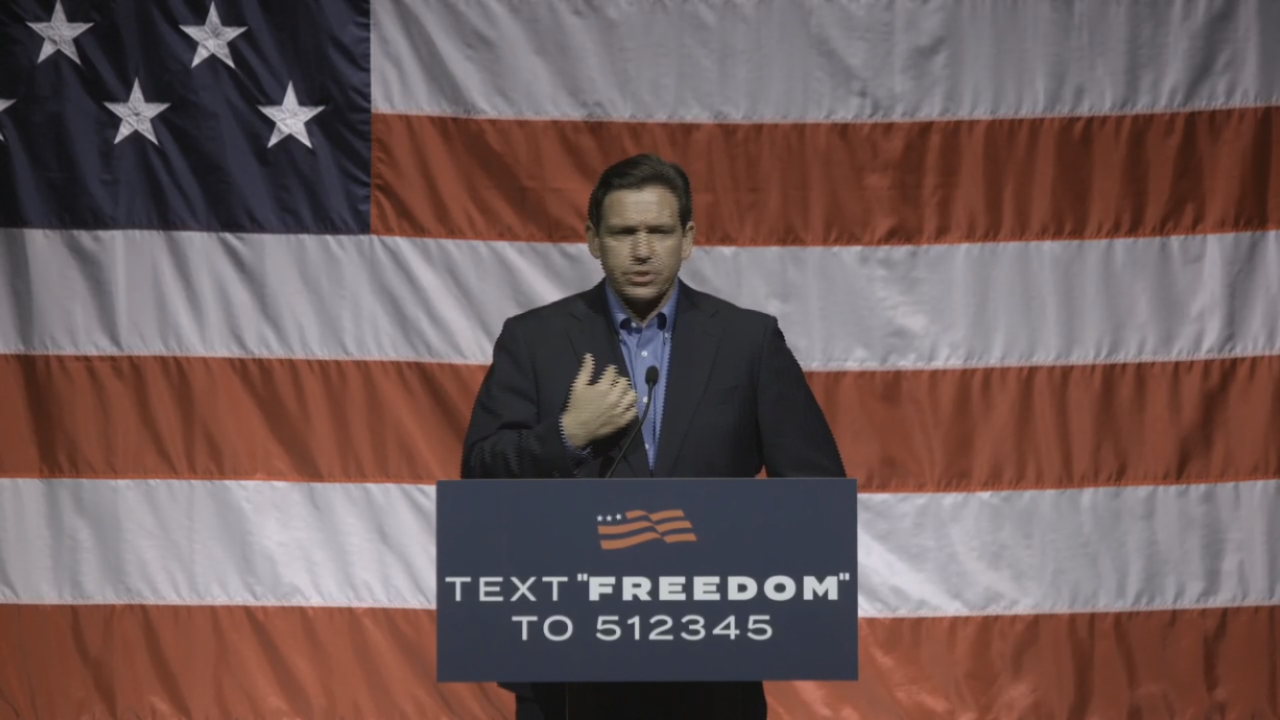 'They're going to end up stone cold dead.'
Ron DeSantis continues to reveal his aggressive plan to mitigate Mexican border crossings.
During a town hall in Hollis, New Hampshire, the Florida Governor redoubled his vow to render certain people crossing the border into Texas "stone cold dead."
"If these cartels are breaking into a wall and cutting a piece out of the wall and moving product in, that's going to be the last thing that those people have ever done because they're going to end up stone-cold dead," DeSantis said to applause.
The "stone-cold dead" comments essentially reiterated remarks he made Monday in Eagle Pass, Texas.
"If somebody were breaking into your house to do something bad, you would respond with force. Yet why don't we do that at the Southern border? So if the cartels are cutting through the border wall, trying to run product into this country, they're going to end up stone-cold dead as a result of that bad decision," DeSantis declared.
"And if you do that one time, you're not going to see them mess with our wall ever again," he said in Texas.
In addition to doubling down on his promise to execute border crossers suspected of drug possession, the Governor also told the New Hampshire crowd that "harm" would come to cities due to illegal immigration.
"I think when you look at the number of criminal aliens that have come in, people on the terror watch list, as much as I hate to say this, I think you will end up having some real harm done from some of these people to some of our communities," DeSantis said.
"I don't know about tomorrow, next week, two weeks, but eventually that's going to happen. The chickens are going to come home to roost."
DeSantis' comments come a day after his presidential campaign announced an aggressive immigration agenda that includes completing the border wall, sending U.S. troops into Mexico to combat cartels, and ending birthright citizenship — the guarantee that those physically born in the United States are granted citizenship, regardless of whether their parents are U.S. citizens.
The sweeping plan, the Florida Governor's first detailed policy release as a 2024 contender, represents a long-established wish list of Republican immigration proposals that largely mirrors Trump's policies. Much of DeSantis' plan faces tall odds, requiring the reversal of legal precedents, approval from other countries or even an amendment to the U.S. Constitution.
The DeSantis campaign has promised to release more detailed policy rollouts in the coming weeks. But in leading with immigration, the two-term Florida Governor is prioritizing a divisive issue that has long been a focus of the GOP's most conservative voters. The pro-immigrant group America's Voice condemned DeSantis for making "invasion" references that have been used by white supremacists.
____
The Associated Press contributed to this post. Republished with permission.