Last Call — A prime-time read of what's going down in Florida politics.
First Shot
With two weeks left before Election Day, President Donald Trump's approval rating has improved by nearly six points.
That's according to the latest statewide opinion poll by the Florida Atlantic University Business and Economics Polling Initiative (FAU BEPI).
From 38.7 percent in last month's poll, it rose to 44.5 percent in the latest survey. Trump's disapproval rating fell to 42 percent.
The survey was conducted Oct. 18-21 and polled 704 Florida registered voters who said they are likely to vote. Party breakdown was 37 percent Democrats, 35 percent Republicans and 28 percent Independents.
"The survey was conducted using an online sample supplied by Survey Sampling International using online questionnaires and via an automated telephone platform (IVR) using registered voter lists supplied by Aristotle, Inc.," the fine print says.
Responses for the entire sample were weighted to reflect the statewide distribution of the Florida population. The survey has a margin of error of 3.6 percentage points.
Evening Reads
"Roger Stone is running out of options" via Abigail Tracy of Vanity Fair
"New polls show Andrew Gillum ahead in governor's race; Rick Scott and Bill Nelson tied in Senate race" via Dan Sweeny of the Sun Sentinel
"Outside spending tops $53 million in U.S. Senate race, boosting Nelson" via Scott Powers of Florida Politics
"TV ad wars intensify in Scott-Nelson Senate race" via Steve Bousquet of the Tampa Bay Times
"Undercover FBI agent got Gillum 'Hamilton' tickets, texts show" via Matt Dixon and Arek Sarkissian of POLITICO Florida
"Gillum targeted by new racist robocall" via Ali Vitali of NBC News
"After CNN debate, Gillum talks 'whooping', Ron DeSantis 'contrast'" via A.G. Gancarski of Florida Politics
"Gillum's vision for America should be every Democrat's closing argument" via Jay Willis of GQ
"Trey Radel-tied ad contains thick lines about Gillum" via Jacob Ogles of Florida Politics
"DeSantis wrong on Tallahassee crime rate" via Brendan Farrington of The Associated Press
"The most contested U.S. House races in Florida: Will the Republicans keep their seats — or not?" via Mitch Perry of The Florida Phoenix
"Bill Posey, Democratic challenger disagree on just about everything" via Dave Berman of Florida Today
"Pro-veterans group hits Lauren Baer over 9/11 comments" via Ryan Nicol of Florida Politics
"Jim Bonfiglio files ethics complaint against Mike Caruso in HD 89" via Drew Wilson of Florida Politics
"Sheriff candidate Darryl Sheppard's Facebook page posts fake Trump-endorsement tweets" via Jeff Weiner of the Orlando Sentinel
"Judge clears way for challenges to gun law" via the News Service of Florida
Quote of the Day
Shot: "Did y'all see that whooping we put on Ron DeSantis? This brother can't get off the stage soon enough." — Democratic candidate for Governor Andrew Gillum to supporters in Jacksonville, one day after the CNN gubernatorial debate.
Chaser: "You saw a contrast. I'm a leader. I have a record of service to the country … Andrew's a career politician. He's never done anything outside of politics since college." — DeSantis, in response.
Bill Day's Latest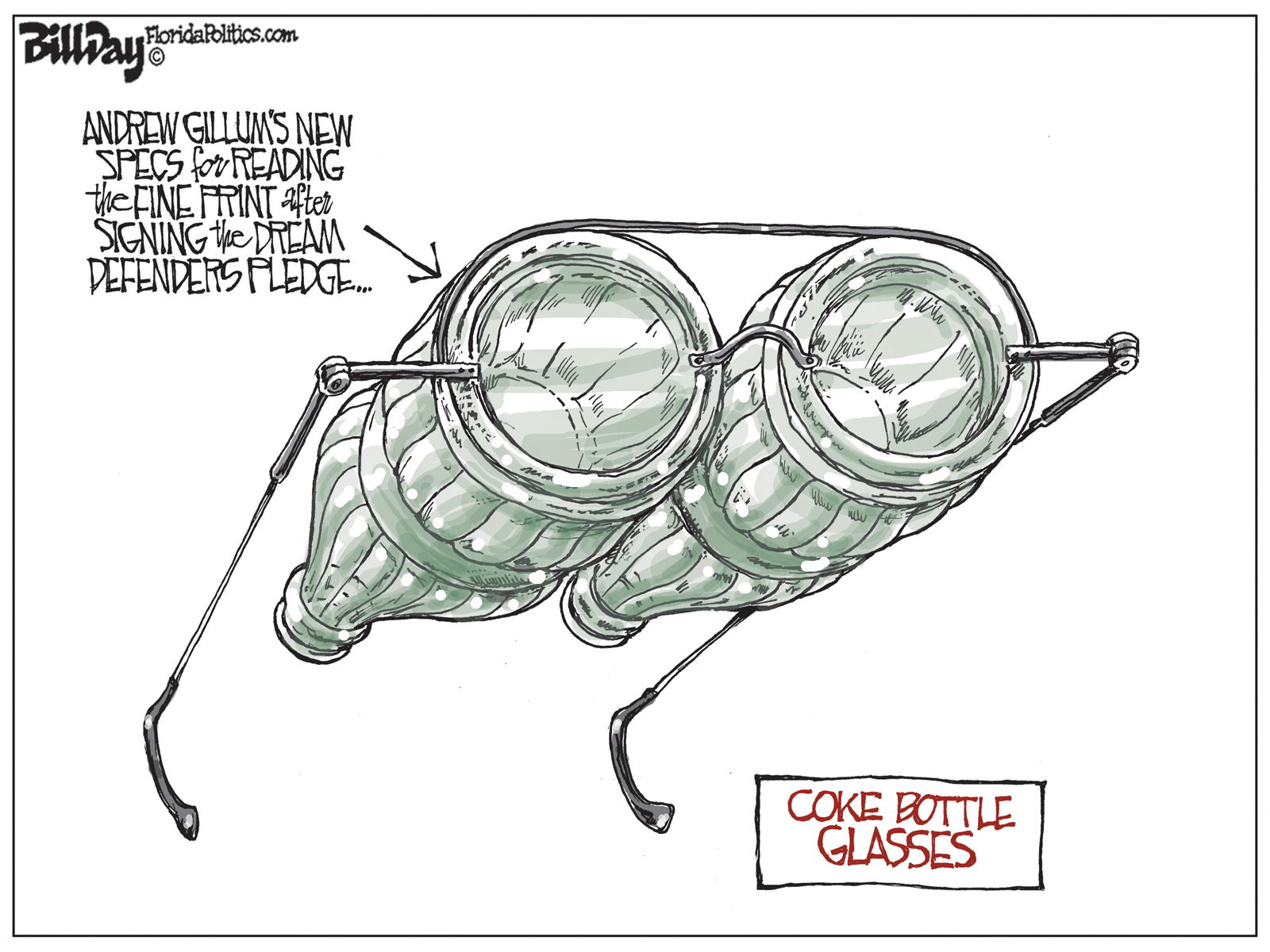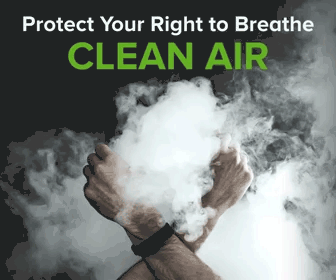 Breakthrough Insights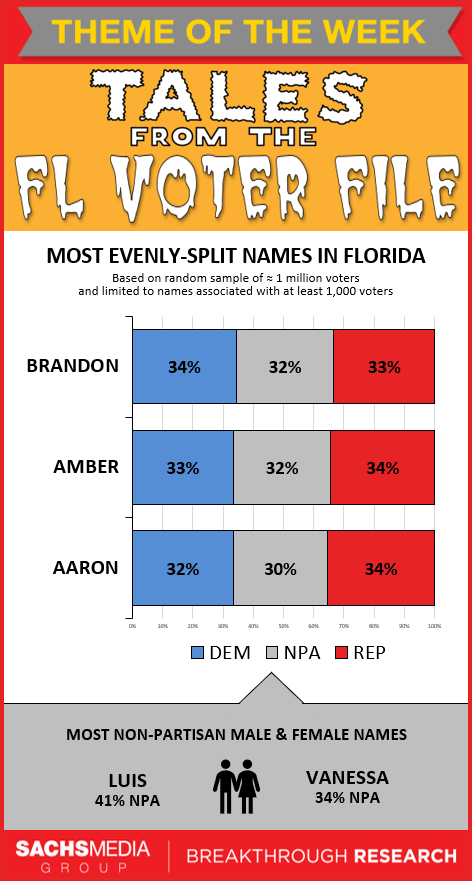 Wake Up Early?
The Florida Citrus Commission is expected to discuss an October budget revision and assessment rates. That's at 9 a.m. Florida Department of Citrus, 605 East Main St., Bartow.
The Re-employment Assistance Appeals Commission will meet at 9:30 a.m., 101 Rhyne Building, 2740 Centerview Dr., Tallahassee.
GOP U.S. Rep. Dennis Ross will help announce plans for a new research, training and advocacy center at Southeastern University. Ross, who decided against seeking re-election this year, will join the university's faculty and will help lead the center. That's at 10 a.m., Southeastern University, Buena Vida Auditorium, Lakeland.
Democratic U.S. Rep. Ted Deutch is slated to speak to the Gold Coast Tiger Bay Club. That's at 11:30 a.m., City Fish Market, 7940 Glades Road, Boca Raton.
Republican gubernatorial nominee DeSantis and Democratic candidate Gillum will take part in a televised debate hosted by Leadership Florida and the Florida Press Association. The debate will be broadcast on television stations in markets across the state and on C-Span and will be on Florida Public Radio. That's at 7 p.m., Broward College, Bailey Hall, 3501 Davie Road, Davie.
Howard Simon, the longtime executive director of the American Civil Liberties Union of Florida who will retire next month, will discuss civil-liberties issues during an event in Miami-Dade County. Also taking part will be Anthony Romero, the ACLU's national executive director, and Nancy Ancrum, editorial page editor of the Miami Herald. That's at 7 p.m., The Biltmore Hotel, GableStage, 1200 Anastasia Ave., Coral Gables.