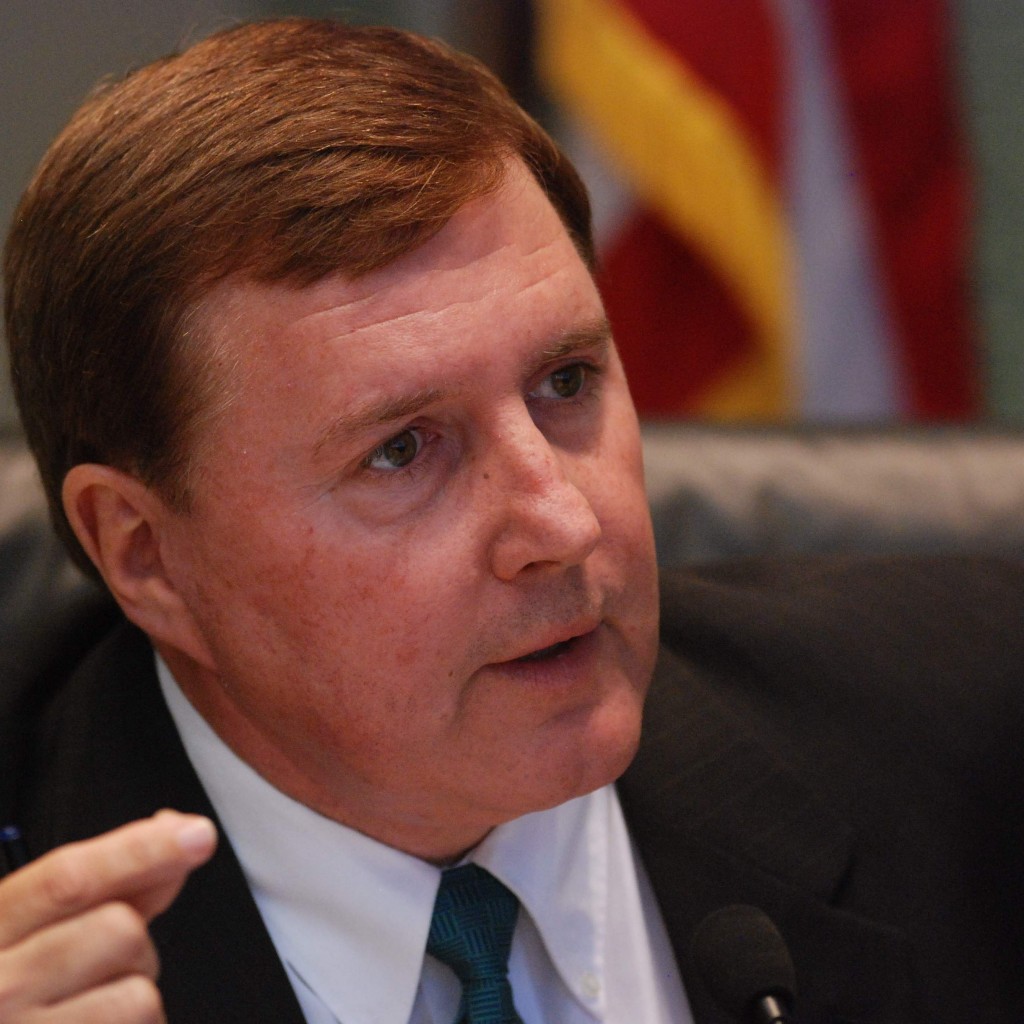 Former Hillsborough County Commissioner and state Sen. Jim Norman wants you to know one thing: Everything you thought you knew about what happened to him in 2010 is wrong.
"The media put a message out there that is just inaccurate, and I'm really burned about that, so I'm pretty fired up with setting the record straight," he said in an interview earlier this week.
In case you've forgotten or weren't around five years ago, "the message" that Norman says is wrong was the story that led to his ignominious political downfall after two decades in public office.
It goes like this: After 18 years on the Hillsborough County Board of County Commissioners, Norman made his debut run for the Florida Legislature in 2010, and was involved in a contested primary with fellow Republican Kevin Ambler. News broke during the middle of that state Senate campaign that Norman had failed to disclose a $435,000 Arkansas vacation home "given" to his wife, Mearline, by Ralph Hughes, the late east Hillsborough County power broker and longtime friend of Norman.
Although Ambler did all he could to use that story to advance his campaign, Norman ultimately prevailed in the GOP primary. Then Ambler went to court after the primary, claiming that Norman's election was invalid because of his failure to disclose his wife's home on financial forms. The Leon County Circuit Court judge who took up the case initially found Norman's explanation that he knew nothing about the house, "patently absurd," and ordered him off the ballot. An appellate court later reinstated him. Norman then went on to defeat two write-in candidates in the general election, after the Democratic Party failed to field to find a sentient human being to run against him.
The FBI began an investigation into the situation as well, though it later determined there was no wrongdoing. In March 2011, Norman did admit his guilt in failing to disclose the information about the house with the Florida Commission on Ethics.
Norman appeared set to run for re-election in 2012, but then dropped out after he realized that his Senate District 12 seat that contained parts of Pasco and Hillsborough had been significantly redrawn by GOP legislators. The new map included much more of Pasco than Hillsborough, making it more favorable for one of his Republican primary rivals, state Rep. John Legg.
Norman now says he was set adrift in redistricting because he got sideways with top Senate leaders about funding for USF and against then Senate budget Chairman JD Alexander, who was determined to split the USF Lakeland campus off into what would eventually become Florida Polytechnic. "I was either going to sell out (the University of) South Florida or lose Senate support and I was a freshman, and they don't take kindly with freshmen standing up against appropriations chairs and Senate presidents," he recounts, laughing.
It appeared that his long career in public service was over. His hometown newspaper, The Tampa Tribune, offered last rites in the editorial "Norman's sad departure." The paper noted that the fallen lawmaker "had no one to blame but himself. Arrogance and ethical indifference grew along with his political success."
But reports of his political obituary have been greatly exaggerated, apparently.
In February, Norman gave an interview to the Tribune's Mike Salinero to say he was eyeing a comeback. Since then he's been meeting with various organizations and opinion makers, and seems poised to announce perhaps as early as next month that he will be a candidate for the Republican nomination to run in the District 6 countywide seat being vacated by a term-limited Kevin Beckner.
Norman's story began in Jacksonville, where he was born and bred. He says his work with the Salvation Army brought him to Tampa, where he also became head coach for the junior varsity football team at Berkeley Preparatory School.
An unknown political entity in 1992, Norman says, "Nobody game me any chance to win" in the county commission seat that had been held by Democrat Pam Iorio. "I walked every house," he recounts, something he says he has done in every election. He ended up defeating Democrat James P. Doyle by 227 votes, and never lost his re-election bids.
In recounting his victory over Stacy Easterling in the 2002 GOP primary, Norman can't help but boast about his electoral record, which he says is 19-0. "It was a very contentious race," he says. "I walked in every house, and won handily, so I know what I'm doing."
Norman, who turns 62 next month, emphasizes how much of an "ideas guy" he's always been, offering perspectives on issues such as transportation that haven't been explored during the current debate (He's not keen on raising taxes of any sort).
A cultural conservative, he's asked whether he would side with fellow Republicans such as Ken Hagan and Al Higginbotham, who two years ago joined their BOCC colleagues to reverse the infamous 2005 ban on gay pride events.
"I believe that every human being should be able to make their own choice without being influenced," he says. "And that was the basis for that vote. If the situation was different, I will look at the situation. That's where I am. I don't want them to hurt their family, I don't want them to hurt other families. That's kind of where I come down on. If you know my history, I have coached and worked with kids for 25 years so I've run across gay children, straight children, and I love them all. I will look at a situation and make a decision, at that time."
He goes on to add that, "I've never had any hatred with anybody. I actually have a married gay couple next door to me. I don't have any … I personally, my own personal values is that's not something that I want to participate in. So you won't see me in the parade, but whatever. If it doesn't affect kids and doesn't hurt children and those kinds of things, and the courts have ruled?" he says.
He also passionately defends an idea that never caught on with the general public or his colleagues. That's the $40-million complex called Championship Park that would have been built north of Plant City. As envisioned by Norman, it would be a 20,000-seat stadium for soccer, baseball, softball and other tournament events, and funded by the Community Investment Tax. A review committee supported the proposal and said it could pay for itself and potentially make money.
But the public decided the county had more pressing needs. When the issue ultimately came up for a vote in 2007, Norman got no  support from his colleagues.
As far as the Arkansas lakefront home, Norman emphasizes there was never any "gift." He says his wife and Hughes were in business together, and "she also put her own money in the thing. It's not like there was this blank pool (and) it was only his money. She put her own money in, also."
"Nobody gives anybody a $500,000 home," he says of Hughes' alleged gift. "Even though, he's like my stepfather, I'm very close to him. They were in business together!" he says.
"And all of that was proven. I've got all the documents to prove that. I've got him making bids on the house, her making with him on the phone, back and forth. If it was a free house, why would he continue on making bids on other properties if they weren't in business together?"
Norman then takes a single sheet of paper from a file folder. It's a "Letter of Resolution" indicating that Mearline Norman had resolved all "issues and disputes" with the Arkansas home, and signed by Shea Hughes, Ralph Hughes' son.
As the new millennium began, environmentalists and liberals contended the County Commission was in the back pocket of developers. Norman counters that, saying he attempted to be "creative" in using the development community to help rehab economically troubled areas in the community by doing such things as waiving impact fees.
"So I was using all of that, and I got tagged as, 'Oh, you're helping out the development community!'," he says, mocking such criticism. "You're not. You're helping every aspect of the budget, (and) law enforcement, by trying to be creative with development. Now, you can call that pro-devleopment if you want," he says, laughing heartily.
Throughout the interview, Norman circles back to his central premise: He was accused of something nefarious, and he's been totally cleared. "I didn't do it!" he exclaims at one point. "So how do you expect me to respond. I didn't do anything."
Yet for all of protestations, a review of  2010 shows the longtime politico was hardly proclaiming his innocence so loudly at the time.
"I handled it poorly," he acknowledges. "I just did. I mean, I know I did," adding that when the media went after his family, "My switch flipped, and I handled it very poorly."
Political insiders tell FloridaPolitics.com that they know Norman's been working hard in recent months to tout his upcoming candidacy, and he says he feels the financial support is there.
When news floated in February that Norman was considering a comeback, Hillsborough County Republican Executive Chairwoman Deborah Tamargo indicated irritation. She's more diplomatic now, saying, "You can never underestimate, or not give kudos, to Jim Norman, that he'll be out there walking door to door, he'll get out there walking and he'll do it every day, he'll get out there and be a prolific fundraiser, any candidate get into the race need not underestimate him."
Tamargo says she thinks perhaps two other Republicans will challenge Norman should he run.
Those said to be considering a candidacy include former congressional candidate E.J. Otero, former County Commissioner and state Sen Ronda Storms, and Tim Schock, who ran against Al Higginbotham in the GOP primary race for the district 7 seat last year.
For his part, Norman dismisses any GOP challenger: "It doesn't bother me. I know how I apply myself," adding that he's not a "typical candidate."
"I've won 19 times, never lost, for a reason. I apply myself like no other person applies himself and if I run, I will be as prepared, and as hard-working, as any human being on this planet. And all the people I've talked to the past 90 days, 90 percent of the group that has always been with me is all with me. There'll be that 10 percent (against him), and that's OK."
Other Republicans think he'll be formidable.
"At this point I would have to say that Jim Norman would be the favorite in a Republican primary," GOP consultant Mark Proctor says. "He has tremendous name recognition and the ability to raise substantial campaign funds. I understand that he is already getting pledges of support from most of his regular backers.
"Mr. Norman has also built a reputation for being a true grassroots campaigner and his door-to-door strategy is legendary. I suspect that there are those detractors who would like to see a fresh face enter the competition, however so far I have yet to see the Republican regulars rally behind anyone else."
"Based on the field, I wouldn't bet against Norman," says political analyst Chris Ingram, who has been a critic of Norman. That's based on the field now, he says, which doesn't include any Republicans.
The three Democrats already in the District 6 race aren't impressed to hear about Norman's potential comeback.
"I'm embarrassed for our community that he's even considering a run," Pat Kemp says. "As for me, I'm looking forward to holding him accountable for years of creating sprawl and turning his back on this county while enriching himself."
"I am out in the community meeting with voters and I consistently here that our community is ready for new ideas and new leadership," Brian Willis says. "I am confident voters don't want to go back to the days of investigations and accusations of corruption. We have gained early momentum because of voters' enthusiasm for new leadership."
Tom Scott, on the Hillsborough commission for years with Norman, says that although the public may forget or not care about Norman's checkered past, the news media won't.
"They will always remind you whatever challenges you have faced … so that will always be there," Scott says. "We all have a record, and so people have a tendency to remind us of our record, as well."
"You never underestimate the voters and what they might do," says Commissioner Les Miller, seeking re-election in District 3 next year. Miller was an underdog in 2010 to then incumbent Kevin White, being badly out-fundraised. Even though there were questions about White's ethics (he later was tried and sent to prison), there was talk that many in the black community thought White was the victim of an unfair news media attack, and would prevail.
Miller defeated him in an upset, though. Can Norman win in 2016 with those voters thinking he received an unfair shake from the media?
"He could be a formidable candidate," Miller says. "But there are some other formidable candidates in the race too, so it will be interesting to see what happens."