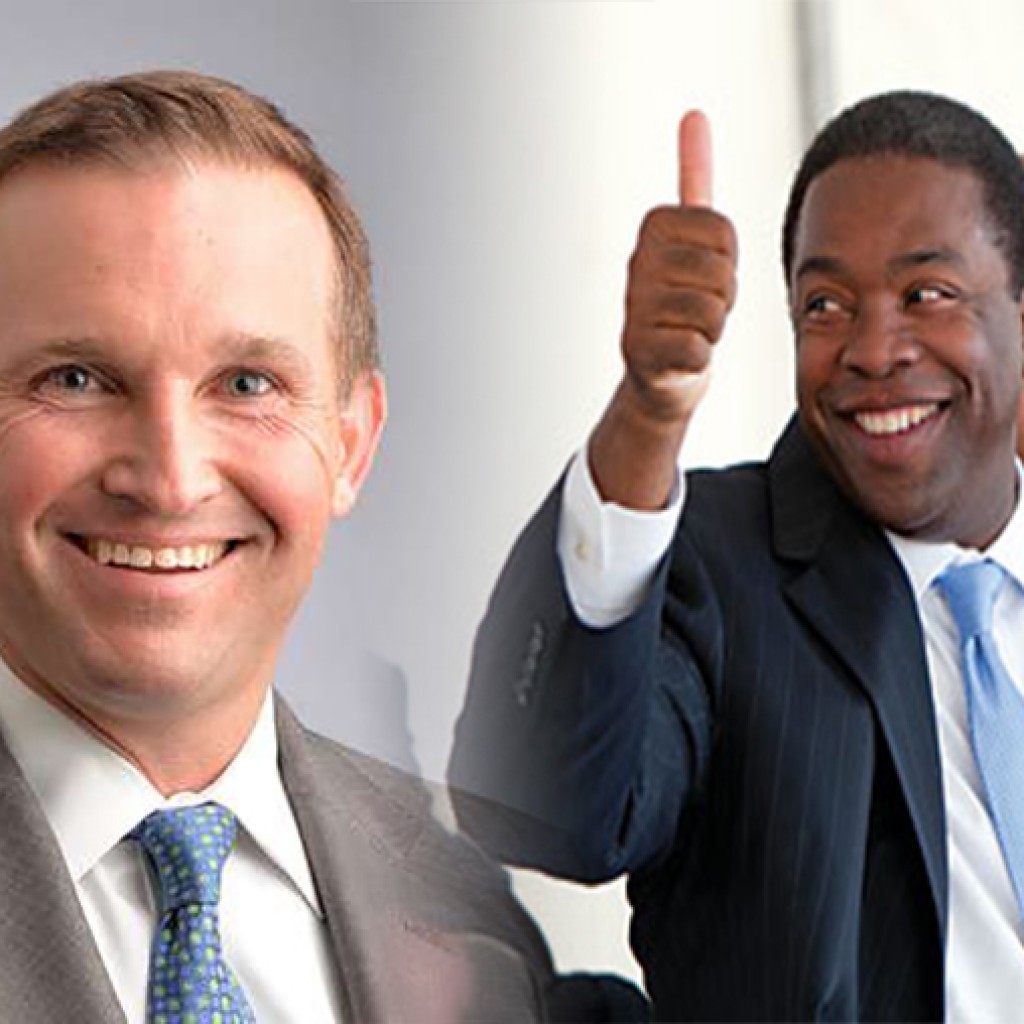 As a conservative Democrat in GOP-leaning Duval County, Mayor Alvin Brown has always had to triangulate. It's a skill most Florida political observers think he learned from his years Bill Clinton's orbit (arguably the most skilled Democrat in history at swimming upstream in the South).
Perpetually walking a knife's edge on taxes and spending, not to mention thorny social issues like LGBT equality, Brown's governing style and messaging has consistently been centrist to moderately conservative. That approach has won him the support of some (but notoriously, not all) of Jacksonville's GOP managerial elite. On the D side of the aisle, the city's large African-American voting bloc remains strongly in his column.
At the same time, that path has managed to alienate part of his Democratic base of white liberals, who've long pressed him on updating the city's human rights ordinance.
Jacksonville remains the only large metro in America that has yet to update its HRO to include language that protects LGBT residents from discrimination in jobs, housing and employment. The unfinished business of the HRO was partly a factor in garnering moderate Republican mayoral candidate Bill Bishop a nice chunk of the vote in the city's First Election in March.
Now, the Brown campaign appears to be pursuing those voters with its announcement that Brown on Thursday ordered his Office of General Counsel to conduct a comparative study of federal, state, and local laws that combat discrimination. It "will ensure that city office holders have the information they need to take the actions necessary to prevent discrimination in Jacksonville."
UNF political scientist Matt Corrigan sees the move as a clear play for Duval's progressive whites.
"It's clear that this has become a turnout election, this one in particular because the Curry campaign is working the Republican side so hard that Mayor Brown's going to need a strong turnout by Democrats," he said.
"You had some of his supporters going over to Bill Bishop because they weren't happy with what the mayor did on the HRO issue. And so at this point it's probably an outreach to these voters."
Will this outreach be successful? According to Jacksonville's LGBT PAC, it depends.
"Other studies of this issue in Jacksonville have revealed the compelling need for these protections for LGBT people in the areas of housing, employment, and public accommodations," said chair Jimmy Midyette, who points out that his organization continues to document incidents of discrimination.
"Companies have skipped over our area for expansion based on the lack of these protections. If the study is comparative, and other major metropolitan areas in Florida and the nation are considered, it will be clear where the gaps are as Jacksonville is the last major city in Florida lacking these protections."
Meanwhile, Lenny Curry campaign spokesman Brian Hughes called Brown's announcement "politically motivated nonsense driven by outside special interests 26 days before an election," citing that a press release from the Human Rights Campaign had already been distributed lauding the move.
Speaking of the Human Rights Campaign, the Rev. R. L. Gundy of Mount Sinai Missionary Baptist Church in Jacksonville tells FloridaPolitics.com he will "neither confirm nor deny" reports the HRC has been on the ground in Jacksonville reaching out to this city's influential local African-American faith leadership on the HRO issue.
Gundy would say only, "I think a lot of pastors will support this because it's the right thing to do."
Up until this week, both the Brown and Curry campaign teams seemed to make the calculation that taking a strong stand one way or the other on the HRO risked losing more votes than might possibly be gained. Thursday's  announcement is a (slight) recalibration.
It's also in keeping with national trends. A record six in 10 Americans now support same-sex marriage, now legal in Florida.
Midyette says his cohort remains hopeful for an even stronger signal from the mayor's office — not to mention a robust response on the issue from Curry's camp.
"The voters of Jacksonville deserve to know if Lenny Curry agrees that the General Counsel should study gaps in our nondiscrimination ordinances, or not. And if not, how would Mr. Curry solve the problem of our city's lack of nondiscrimination protections for LGBT people?" he said.
Said Corrigan: "This could make the Curry campaign have to respond to the issue yet again and clarify their position."
Duval's complex political cross-currents require deft navigational skills. The LGBT issue has long been viewed by political operatives as one that could land their candidate bleeding on the rocky shoals of defeat.
It's evident, though, a few weeks out from the runoff that staying completely noncommittal on LGBT rights has ceased to be a viable option.
"It is necessary for Mayor Brown or his team to clarify for the community the parameters of the General Counsel's study," Midyette said. "We are cautiously optimistic that it is the ongoing issue of discrimination against people in Jacksonville's LGBT community that he seeks to remedy.
Meanwhile, our goal remains to elect a city council that will send the mayor a comprehensive update to our nondiscrimination ordinances that at long last expresses that Jacksonville is a tolerant city, respective of diversity, that is truly ready to take its place on the world stage."