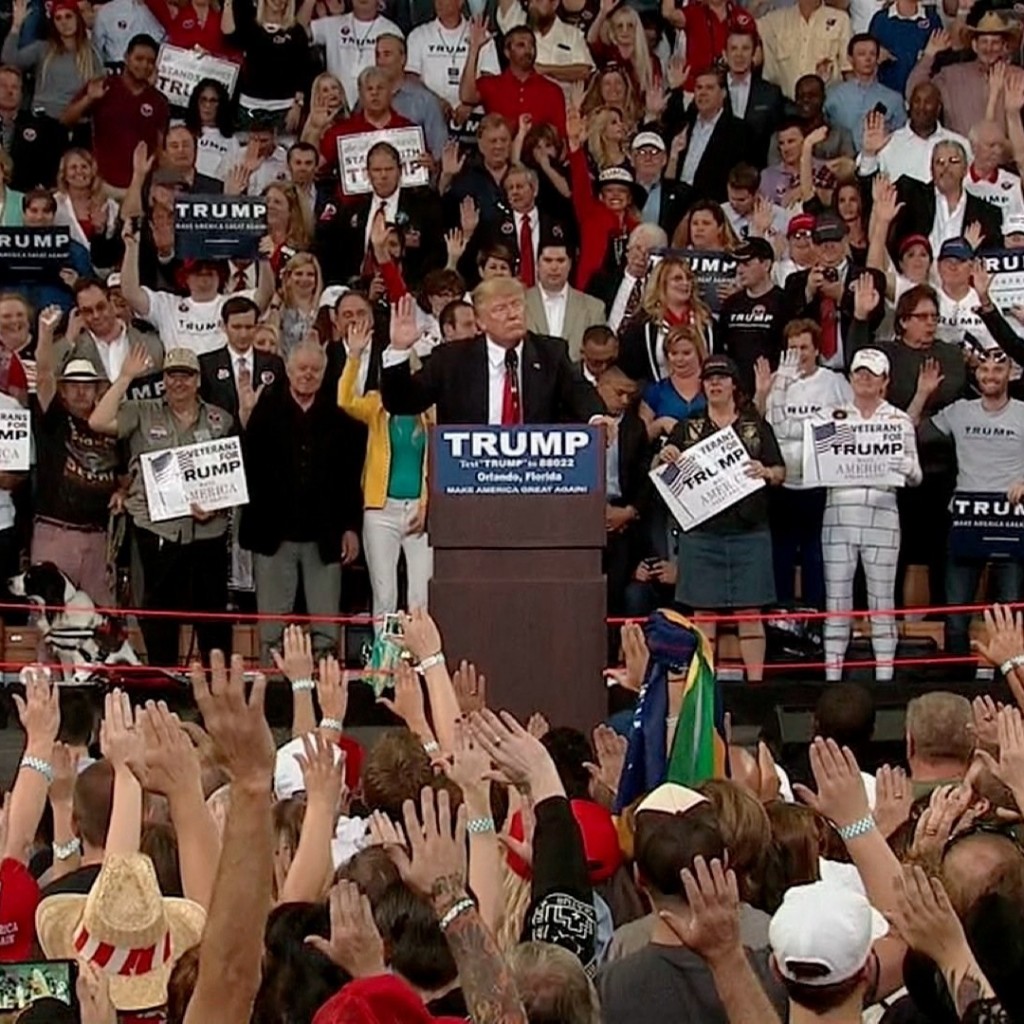 Finally, there's media pushback (for one, Joe Scarborough on "Morning Joe" show Tuesday morning) on some of the response to the Donald Trump-gets-supporters-to-raise-their-right-hands thing at the University of Central Florida on Saturday.
You've seen the memes and the shocked reports (from journalists whom I suspect were not there) suggesting this all was reminiscent of Nazis thrusting "Heil Hitler!' salutes. I saw one media report in which someone asked a holocaust survivor for her reaction to what Trump had done.
Trump continued nonetheless. He reportedly ran the same schtick at rallies on Monday.
This morning, the "Today Show" on NBC raised the issue, bringing it up from the murky waters of social media where it had been lurking for the most part since the early reports in some media on Saturday focused on the raised hands.
It was nothing like that.
I was there Saturday. And other reporters who were there, whom I spoke with since then, agree. One said it reminded him of people raising their hands in worship in his church.
The audience response on Saturday was a far more innocent campaign speech moment in which Trump made the argument that people needed to actually vote, and then asked the crowd to raise their hands and promise to get out and vote, and to vote for him.
Here's what he actually said to inspire most of the 10,000 people at the CFE Arena raised their right hands:
"You've got to get out and vote folks. It's Tuesday. It's not this Tuesday. It's the following Tuesday. Tuesday the 15th. You know what I would do, just for kicks? If you're sick, you don't feel good. And even if you get sick and you can't walk, have someone lift you up. I think it's so important, I'll pay for it. I'll get an ambulance.
"Listen. Listen. You have to get out to vote. It's not this Tuesday. It's the following Tuesday. If we win Florida, it's over. If we win Florida and Ohio, it's really over.
"And in Florida, you can early vote. Right? You can go out and you can vote early. So go and do it. Go vote. OK, wait. Let's do a pledge. Everybody! Who likes me in this room?"
There is a loud cheer.
"Everybody! Can I have a pledge? A swearing! Raise your right hand. I do solemnly swear."
Most members of the audience raised their right hands and responded: "I do solemnly swear."
"That I, no matter how I feel, no matter what the issues are, if there are hurricanes or whatever."
"Hurricanes or whatever," the audience replied.
"That's good enough. Will vote! On or before, the 12th, to elect Donald J. Trump for president."
Loud cheering ensued.
"Don't forgot, you lifted up your hands. You swore. Bad things happen if you don't live up to what you just did."
"Nah, I can just appreciate it. Nothing will happen."
By Saturday night, the pictures came, showing thousands of people raising their right hands. "Heil Hitler!" they seemed to suggest, and the memes that followed suggesting exactly that.
While the "Today Show" was picking up that theme Tuesday morning on NBC, the "Morning Joe" hosts Scarborough and Mika Brzezinski were trashing the Nazi allusion on NBC's sister station, MSNBC. And late in Tuesday's broadcast, they got Trump to respond.
He called the Nazi allusions ridiculous, and said the first he'd heard of it was Tuesday morning on the "Today Show."
"I have these massive rallies. We have 25,000 people at some of them, or more or more. We're having actually a great time considering the subject matter is not so good, really the country is not doing well," Trump said on "Morning Joe." "And I say, jokingly, raise your hand if you swear to endorse me and swear to go and vote for me, and the entire place practically laughing and having a good time, raises their hand. they're raising their hand in the form of a vote, not in the form of a salute, that's crazy."
The pictures look disturbing, especially when placed side-by-side in a meme with a picture of brown shirts. But the real experience actually felt responsible. Raise your right hand and promise you'll get out and vote, and vote for me. I seem to recall Michelle Obama seeking a similar pledge in a campaign stop here, though I don't recall, and I doubt, that she asked people to actually raise their hands.
I first posted my response on Facebook Tuesday morning, after hearing that. The responses seemed to indicate that while the optics of the pledge may have been twisted into a more nefarious meaning, it was done because Trump has solicited hatred and fear in his speeches, not unlike fascists.
Perhaps. But that's not what the pledge was for. Asking people to swear to vote is not altogether a bad thing.