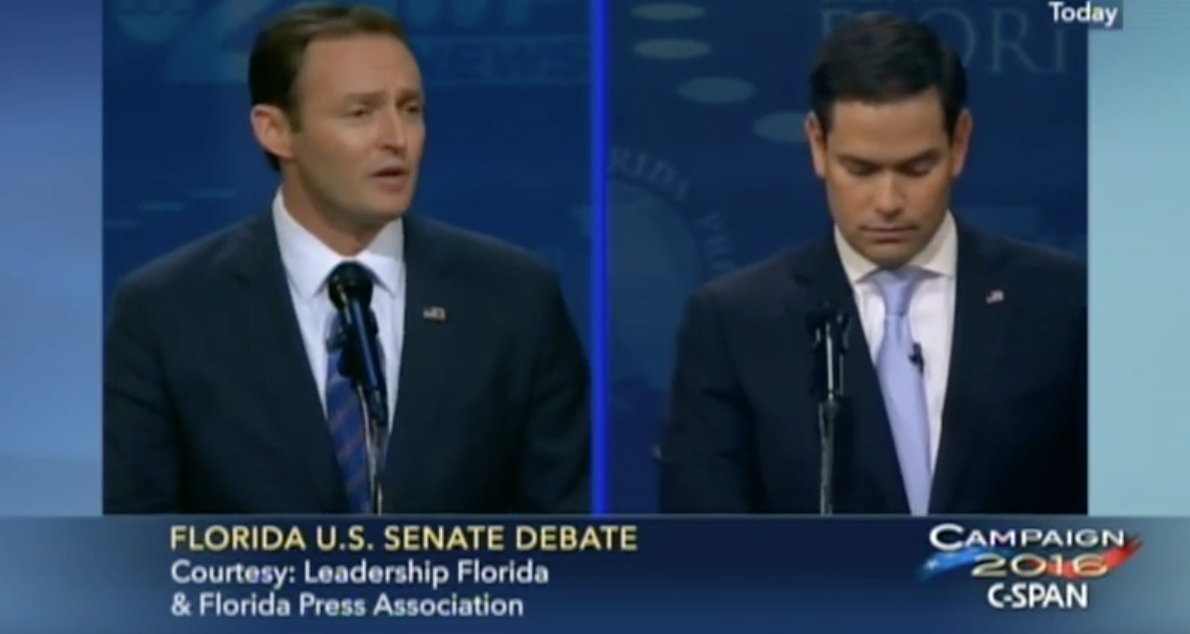 While discussing U.S. policy in Syria during the Senate debate between Marco Rubio and Patrick Murphy in Davie on Wednesday night, Rubio one-upped his Democratic opponent by chiding him for saying that the Kurdish resistance fighters known as the Peshmerga were fighting in Iraq, not Syria. Now a Democratic Representative and Iraq veteran is calling on Rubio to apologize for "using these brave soldiers as a punchline."
"As a veteran of the war in Iraq, I know exactly what kind of sacrifice the Kurdish forces are making right now in the fight to recapture Mosul in Iraq," said Rep. Ruben Gallego, an Arizona Democrat, in a statement released by the Murphy campaign after the debate. "The Peshmerga are some of the world's bravest and most elite warriors. They have been some of our strongest allies in the multidimensional regional battle to defeat ISIS, a conflict that recognizes no national borders. Patrick was right — the Kurdish fighters are key in the fight against ISIS."
The remark occurred when the Miami Herald's Patricia Mazzei asked about how the candidates would deal with the more than five-year conflict in Syria. Rubio said currently it was important to ensure the war-torn nation not become a safe haven for terrorists.
Murphy said it was crucial to get rid of Syrian President Bashar al-Assad, and that meant maintaining alliances with various actors in the Middle East.
Rubio countered by saying he wasn't sure what alliances Murphy was referring to, "The one with the Kurds? The Syrian Kurds or the Turks? This is the situation this president has put us in."
"It is important to note how many factions are in Syria right now," responded Murphy. "Whether it's the Kurds or the Peshmerga, Iraq, Hezbollah, Russia, the moderate rebel forces that we have tried to arm in many ways, and it's important to talk about them." He then pivoted towards denouncing Rubio for supporting Donald Trump, who he said wants to "tear up those alliances."
The moderator indicated that the exchange was spent, but Rubio said he needed to get in a response.
"Congressman there are no Peshmerga in Syria. The Peshmerga are Iraqi," Rubio said.
Murphy interjected, saying, "Yes, and they are helping us fight."
"In Iraq, not in Syria," Rubio responded. "The Syrian Kurds, in fact, don't get along with the Iraqi Kurds which is adding more complexity to the region."
In fact, there are reports Iraqi Kurdish Peshmerga fighters have entered into the fighting in Syria.
Al-Jazeera reported in July that some Peshmerga soldiers held back from the front line in fighting the Islamic State in Iraq have crossed the border into Syria to fight with the Kurdish People's Protection Units, where soldiers can move from unit to unit with fewer restrictions.
The Murphy camp also provided a link to a CNN story from 2014 reporting of Iraqi-Kurdish Peshmerga fighters arriving in the besieged northern Syrian city of Kobani. And they trotted out Rep. Gallego, who was in the hall watching and supporting Murphy during the debate, to rebut Rubio's comment.
"Tonight, Marco Rubio tried to use these brave soldiers as a punch line," Gallego said Wednesday night. "He should apologize to our allies as they are fighting and dying on the battlefield right now. If Marco Rubio actually showed up to work at the Senate, he would know better than to insult the people fighting this war."
The Rubio campaign maintains the Peshmerga are not the primary Kurdish forces fighting the Islamic State in Syria.
"Marco met with Iraqi Kurds earlier this year in Erbil," said Olivia Perez-Cubas, a Rubio spokeswoman, on Thursday. "The Peshmerga, who are Iraqi Kurds, have been fantastic allies in the fight against ISIL in Iraq. They are not the primary Kurdish force fighting ISIL in Syria. Patrick Murphy claims to be a national security expert but yet again appears to be embellishing his resume."