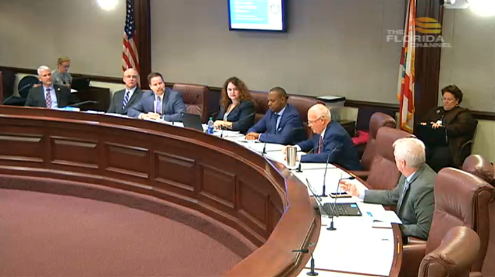 Turnover of staff at Florida's prisons is so high that a substantial majority of guards in some prisons have less than two years experience, Corrections Secretary Julie Jones said Wednesday before the Senate Criminal Justice Appropriations Subcommittee.
Jones was at the subcommittee's introductory meeting to push hers' and Gov. Rick Scott administration's priorities. They start with pay increases to attempt to boost recruitment and retention in prisons where guards can make less than $30,000 a year right now.
Jones outlined her top priority as a safety and security issue, arguing the inexperienced staff can lack the savvy needed to keep the system stable.
"So that experience working with inmates, knowing how to talk to an inmate, and… there's smarts [that] corrections officers and police officers have to de-escalate; they don't have enough experience on the job to be able to do that," Jones said. "So contraband is up. Inmate violence is up. Inmate violence on inmates and officers is up. And it's a churn in the hiring that has to stop in order to stabilize the system."
The churn, she said, is 29.3 percent annually, about 3,000 prison guard jobs a year in the Florida Department of Corrections System. That doesn't include another 1,000 floating job openings she maintains. "I've got facilities now that are 60, 70 percent [staff who have] less than two years."
Though several members of the subcommittee had already stated that their highest priorities this year would be to address recidivism among parolees, Jones found support for her argument, particularly from Chairman Aaron Bean, a Jacksonville Republican.
"I looked at the numbers. A starting correction officer's salary is $29,000 and change. They become certified, they go to $30,000," Bean said. "But yet they can still go down the street to work at a distribution center where they start at $39-40,000, and not have anybody want to beat them up at the warehouse."
"Mr. Chairman you're absolutely correct. I'm losing … good, solid, five- to ten-year tenured higher pay," Jones said.
Her presentation followed a discussion in which subcommittee members talked in earnest about making the prisons more efficient and reducing other costs by reducing their populations, releasing non-violent offenders.
Bean and the subcommittee's legislative analyst Marti Harkness discussed the prospects of certain drug offenders being released. Vice Chair Randolph Bracy, the Democratic senator from Oakland, suggested non-violent elderly prisoners might be released. Sen. Jeff Clemens, the Democrat from Lake Worth, suggested Texas and Georgia be looked at, after those states released large numbers of non-violent offenders.
"No one is talking about letting out bad men and women. They will be remaining behind bars," Bean clarified. "But they cost money. And we want them working. We want them working. So if there is something we can explore, I think our committee has the jurisdiction to explore."