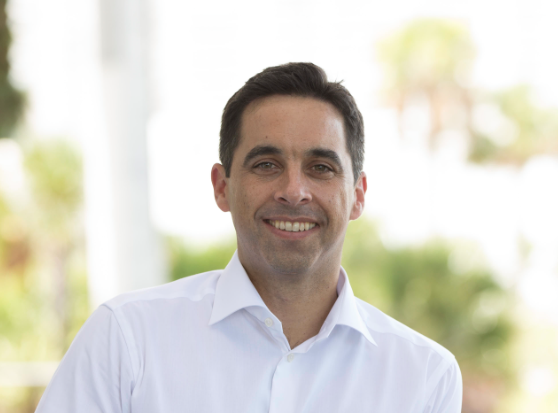 Declaring the fundraising success is an expression of "how change happens," first-time candidate Democrat Matt Haggman's campaign is reporting Friday that he raised $512,000 in the third quarter for his run in Florida's 27th Congressional District, in a crowded field vying for an open seat.
Haggman, a Coconut Grove resident who is a former program director at Miami's Knight Foundation and a former award-winning investigative reporter at the Miami Herald, appears to have topped the field in fundraising for the third quarter of 2017 in the CD 27 contest. He and a bevy of other candidates seek to succeed Republican U.S. Rep. Ileana Ros-Lehtinen, who is retiring.
His campaign is reporting that Haggman raised $512,000 in just two months, August and September, and he entered October with $469,000 in the bank. That includes no loans from the candidate, and all the money was raised through individual donations, the campaign reported.
That's the most reported by any of the candidates in that race so far, even though the field includes some high-profile political veterans.
The Federal Election Commission has not yet posted campaign finance reports for the third quarter, which ended Sept. 30.
"This is how change happens–by people across the community coming together and stepping up," Haggman stated in a news release issued by his campaign. "Now more than ever, we need a new approach that engages our diverse community and is focused on delivering results. I will be a congressman willing to take on President [Donald] Trump and willing to fight to create opportunities for everyone, which is what I have done in our community throughout my career. While talent is everywhere, opportunity is not, and our campaign is about coming together to fix that."
The other candidates include Democrats state Rep. David Richardson, state Sen. José Javier Rodríguez, Miami Beach Commissioner Kristen Rosen Gonzalez, Michael Hepburn of the University of Miami, and Mark Anthony Person, and Republicans Doral Vice Mayor Bettina Rodriguez Aguilera, businessman Bruno Barreiro, and retired Miami-Dade Circuit Court judge Mary Barzee Flores.
Earlier this week Richardson's campaign reported raising $500,000, but half of that was a loan from Richardson. Flores' campaign reported she had raised $300,000, and Rodríguez's, $280,000.
Haggman's campaign noted that he led the field in fundraising for the quarter–even though he did not enter the race until August 1. It also contended that $512,000 is the most raised by any CD 27 candidate in a single quarter in at least 20 years.