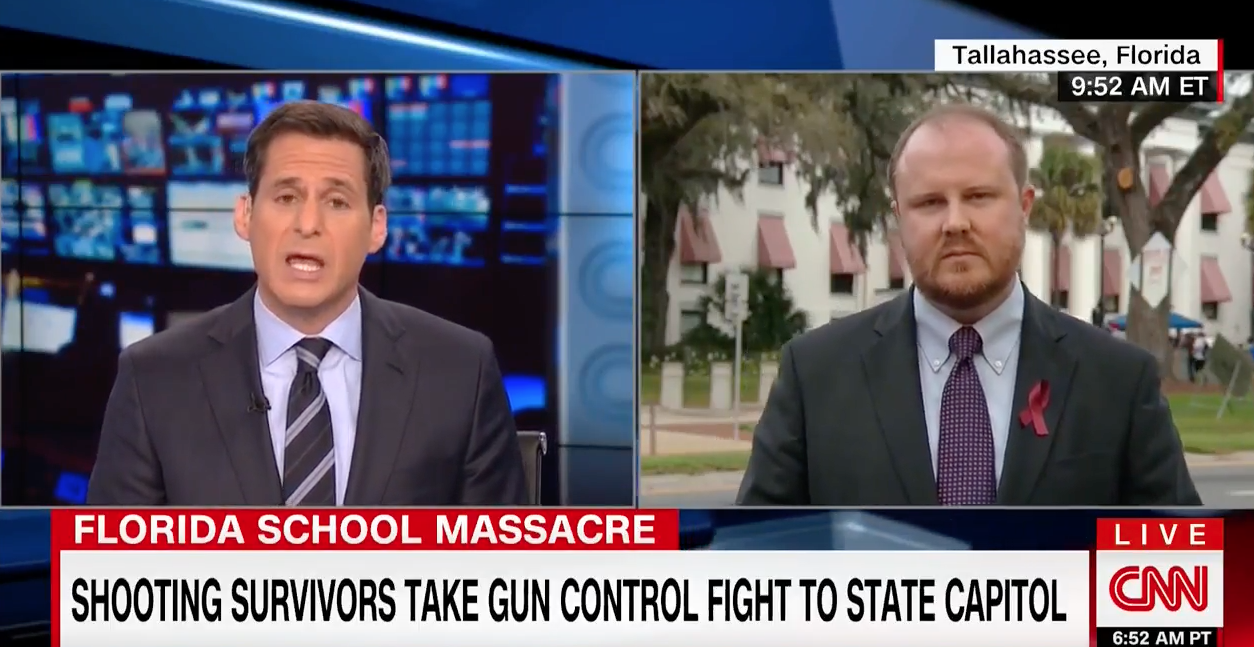 Republican candidate for Agriculture Commissioner Matt Caldwell on Wednesday said he believes making schools gun-free zones is the main reason on why tragedies like last week's mass shooting at a Broward County high school happen.
"I believe that these … shootings happen because (schools) are soft targets—they happen because we designate them gun-free zones," said Caldwell, a Republican House member from North Fort Myers, on CNN Wednesday morning.
CNN anchor John Berman immediately pushed back on the Florida lawmaker, saying it's not known whether the shooter picked his target because he knew no one on campus would be armed.
Nikolas Cruz, the 19-year-old who shot and killed 17 people at Marjory Stoneman Douglas High School, is being held on premeditated murder charges.
"It appears that it was targeted because" Cruz had attended the high school, Berman told Caldwell.
Caldwell's sentiment that gun-free zones are the main reason for such mass shootings is shared by other Florida Senate Republicans, including Sarasota's Greg Steube and Ocala's Dennis Baxley.
The two legislators proposed a bill (SB 1236) that would allow school principals or superintendents to designate individuals who could carry guns during school hours. Those receiving the designation would have to meet training and background requirements.
The bill had been scheduled to be debated in the Senate Judiciary Committee on Tuesday, but was withdrawn over the weekend.
Caldwell's six-and-half-minute interview began with Berman challenging him over House Republicans' rejection of a bill (HB 219) which would criminalize the sale and possession of assault weapons and high-capacity magazines, mentioning the AR-15 model reportedly used by Cruz.
The bill has been stuck in a House subcommittee for months and has not been heard.
Like other House Republicans who opposed the bill, Caldwell explained to Berman that the push to bring the bill up for a vote was highly unusual, saying "we don't pull bills out of committee."
Caldwell, first elected to the House in 2010, also claimed that the bill went beyond banning semi-automatic weapons and high-capacity magazines, saying, "that wasn't just a ban on high capacity magazines, that was a ban on all guns."
The bill, however, refers to "any assault weapon or large-capacity ammunition magazine."
Alluding to the fact that the FBI and Department of Children and Families were aware of Cruz's troubled history leading up to last week's shooting, Caldwell said that is something that legislators need to focus on, and not gun-control measures.
"Taking away people's Second Amendment rights (isn't) going to do that," he said.
Senate President-designate Bill Galvano, a Bradenton Republican, is expected to introduce a legislative package Thursday to include new age restrictions for gun purchases, a ban on bump stocks and gun-violence restraining orders.