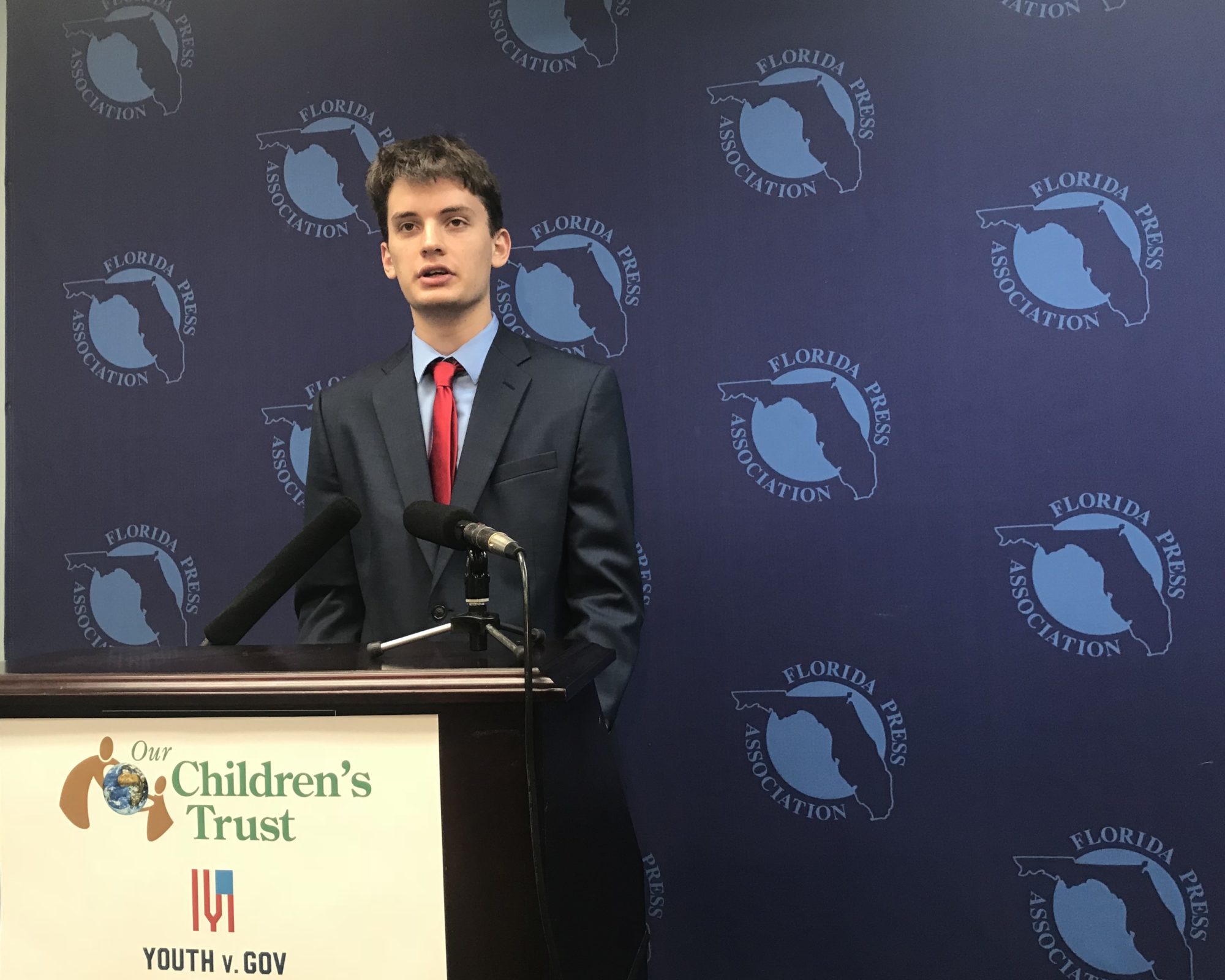 On the tails of unprecedented youth activism in the wake of the Marjory Stoneman Douglas High School shooting, eight young Floridians are suing Gov. Rick Scott and Agriculture Commissioner Adam Putnam for not taking steps to address climate change.
According to those who brought forth legal action, however, the suit would've been filed regardless of the Valentine's Day tragedy.
"I believe that the tragedy at Parkland has put youth activists in the fore, but this youth movement — climate movement — has been going on now for several years," Guy Burns, the lead counsel for the youths, told media in Tallahassee on Monday.  
But Burns conceded that for kids concerned with effects of climate change, the anti-gun violence grassroots activism centered in South Florida has put "wind in their sails."
Though he added: "It was an unfortunate twist of fate that caused that to happen. We would be here anyway with a group of youths who are interested in environmental change."
Oscar Psychas, a 20-year-old plaintiff and Gainesville native, said gun control and climate change overlap.
"In both of these issues, it really is one where our political leaders are not taking action even though our lives are at stake — that kids can't go to school feeling safe, or that kids [in Florida] are worried that their home will be lost and are seeing these devastating impacts from climate change," Psychas said.
"I think [lawmakers] have made the political calculation that … [youth voices] really aren't in the discussion," Psychas said. "But that's about to change, and I think it's already started."
The suit filed Monday namechecks defendants Scott, Putnam and Department of Environmental Protection Secretary Noah Valenstein. It also calls out the Florida Board of Trustees of Internal Improvement Trust Fund and the Public Service Commission, the regulatory board for utilities in the Sunshine State.
The plaintiffs contend that named defendants know Floridians are "living under climatic conditions that create an unreasonable risk of harm but have not responded reasonably to this urgent crisis, and instead have affirmatively acted to exacerbate the climate crisis," according to the complaint.
It cites Florida common law and constitutional provisions that plaintiffs claim requires government leaders to take action against climate change. Among them: Article 2, Section 7 (a) of the Constitution, which reads, "It shall be the policy of the state to conserve and protect its natural resources and scenic beauty. Adequate provision shall be made by law for the abatement of air and water pollution and of excessive and unnecessary noise and for the conservation and protection of natural resources."
Sandy D'Alemberte, a former state lawmaker and former President of The American Bar Association, said that part of the constitution is unique to Florida. He is a professor of constitutional law at Florida State University College of Law and said there is "a good chance" of a favorable ruling for the plaintiffs, because "Florida courts have been receptive to innovation."
The suit "gives us the opportunity to take these provisions of the Florida Constitution and make something of them," D'Alemberte said.
News of the suit broke last week. At first glance, it seems overtly political, naming Scott, who announced his U.S. Senate bid last week, and Putnam, who's a Republican candidate in the 2018 gubernatorial race.
Putnam is included because he oversees the Department of Agriculture and Consumer Services and the Florida Forest Service. Scott is essentially named because he's led the state since 2011.
Burns dismissed the idea that the suit is a well-timed political attack. He cited an appellate victory in a similar case in March as one of the reasons for the suit's filing.
Scott's office thinks otherwise, though.
"The Governor is focused on real solutions to protect our environment — not political theater or a lawsuit orchestrated by a group based in Eugene, Oregon," Scott spokesman McKinley Lewis said in a prepared statement referencing Our Children's Trust, the group that's backing the Florida and Oregon suits. Lewis also said the Governor provided record funding for the environment passed by the Legislature this year, totaling $4 billion.