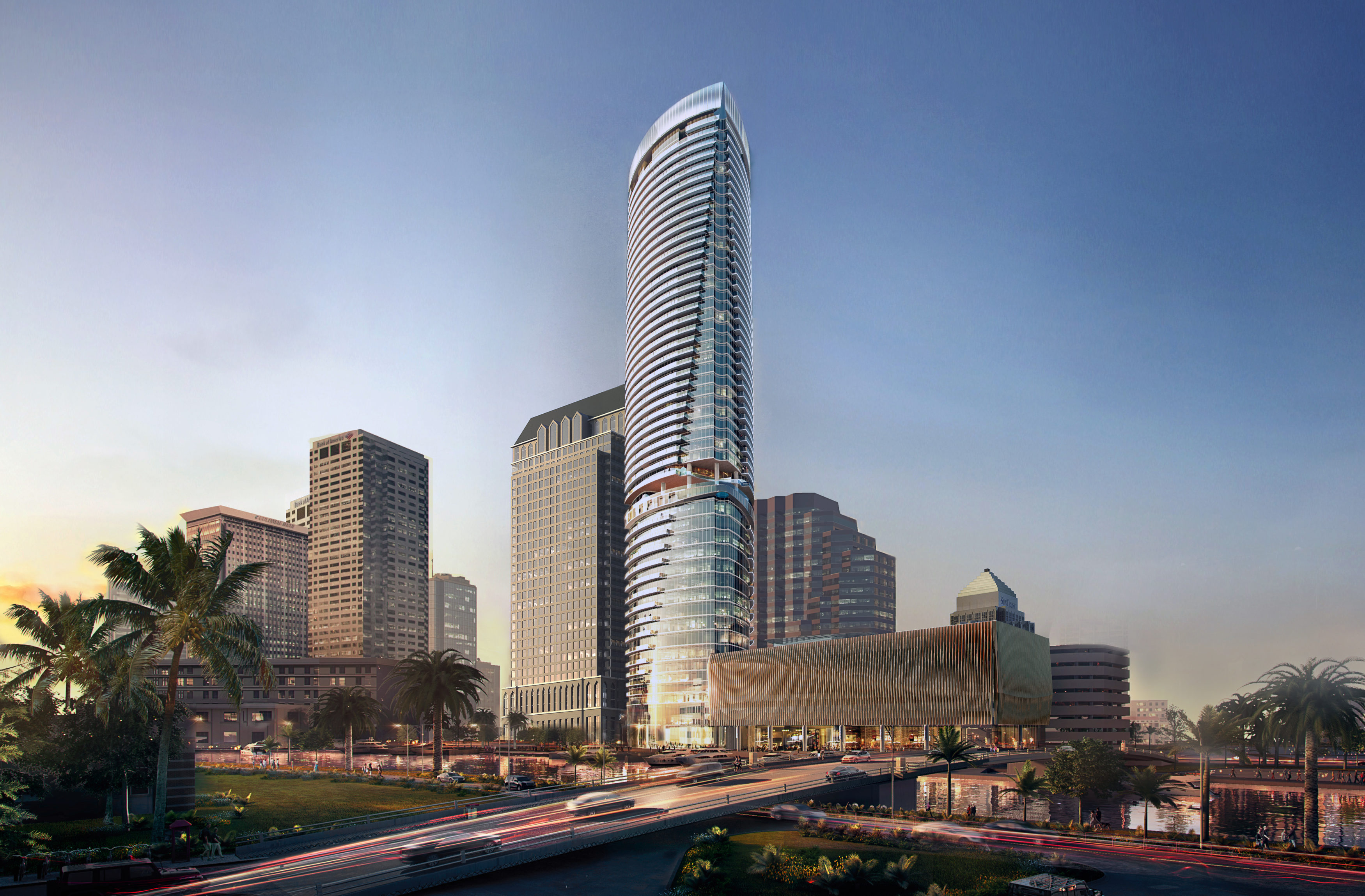 The first renderings and architectural plans for Riverwalk Place, the first high-rise coming to Downtown Tampa in decades, were released Thursday.
"We are thrilled to show these designs to the Tampa community, and we are excited for Riverwalk Place to become an icon that Tampa will present to the world," said Gensler architect Shamim Ahmadzadegan. "From the outset, our goal was to do more than just design another tall building. We wanted the project to activate the Riverwalk, and contribute to the urban landscape of downtown Tampa."
Ahmadzadegan said the unique location called for a unique design embracing the river and adjacent park.
The entire ground floor will be merged with the park and boardwalk to create a 150-yard-long promenade of up to five restaurants and shops. A focus on pedestrian connectivity and engagement at the ground floor were driving factors behind the design, with both the developers and architects seeing the project as an extension of MacDill Park and the Riverwalk.
Project partners Feldman Equities and Two Roads Development said once the Gensler-designed building is complete it will become the tallest tower on the west coast of Florida.
The 50-plus story project will cost an estimated $350 million to build and will feature five floors of "live-work" units and ten stories of office space, followed by at least thirty-three levels of luxury condominiums. Residences in the tower will range in price from $600,000 to more than $2 million.
"This will be the first new office skyscraper built in downtown Tampa in 30 years, and the first ever mixed-use tower," said Feldman Equities president and CEO Larry Feldman. "Riverwalk Place is a site like no other and will become the social hub of downtown."
Activity has already started around the project site. The existing CapTrust building on Ashley Drive has been vacated and will be demolished, making way for the main Riverwalk Place tower at the southeast corner of E. Whiting Street and Ashley Drive South.
"Creating a tower that changes a skyline is a truly special opportunity, and we are proud to be embarking on this endeavor," said Taylor Collins, managing partner of Two Roads Development. "Riverwalk Place will be the first luxury residential condominium in downtown Tampa and will be comparable to the best of New York or London. Our sales gallery is under construction next door, and we look forward to welcoming buyers there this summer."
The rendering is below.