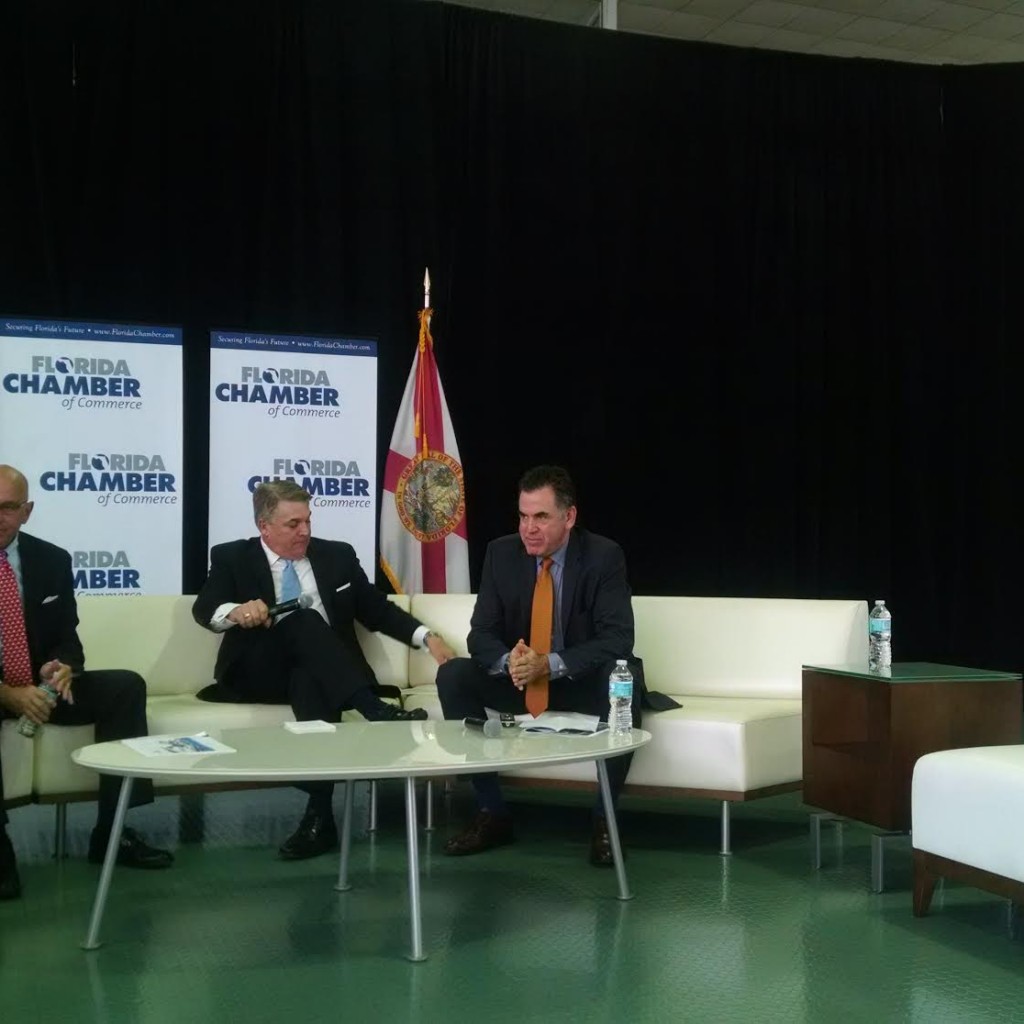 Business and political leaders in Tampa Bay have been putting an intense focus on establishing trade relations in Central and South America in recent  years, making excursions to Columbia, Panama and most recently, Chile.
Now they're targeting Brazil.
On Monday morning, the Florida Chamber of Commerce presented a two-hour discussion on creating business opportunities with the largest country in South America.  Doug Davidson, a marketing executive with Bank of America, serves on the Chamber's Global Florida Advisory Council. That's a new initiative by the Chamber to bring "business intelligence" to Florida businesses on four regions around the world: Asia-Pacific, Europe, the Americas and the Mid-East/Africa.
"Think about our geographic advantage," Davidson told the group of around 50 people who gathered for the event. Undoubtedly that's true, but the issue for most of those in the room was all about businesses in the Tampa Bay region getting into that market, and not their competitors from South Florida or Orlando.
"It's very expensive to do business in Brazil, but it's very profitable, " said Max Stewart with Enterprise Florida. He said the middle class has risen 45 percent in just the past three years in Brazil, and there's a big need there for more oil production (and thus for engineering and mining equipment). Certainly part of what fueled the rise of the middle class in Brazil was the Bolsa Família program instigated by former president Lula da Silva over a decade ago that allowed for monthly payments to be made to the country's poorest families. The Financial Times reports that in 2012 the program reached nearly 14 million people with an average monthly payout of $150.
But not is well in Brazil. The Economist reports that shortly after president Dilma Rousseff won her bid for re-election in late October, she had to contend with a trade deficit that had climbed to $1.1 billion in October, and at $1.8 billion so far this year. Both imports and exports have fallen, pointing to weak activity.
Nevertheless, local officials say the Brazilian market is ripe for new business.
"Brazil, Columbia, Panama, Chile. We want to build international relationships, " said Rick Homans from the Tampa/Hillsborough County Economic Development Corporation (EDC).  "Our strategies are completely tied to growth, " he said, adding that Hillsborough County can do such missions on its own or partner up with Pinellas County on an export strategy.
Tampa International Airport CEO Joe Lopano urged the business leaders to "get out there and make it happen," and boasted about how TIA's direct flights to Panama City via Copa Airlines already present a gateway to Brazil.
In terms of looking for more direct international flights, Lopano says he is eyeing Sao Paulo, as well as Bogota, Mexico City and islands like Jamaica. He said he'll soon be meeting up with JetBlue founder David Neeleman. Neeleman left JetBlue to create Azul Airlines back in 2008, and it's now grown to become Brazil's third largest airline. Azul began direct flights into Fort Lauderdale earlier this month, their first route into the U.S. and began flights between Orlando and Sao Paulo today. 
Brazil is the Tampa Port's number one trading partner, with 1.6 million tons of cargo in the past year. The biggest commodities leaving Tampa for Brazil is phosphate, steel, citrus (both juice and frozen concentrate), ethanol, lube oil and containerized cargo, said Port Authority director Paul Anderson. "We believe we've just scratched the surface with this huge emerging market," Anderson told the audience assembled in Terminal 6 on the Port's grounds.
The Brazilian Real is the currency of Brazil. Currently a dollar's worth of a Real is the equivalent to 37 cents on the exchange market, prompting Carlos Buqueras, the executive director of Port Manatee, to exclaim that "buying from Brazil may soon be more important than selling to Brazil," adding that could lead to a "paradigm shift" between the Brazil and the Florida/Tampa Bay business relationship.
Buqueras said that the Tampa Bay regions should be poised to do more trade with Brazil that it has in the past, because at the port levels there's room for growth in both Tampa and Bradenton. "They (the Brazilians) need to see us more often and we need to get out there," adding that the expansions and opportunities are "endless, but we can't just do Sao Paulo and Rio."