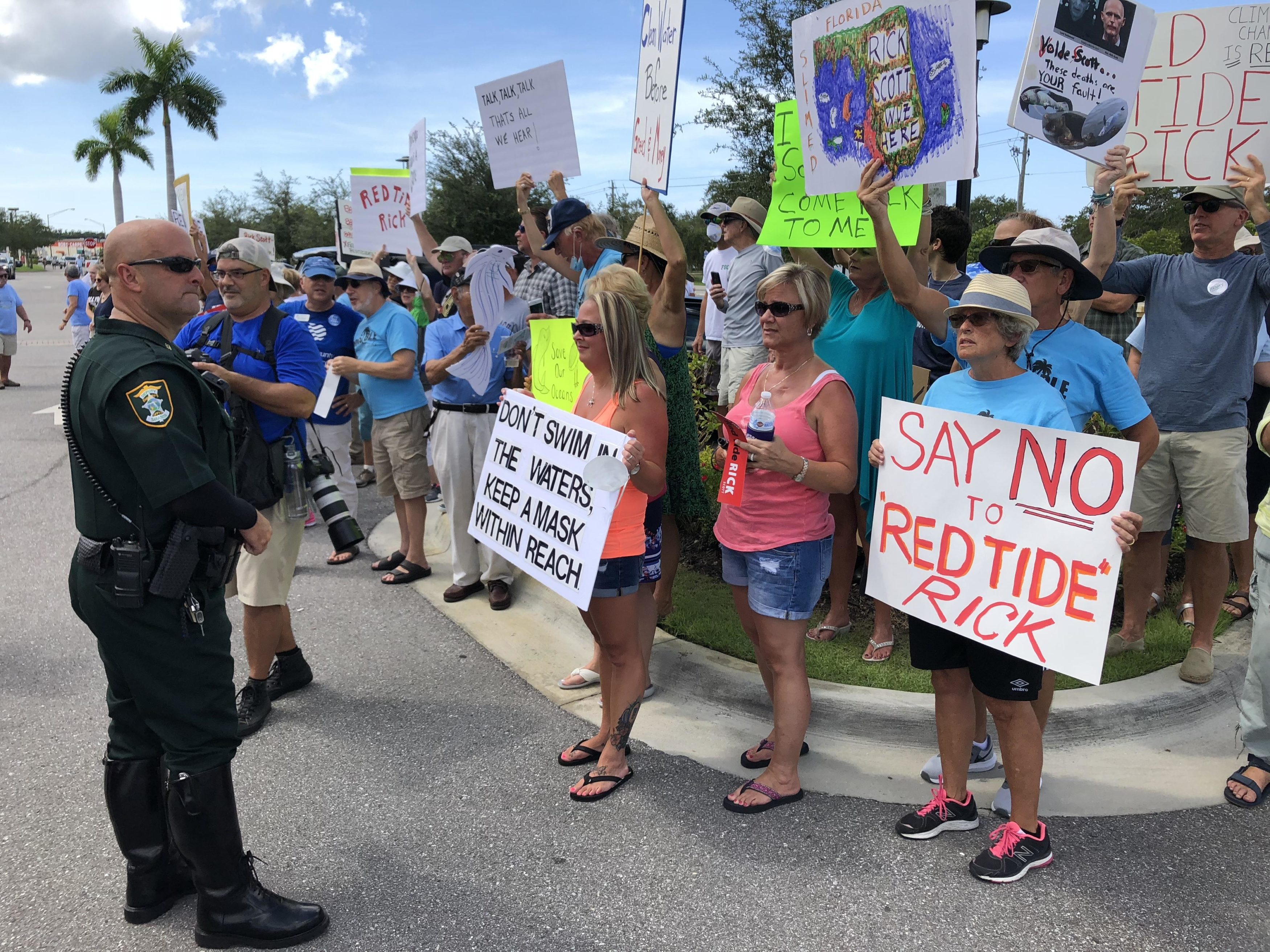 Florida Governor Rick Scott's U.S. Senate bid got some good news this week, thanks to a University of South Florida College of Marine Science report.
A three-week red tide mission found abnormally cooler temperatures and increased salt content might have caused this year's red tide outbreak.
Scott is running against incumbent U.S. Senator Bill Nelson.
Scott has been fighting back claims from opponents that his administration's environmental policies led to increased discharges from Lake Okeechobee and exacerbated the levels of the K. brevis bacteria that causes red tide in the Gulf of Mexico.
"Our elected leaders have not only done nothing to help us, but they are making the problem worse," said Susan Glickman, Florida Director of the Southern Alliance for Clean Energy Action Fund, two weeks ago.
"Warmer weather is making the problem worse. But we have a governor who has denied climate change. He reduced monitoring, he reduced water standards, he reduced enforcement, and we're all bearing the burden."
The report makes no mention of that being the case.
Marine scientists from USF and the Florida Fish and Wildlife Conservation Commission deployed an autonomous robotic glider northwest of Clearwater Beach to traverse the middle of the continental shelf between Pasco County and Sarasota County. The glider traveled along a zigzag path between 25 and 50 miles offshore where red tide is thought to originate.
The cool seafloor temperatures and increased salt content came from water upwelled from the deeper Gulf of Mexico and moved toward the shore.
"The persistence of the upwelling circulation through the present time also explains why K. brevis cells were eventually transported around the Florida Keys to the east coast of Florida, thereby causing the present 2018 red tide outbreak to cover three regions, the west coast of Florida, the Panhandle and the east coast of Florida," said Robert Weisberg, Ph.D., Distinguished University Professor of Physical Oceanography.
The gliders also detected elevated levels of chlorophyll and reduced levels of oxygen. The glider cannot directly measure K. brevis levels, but data indicates it is present and red tide continues to be a threat this year.
Weisberg and others have been able to account for the occurrence or nonoccurrence of red tide 20 out of the last 25 years by tracking ocean circulation. His team previously predicted June would be a lousy month for red tide.
The report notes that regularly sampling water off Florida's west coast is crucial in understanding the state's coastal ocean ecology, which gives researchers a better ability to predict human-induced or natural changes in water quality.
The report notes, as Scott's office has done in all its red tide-related announcements, red tide is a naturally occurring phenomenon; some years, it's worse than others.
Scott's office has allocated millions for mitigation, research and restoration and recently allocated $3 million in relief funds for businesses negatively impacted by lost clientele as visitors steer clear of affected beaches.
Red tide causes minor to severe respiratory discomfort, coughing and, in some cases, illness. Dead fish washing ashore also creates a foul odor.