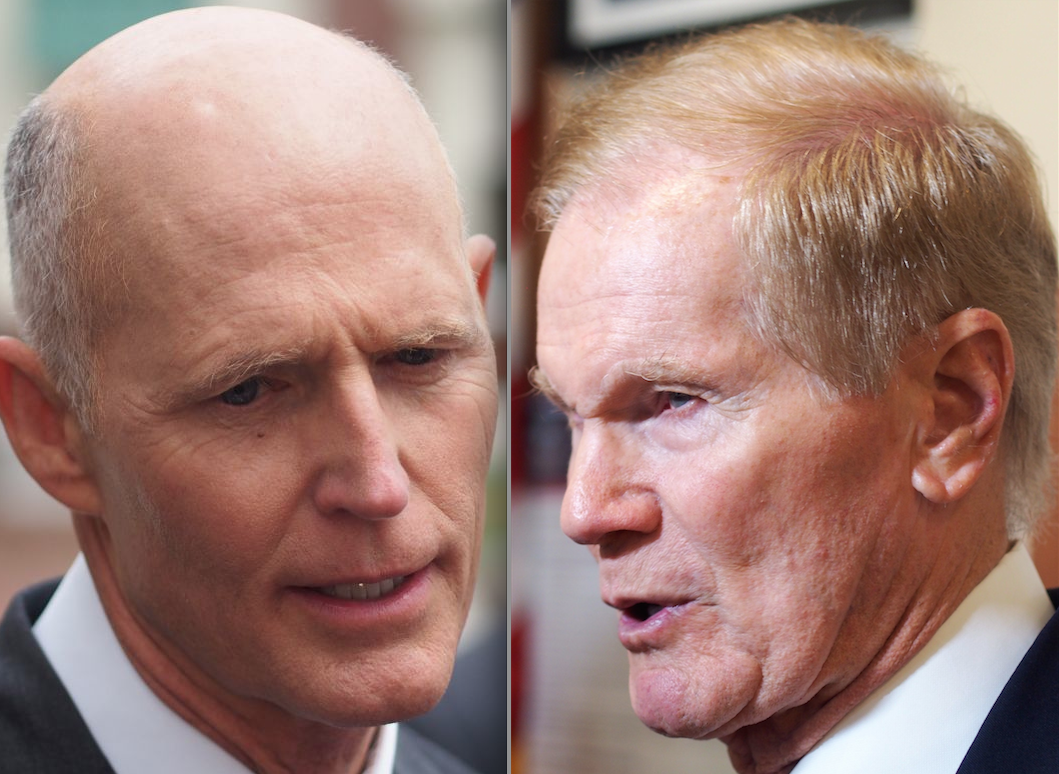 Republican Gov. Rick Scott tapped his own wealth in August and September to the tune of more than $18 million to fuel his U.S. Senate campaign.
The contributions, listed in the latest campaign finance reports covering the period of Aug. 9-Sept. 30, brings Scott's total personal contributions to his campaign to almost $39 million, accounting for 70 percent of the nearly $54 million his campaign had raised through the end of the third quarter of 2018, and the campaign had spent nearly all of that going into October.
Meanwhile the re-election campaign of his opponent Democratic U.S. Sen. Bill Nelson has raised just under half as much  – but none of it through Nelson's wealth – and spent about a third as much so far as Scott's campaign has done.
And as a result, Nelson entered the stretch run on Oct. 1 with more campaign cash on hand, though Scott's personal contributions may continue.
On Oct. 2, Nelson's campaign reported having $8.6 million in the bank for the stretch run. Scott's campaign reported having $2 million, according to the latest campaign finance reports posted by Tuesday by the Federal Election Commission.
Since the pre-primary campaign finance report for the period that ended Aug. 9, Scott's campaign reported raising $4.9 million from individuals, $306,000 from political action committees, and $18,275,528 million from Scott's own contributions. That presented a total raised during the seven-week period of $23.5 million.
Scott's personal donations included $275,528 in his in-kind contributions, mainly campaign transportation aboard his private jet.
He also made pretty much weekly contributions in the millions of dollars cash. On Aug. 15, he gave his campaign $2.5 million; on Aug 21, $3 million; on Aug. 28, $3 million; on Sept. 7, $1.5 million; Sept. 17, $4 million; and Sept. 24, $4 million.
Scott's campaign also spent $24.9 million during that period ending Sept. 30.
That brought the total spent to date by Rick Scott for Florida to $52.7 million, with five weeks left in the campaign.
During the same period Nelson's campaign reported raising $5 million from individuals, $176,000 from PACs. With a few other receipts and refunds, that meant his campaign cleared $5.3 million in the seven weeks after Aug. 8.
Nelson's campaign spent $11.3 million during the period.
Yet the campaign had held back spending for months, so through Sept. 30 Bill Nelson for U.S. Senate had spent only $18 million.
All of this is in addition to the money being spent on the race by outside groups. Various political committees trying to get Nelson elected have spent $25 million campaigning in Florida so far, and political groups trying to get Scott elected have spent $17 million.