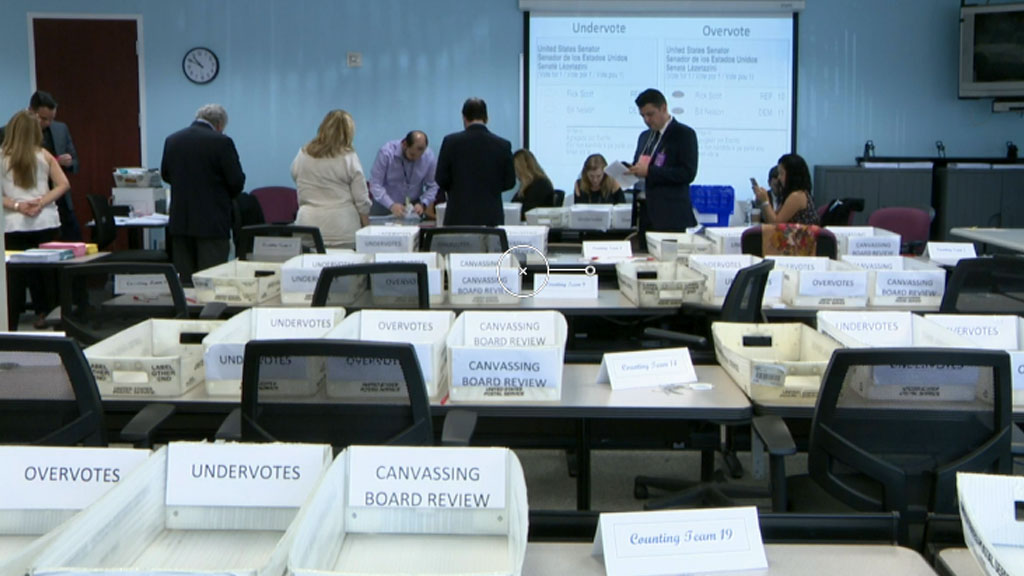 A mid-winter conference of Florida's elections supervisors usually serves as a social affair, maybe a discussion on changing ballot technology.
But on the heels of a historic statewide recount, the upcoming event in Sarasota will likely entail more than just mingling.
Sarasota County Supervisor of Elections Ron Turner agreed to host the Florida State Association of Supervisor of Elections event when the top priority seemed to be finding a destination elections officials from all 67 counties would like to visit.
Now, he fully expects the election law changes already being discussed in Tallahassee to slip into conversation.
"We have a legislative committee in the Association that monitors legislation, and of course at times is called to testify at committee hearings," Turner said.
The event runs from Sunday through Wednesday, and will bring together the elected and appointed leaders for elections offices in every Florida county.
Lake County Supervisor of Elections Alan Hays, a former lawmaker, certainly looks forward to discussing potential policies. He hopes the Association reminds lawmakers that through most of the state, the recounts for U.S. Senate, Governor and Agriculture Commissioner races moved smoothly.
Added Hays: "If I put on my legislator hat for a second, I would ask 'Do we need an overhaul or do we need to tweak the system?'
"And I switch hats back to being a supervisor again, I would say, 'let's just tweak things.'"
"We know the system worked well," Hays continued. "The idea of going through an extensive recount in the limited time frame that we had speaks very well to the professionalism I think is pervasive in our entire state."
Not that many officials wouldn't be happy with more time. Turner said pressures of deadlines provided his biggest takeaway from the process.
Officials had to finish an initial tabulation of votes by noon Saturday after the election, then have a machine recount done the following Thursday afternoon on three statewide races.
Two of those races later went to a manual recount due by the following Sunday.
Hays likes to say that in 65 of 67 counties everything went well, and the remaining two counties — Palm Beach and Broward — faced different issues. (That does ignore smaller scale issues around the state, like Bay County's faxed votes or a mix-up in initial vote-by-mail ballots in Hardee County.)
But at least in Palm Beach, there's a question of modernizing expensive equipment, meaning a budget issue.
In Broward, Supervisor of Elections Brenda Snipes already submitted her resignation.
As for some of the issues already earning scrutiny in Tallahassee? House Democratic Leader Kionne McGhee has discussed changes to make sure all ballots postmarked by Election Day get counted. Hays has his own concerns about verifying postmarks on that front.
As far as the many discussions about curing signatures for vote-by-mail verification, Hays would like to see ways to encourage up-to-date signatures for voters. He dealt this year with everything from severely disabled voters who could no longer sign their name or fill out a ballot without assistance, to having 40-year-old voters whose signatures didn't match the hearts-for-dotted-i's signatures dating back to their teenage years.
But dealing with recount rules and vote-by-mail ballots won't be the only legislative concerns supervisors bring to the Sarasota conference. Manatee Supervisor of Elections Mike Bennett, a former state Senator, has as much concern about the recent passage of a constitutional amendment requiring the restoration of voting rights for ex-felons.
His question? Who will be responsible for checking that an estimated 1.4 million voters allowed back on the rolls have finished any prison sentences or financial restitution?
"Are you going to go to the Sheriff's Office and get a letter, or to the prison to verify you served your time?" he said. He hopes this doesn't become one more mandate on local government where an already stretched staff now must take on new responsibilities.
There's definitely more to talk about this conference than the best drink options at the poolside bar.