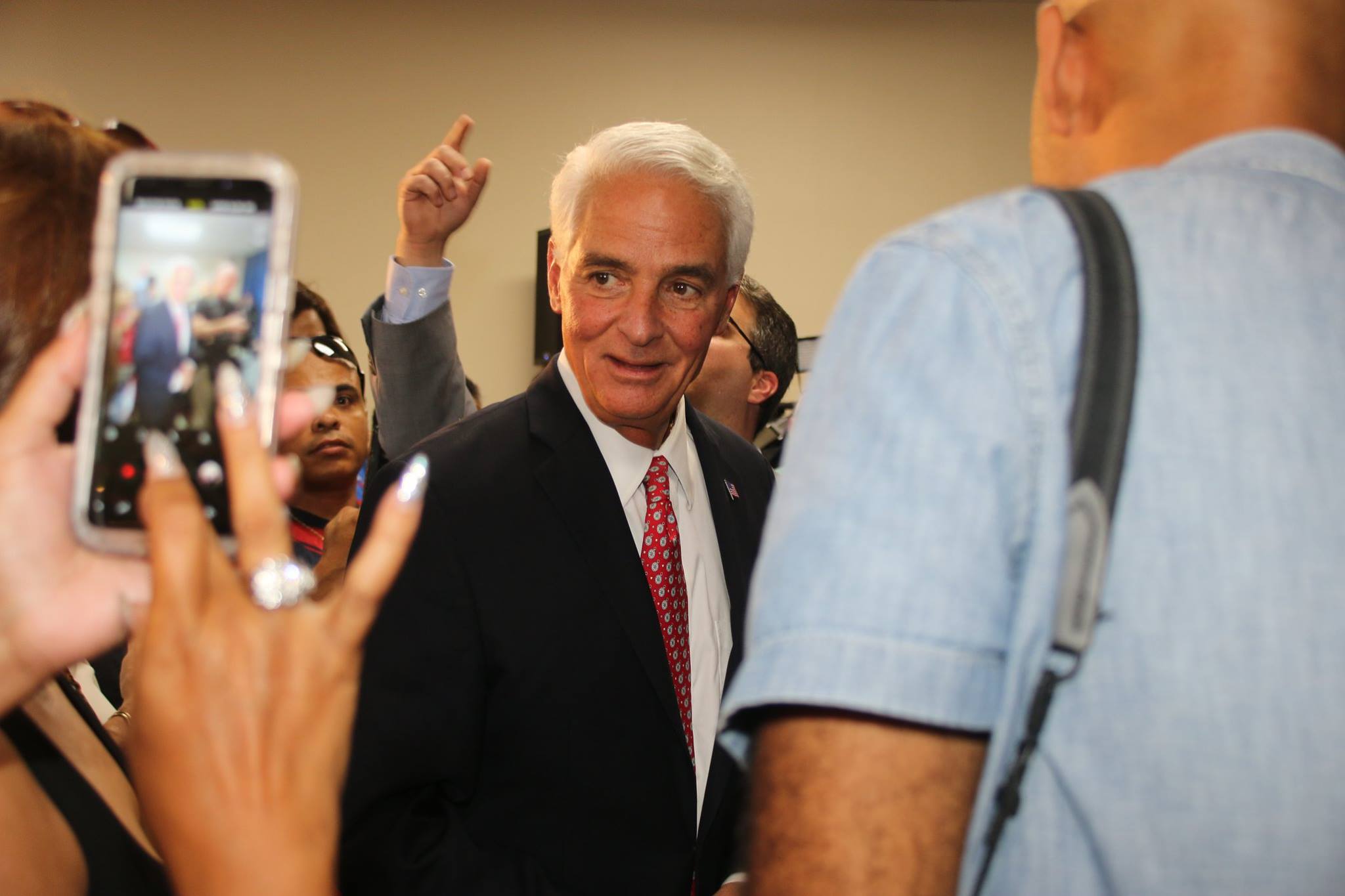 The Coast Guard family relied on food pantries and family during the shutdown.
Congressman Charlie Crist invited a Coast Guard family to be his guests at the State of the Union address Tuesday.
Crist chose Chelsey Gutierrez and her husband Chris to highlight the real world consequences of the more than monthlong partial government shutdown on Coast Guard families and to give this particular family a little bit of a reprieve from their stress.
Chris Gutierrez was deployed for most of the government shutdown, and like other Coast Guard members, he was not receiving a paycheck during that time.
Crist solicited survey responses from constituents asking for suggestions on how to end the shutdown and how, if at all, it was affecting their lives.
Chelsey Gutierrez responded with her story.
"It was powerful," Crist said. "There was this hardship, and I thought we should honor somebody that — she and her husband — are serving our country."
Unlike other branches of the U.S. armed forces, the Coast Guard's funding falls under the Department of Homeland Security, not the Department of Defense. The Department of Homeland Security was not funded during the shutdown, making Coast Guard members the only in American armed forces to go without pay.
That affected about 50,000 members, including 41,000 were deemed essential personnel and who continued working despite not getting paid.
"Chris usually handles the finances," Mrs. Gutierrez said. "But with him gone, I had to handle it all, and there was just so much uncertainty.
Coast Guard members received their final paycheck of 2018 at the end of December after the military branch cobbled together enough money to get paychecks to its members. But payments during January weren't made.
"If you pay the mortgage, and the shutdown goes on, that's the money you're going to need for groceries. So do you keep up with bills or do you get behind so you have money for food," Gutierrez said. "We don't really know how to do this. Just the insecurity of not knowing when it was going to end was really hard."
The government is reopened, and workers who weren't paid are now being paid back for those lost wages. But the entire process could start anew if Congress and President Donald Trump don't reach consensus on another spending bill. The temporary bill the government is now operating under expires Feb. 15, leaving Gutierrez wondering if her family is going to wind up back in line for food pantries.
"We're holding onto every penny," Gutierrez said. "We're still in this limbo where we can't pay for anything extra. It's kind of more like taking a breath and then just going under the water again."
Gutierrez and her husband leave Monday night for their trip to Washington D.C. Crist is mostly funding their trip through money in his campaign fund.
"They've not been to the Capitol before," Crist said. "So we'll try to provide them whatever tours we can. I thought it was important to invite her so she could witness this in person."
In the meantime, Crist is hopeful that Congress and the President will strike a deal.
"I know that the conference committee is made up of people of good will. This is what appropriators do. They come to agreements and they compromise in order to have a budget for our federal government," Crist said. "They have begun their discussions and I think they will continue in a productive, positive manner."
While Crist is optimistic, the American people might not be. A recent CNN poll showed 64 percent of respondents thought it was not likely Congress would reach a deal with Trump to avoid another shutdown.