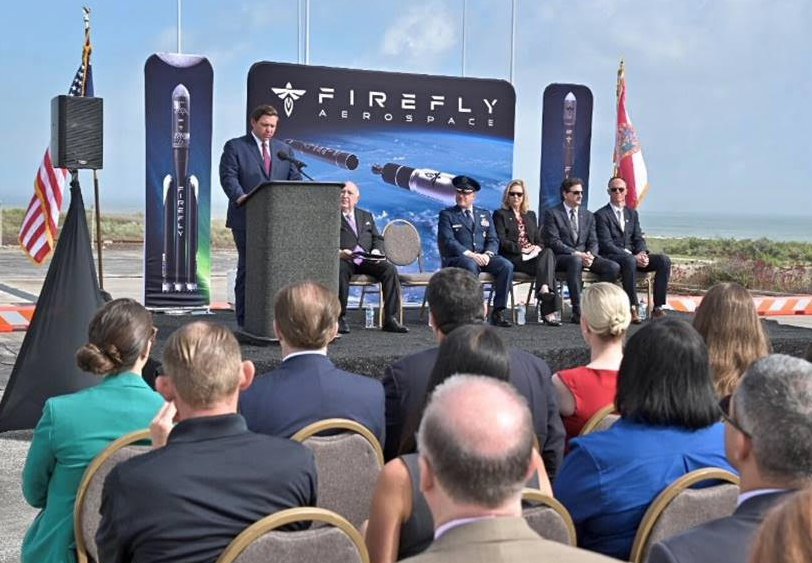 The Firefly deal is similar to Space Florida's deal with Blue Origin to build and launch rockets.
Another new rocket company, this one specializing in small rockets to carry satellites into space, is coming to the Cape Canaveral business park established by Space Florida, pledging a $52 million factory and launch site and 239 high-paying jobs.
Gov. Ron DeSantis announced Friday that Firefly Aerospace of Texas will build the rocket factory, bring the jobs, and launch its rocket from the cape, joining Blue Origin at Space Florida's Exploration Park outside the gates of Kennedy Space Center.
Firefly will become the third major tenant of Exploration Park.
To help woo the company, Space Florida agreed in November to offer up to $18.9 million in infrastructure reimbursements, with the money coming from the Florida Department of Transportation. The terms of that agreement include pledges from Firefly that it would invest a minimum of $52 million and bring in 239 jobs with anticipated annual wages of $70,000.
"As the world's premiere gateway to space, Florida remains the preferred launch site for sending humans and cargo into space,"  DeSantis said at an announcement ceremony at Cape Canaveral Friday. "Firefly's decision to establish launch and manufacturing activities on Florida's Space Coast confirms the commercial advantages of conducting business in our state and reaffirms Florida's position as a national leader in innovation and job growth."
Firefly intends to build two classes of rockets, small and medium, including its 95-foot-tall Alpha capable of carrying 1,000 kilogram payloads. The company is marketing launches of satellites starting at $15 million per launch.
The fledgling rocket company has not launched anything yet, though it is scheduling its first launch out of Vandenberg Air Force Base at the end of this year. The company did not say when it hopes for its first Florida launch.
Firefly is subleasing 18 acres at Exploration Park from Space Florida, where it intends to build a 180,000-square-foot facility.  The company also plans to sublease the old Launch Complex 20, which dates to the 1950s, at Cape Canaveral Air Force Station, but has not been used in many years. Under a use agreement with the U.S. Air Force, Space Florida controls and has been holding that launch facility for small commercial rockets.
The deal is similar, though on a smaller scale, to the one Space Florida signed with Blue Origin in 2015 to build and launch rockets at the cape. The other major tenant at Exploration Park is OneWeb, which is completing a satellite factory there.