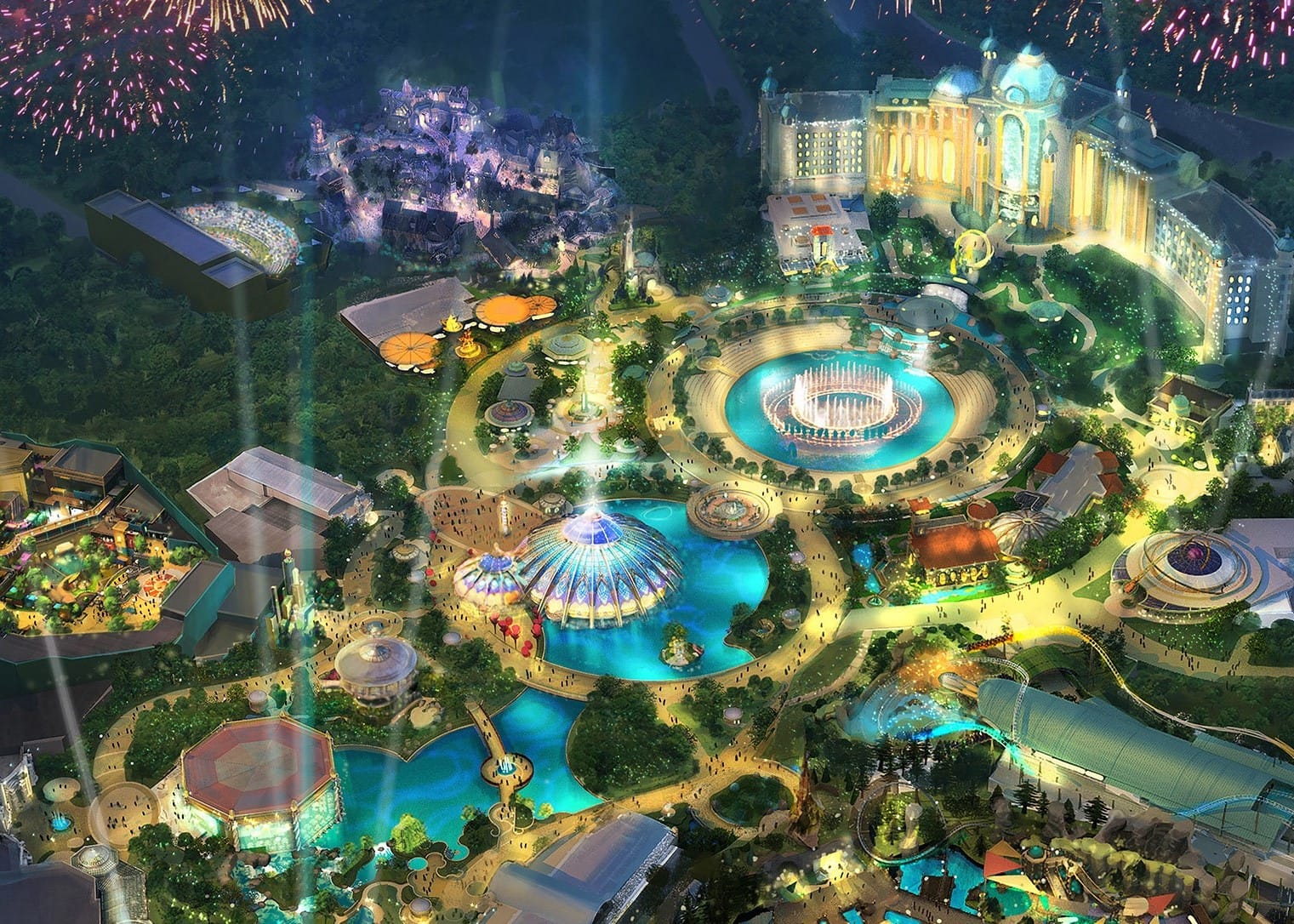 New Universal theme park planned for Orlando's I-Drive Corridor
Florida's first all-new, full theme park in 20 years was revealed in Orlando as the curtain dropped on plans for Universal's Epic Universe, a potentially huge new park in the International Drive Corridor.
Officials of Universal Parks and Resorts and its parent company Comcast Corp. were joined Thursday by Gov. Ron DeSantis and Orange County Mayor Jerry Demings to make the broad announcement, though company officials revealed few details.
The park will be built on 541 acres that Universal Parks and Resorts has been assembling for decades along Universal Boulevard, essentially behind the Orange County Convention Center, which faces the next street, International Drive.
Speculation has been rampant for many years that Universal was planning another major park to go along with its Universal Studios Florida, Islands of Adventures theme parks and the Volcano Bay water park at the Universal Orlando Resort just a couple of miles away.
Universal, however, has remained mum about its plans until Thursday's announcement.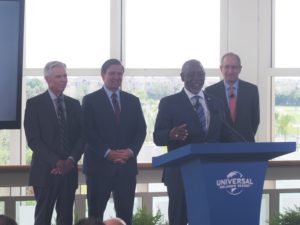 Brian L. Roberts, chair and chief executive officer of Comcast Corp., said the new park represents the largest investment the company has ever made in Florida.
Universal Parks and Resorts Chair and Chief Executive Officer Tom Williams said it will add 14,000 jobs to the 25,000 the company already has in Central Florida.
Williams and Roberts declined to offer any details about the park's themes or attractions; about a timeline for building and opening it; or about how much it would cost. They said they did not want to tip any of their plans toward their competition, notably Walt Disney World and SeaWorld Orlando.
"Our new park represents the single-largest investment Comcast NBCUniversal has made in its theme park business and in Florida overall," Roberts said. "It reflects the tremendous excitement we have for the future of our theme park business and for our entire company's future in Florida."
DeSantis touted the jobs, the long-term economic impact, the tax revenue, the expansion of Central Florida's role as a family tourism center, and the fact that Universal also is working with state environmental officials to help restore Shingle Creek, which runs from the property and eventually into the Everglades system.
He cited a study that said Universal Orlando has contributed $73 billion in economic impact to Florida. He said Universal's current tax bill, for state and local coffers, is in the range of $302 million a year.
He also recalled his own early memories of Universal Orlando and its status as "a world-class resort."
"It's phenomenal. What a cool, cool, event," DeSantis said later while leaving.
Demings touted Universal's presence as a partner with the county and city for the nearly 30 years since it first opened Universal Studios Orlando in 1990.
He also talked about the company's major participation in road improvements in the area, which would help the park but also help with the chronic traffic problems of the International Drive Resort Area.
Universal is leading efforts to extend Kirkman Road south from Sand Lake Road, which would bring it past the new park. The company also is participating in a major overhaul of Sand Lake Road. The total cost of the road improvements is estimated at $300 million and Universal has committed to putting up $160 million. In a proposed agreement yet to be approved by the Orange County Commission, Universal would be in charge of the road projects. Orange County is being asked to provide $125 million, through a combination of money from the International Drive Community Redevelopment Agency Trust Fund, tax incentives and impact fee credits to Universal. The Florida Department of Transportation would provide the rest.
Williams said that should provide about a 12-minute trip between the new park and Universal Orlando Resort.
Orange County Commissioner Victoria Siplin, whose district includes the area, said "we all knew" that "something great was inevitable" when Universal started buying up the vacant property years ago.
"I'm just excited about the actual 14,000 jobs that they're going to bring here to this area," she said.
While the development means an expansion of what has been Orlando's lowest-paying economic sector, tourism, company and public officials downplayed that. Williams talked about the number of long-term professional jobs that also will be created.
The key, Williams said, is that the company wants to start from scratch on a 21st-century theme park.
"This is 2019; what does the future demand?" he said.
With 541 acres, Universal has land available nearly equal in size with the area's largest theme park, Disney's Animal Kingdom. It will not all be developed at once, however. Williams talked about future expansions.
Unlike Universal Orlando Resort, the new theme park will be located outside of the city limits of Orlando, just over the city line, in unincorporated Orange County. Orlando Mayor Buddy Dyer did not attend the big reveal.