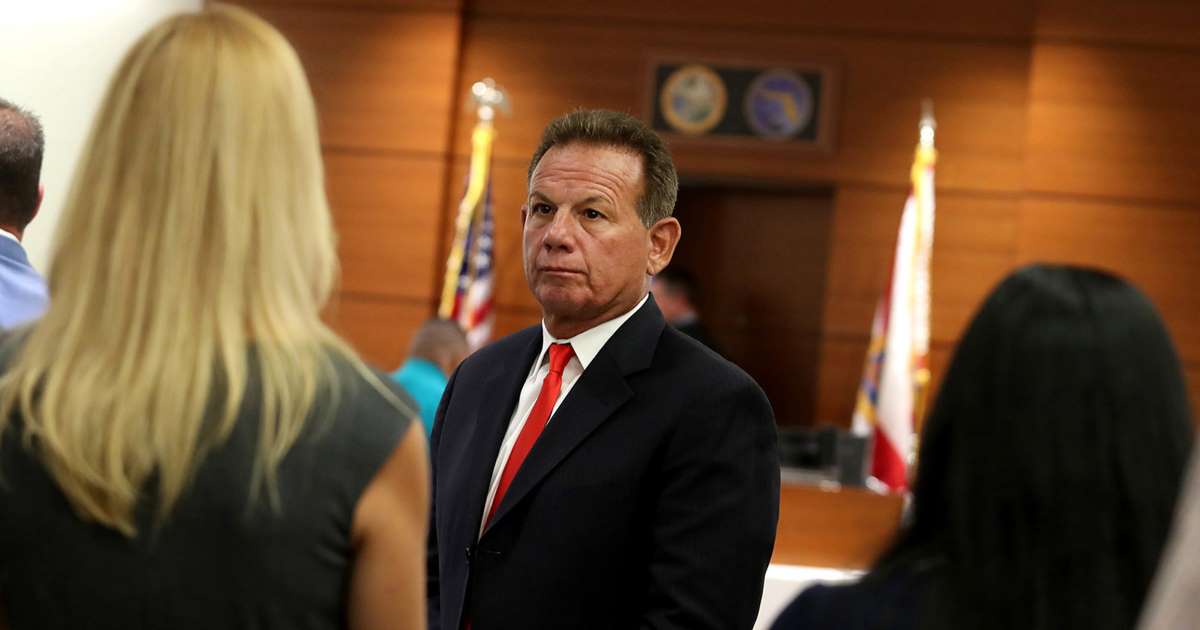 The Senate Rules Committee is slated to send their recommendation to the full Senate Monday night.
The Senate Rules Committee grilled attorneys for Gov. Ron DeSantis and suspended Broward Sheriff Scott Israel Monday as the panel heard testimony to help decide whether to permanently remove Israel or reverse his suspension.
Special Master Dudley Goodlette, a Republican former lawmaker who was appointed by Senate President Bill Galvano to review the case, also testified to the Rules Committee Monday. Goodlette recently issued a report recommending Israel be reinstated.
That's in opposition to numerous parents of Parkland victims, who have urged the Senate to remove Israel.
"The removal of a constitutional officer is indeed a significant matter," Goodlette told the committee as he began the day's slate of witnesses.
"By way of background, we have conducted two days of hearings, [collected] 2,000 pages of documents, eight deposition transcripts, four live witnesses, one of whom was the Sheriff. And I have read it all."
A series of issues arose repeatedly throughout the day. One was the decision of the Governor's team to introduce additional evidence ahead of the Senate review that was not considered by Goodlette.
"The Governor has retained outside counsel who has filed a supplemental brief subsequent to my report and recommendations," Goodlette noted. "The brief adds arguments that were not presented to me as part of these proceedings, and I have not addressed those arguments, as they were not presented to me."
In preparing his report, Goodlette was tasked with holding hearings, eliciting testimony and reviewing evidence, such as the report produced by the Marjory Stoneman Douglas High School Public Safety Commission.
Sen. Tom Lee, a Thonotosassa Republican, said he's reluctant to hear any additional testimony, arguing it could present due process concerns as it pertains to Israel.
"I'm kind of hesitant to give a whole lot of weight to new evidence because I can't call witnesses, Madam Chair, to judge the veracity of that like a Special Master can."
Indeed, those concerns were raised by attorney Ben Kuehne, who is representing Israel, prior to Monday's hearing.
Those concerns were rebuffed by Senate Special Counsel Christie Letarte, who argued Kuehne would have a chance to address any additional evidence at Monday's hearing.
After Kuehne repeatedly invoked those concerns during his Monday remarks, he earned another soft rebuke from Rules Chair Lizbeth Benacquisto.
"Mr. Kuehne, I will just remind you for a moment that this is a committee hearing—this is not a trial," she said.
"This is a committee hearing wherein the rules provide for Senators to take in information that they have received from our staff in addition to the advisory Special Master report, information we have received from the public [and] documents that are part of the official record of the proceedings of this matter," Benacquisto added. "So we have a fundamental disagreement."
The vote on Israel's fate is largely expected to happen along party lines, with Republicans generally backing the Governor's decision and Democrats mostly standing by the suspended Sheriff, who is a Democrat.
But that trend wasn't universal, as shown by Lee's skepticism. The full body is set to vote on the suspension Wednesday.
Senators are not bound by Goodlette's report recommending Israel's reinstatement. Still, the recommendation by a Galvano-appointed Special Master could complicate the optics of a vote backing the Governor's decision.
But Republicans seemed to hint the existence of additional evidence, such as public testimony slated for Monday evening, could give them a means to shirk the Special Master's report and kick Israel out for good.
Multiple Republicans — such as David Simmons, Rob Bradley and Travis Hutson — seemed to signal they would have the Governor's back. They highlighted findings from the MSD Commission report, showing breakdowns in the response by the Broward Sheriff's Office (BSO) during the Stoneman Douglas shooting.
That was highlighted by the failure of School Resource Officer Scot Peterson, who was a BSO Deputy, to enter the building and confront the shooter.
Family members of students and staff members who were slain at the Parkland school on Feb. 14, 2018, sat directly facing the Senate panel from the front row of the meeting room.
Ryan Petty, whose daughter Alaina was among the 14 slain students, asked the senators to uphold DeSantis' decision to oust Israel.
"Even after 20 months, it is difficult to find meaning in this tragedy," Petty said, struggling to maintain his composure. "The senseless murder of so many, including my 14-year-old daughter Alaina, tests the limits of faith and demands more endurance than I thought possible."
Petty blamed the sheriff's office for "a series of interconnected failures, all pointing to a failure of leadership by Scott Israel, bad policy, sporadic training, inadequate equipment."
And he blamed Israel for his deputies' failure to enter the school even as gunshots could be heard outside.
"There was no sense of urgency," Petty said. "They could hear the sounds of those gunshots, gunshots in a school building … Those sounds were all the information those deputies needed to act."
But whether to reinstate Israel poses a quandary for senators, particularly South Florida Democrats.
They're forced to choose between the families of the Parkland victims and Israel, an elected official who remains popular in Broward, a Democratic stronghold.
Senators also have to weigh the precedent-setting nature of their decision. But Rules Committee members largely showed a partisan split as they questioned Goodlette and the lawyers for Israel and DeSantis, with several high-ranking Republicans appearing to criticize Goodlette's conclusions.
Responding to repeated questions from Republicans about whether additional information could have changed his findings, Goodlette conceded, "Had more evidence been offered, my recommendation may have been to remove the suspended Sheriff."
But that wasn't the only procedural issue that Senators wrangled with Monday.
Lee also raised issues over one statute cited by the Governor's team to support their decision. That statute reads, "Sheriffs may appoint deputies to act under them who shall have the same power as the sheriff appointing them, and for the neglect and default of whom in the execution of their office the sheriff shall be responsible (emphasis added)."
Sen. Gary Farmer, a Fort Lauderdale Democrat, ran through other incidences where bad, rogue behavior by Sheriff's deputies elsewhere in the state could prompt a future Governor to suspend a Sheriff.
Lee referenced that line of argument, warning, "We have 66 sheriffs in the state of Florida that are mighty concerned today."
In an exchange with George Levesque, who was hired by DeSantis ahead of the Senate review, Lee elaborated on his concerns with use of that statute.
"This is an extraordinary case," Levesque noted. "The Governor's not out there willy-nilly suspending sheriffs for the actions of deputies."
Lee agreed, noting, "I can't think of a more extraordinary circumstance than the one those folks in Parkland went through. I don't think anybody can even begin to imagine. And I understand that this Governor, who I have deep respect for, is going to use this power with restraint.
"That's not what you're saying here today. You're not talking about this Governor. You're laying a precedent. This Senate is laying a precedent."
Levesque was also probed for urging Senators the case before them was not a judicial one, but was ultimately a political decision.
After grilling regarding that framing from Lee, Farmer and others, Levesque clarified that he didn't mean Senators should play politics with the decision and was simply attempting to say they should not be bound by formal judicial procedure.
The 17-member Rules Committee is set to vote Monday night on a recommendation to the full Senate.
DeSantis accused Israel of "incompetence" and "neglect of duty" in deciding to remove him from the Sheriff's role back in January.
Goodlette's report found DeSantis did not prove the allegations set forth in his Executive Order giving cause for Israel's suspension. But he did find fault with BSO's response.
"To be sure, Sheriff Israel bears ultimate responsibility for the neglect of his deputies," Goodlette wrote in his report. "But it is impractical to suggest that he can face removal from office based on the conduct of a subordinate that was never authorized, sanctioned, or ratified."
___
The News Service of Florida contributed to this post.