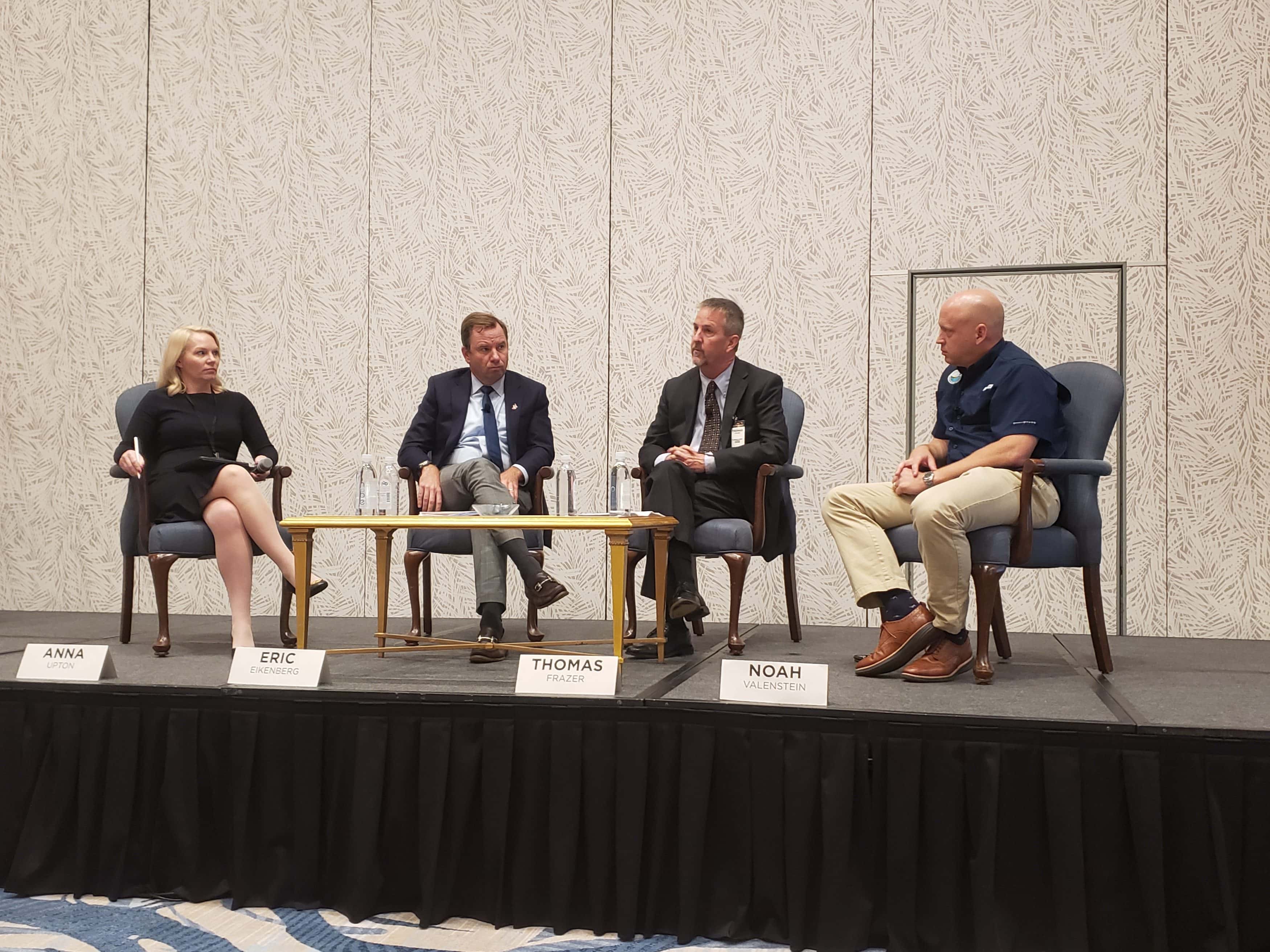 Valenstein spoke on water issues alongside Chief Science Officer Tom Frazer and Everglades Foundation CEO Erik Eikenberg.
Department of Environmental Protection Secretary Noah Valenstein highlighted the importance of addressing sea level rise during a panel discussion at the Florida TaxWatch 40th annual meeting.
Valenstein was joined on stage by Chief Science Officer Tom Frazer and Everglades Foundation CEO Erik Eikenberg to discuss water issues in the state.
"Sea level rise is a huge, huge issue," Valenstein said.
"Public health issues and major disrupters are the things we don't want to see as an agency."
He noted that in Southeast Florida, the issue of sea level rise is viewed as a potential major disrupter.
And it's more than just an environmental or public safety issue. Valenstein said the state's handling of the problem is coming up in discussions with bond rating agencies.
Those agencies don't expect Florida to stop off the issue alone. "Sea level rise is not going to be eliminated," Valenstein conceded. But the Secretary said those agencies want to see the state attempting to address the problem.
"The question is, 'Do you have a legitimate plan in place and can we have confidence that the state will execute?' And some of our bond ratings now are actually noting, 'Hey, you have the great bond rating that you do in part because you have legitimate plans in place and we have faith that the state is going to act to address those challenges.'"
Gov. Ron DeSantis asked for $625 million in environmental funding after coming into office. He recently pushed the Legislature to make those funds recurring for the next three budgets under his administration.
According to Eikenberg, one thing that has helped the push to address environmental problems in the state is support by the business community.
"Chambers of Commerce on the East and West coast have now come together to make Everglades restoration and clean water part of their legislative agendas," Eikenberg said.
"Legislators who are in this room, they expect to hear it from us. But when they hear it from a local business leader or a leader of a Chamber of Commerce, it maybe sets off a different tone."
Of course, sea level rise is not the only water issue in Florida. Water quality is also a constant concern, specifically when the state feels the effect of algae blooms.
But despite the ongoing challenges, Frazer said he feels the DeSantis administration is on the right track.
"This is a really exciting time to be in Florida," Frazer said.
"For the last decade or so, science has gotten kind of a bad name in the regulatory arena and in policy in general. It's really, really satisfying to be up here and be able to collect information, work with a broad group of stakeholders [and] make that information available to our Legislature and our Governor."
DeSantis created the position of Chief Science Officer and appointed Frazer to the post back in April. Frazer says he has felt the weight of the role since taking over.
"What we do here really matters," Frazer said.
"We can set an example, but it's more than that. I think we have a responsibility to do that. And I think that we have a team in place to do it right now."