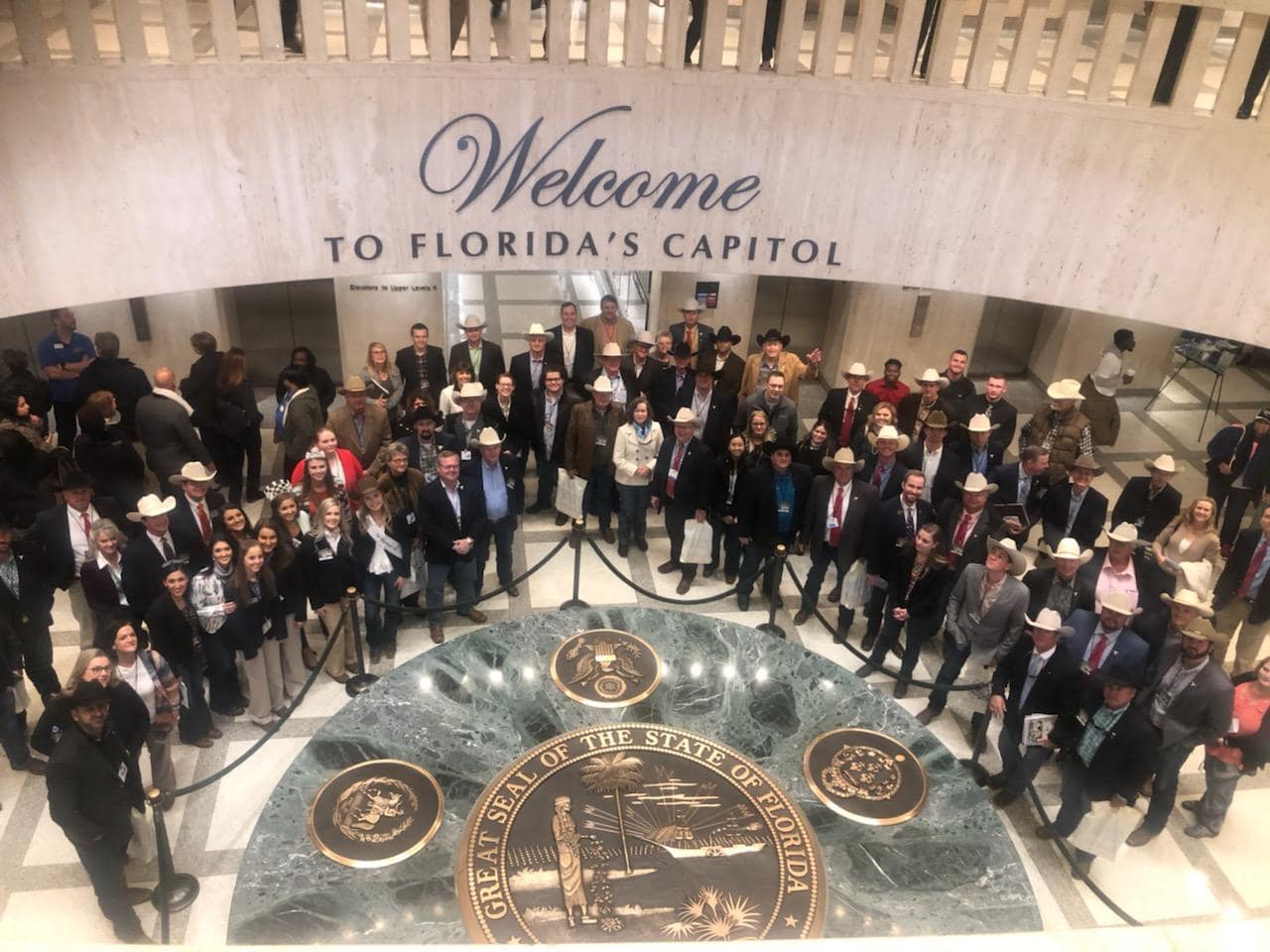 The Cattlemen's Association is advocating for stronger Best Management Practices.
The Florida Cattlemen's Association showed up in full force at the Florida Capitol today, with a sea of cowboy — and cowgirl — hats seen around the Capitol as 160 association members spent time speaking with legislators; advocating for ranchers and agriculture; and celebrating with a reception and street party.
The association's members turned out in Tallahassee as part of the Florida Cattlemen's Legislative Quarterly Meeting. The 160 participants met with each of the 160 members of the Florida Legislature or their staff.
"Our story is best told by the individuals and families that live it every day. Our stories are a big part of the history and heritage of our great state," said Matt Pearce, Cattlemen's Association President. "Here in Tallahassee and all across the state, we are working hard to educate Floridians about the importance of our cattle industry and the benefits ranchers bring to our lands and waterways."
Florida's cattle industry is one of the largest in the United States and supports Florida's critical $140 billion agriculture industry. Florida's cattlemen are dedicated to the preservation of Florida's green ranch land and are strong supporters of Florida's youth and culture.
As a large industry within the state, cattle ranchers significantly support Florida's interstate economy and provide job opportunities, as well as beef, to Florida residents.
For decades, the Cattlemen's Association has met with legislators during session, said Sam Ard, the association's Director of Governmental Affairs. "These members talk passionately about our industry," Ard said.
The Cattlemen's Association, along with other farmers and ranchers, are advocating for strengthening the state's Best Management Practices (BMPs) this Session.
BMPs were developed by the Florida Department of Agriculture and Consumer Services in collaboration with Water Management Districts, local governments, universities and other stakeholders, and have been approved by the Florida Department of Environmental Protection. They are proven to be effective in restoring the health of Florida's water resources.
With Best Management Practices, farms and ranches across the state have made vast improvements in their operations, using resources more efficiently and more effectively, while reducing their impact on the environment.
Improving Best Management Practices are part of the recommendations from Gov. Ron DeSantis' Blue Green Algae Task Force, which brought together scientists and researchers to examine the crisis and outline a plan of action. The task force issued comprehensive recommendations to address a number of sources that contribute to the health of Florida waters, including preventing wastewater discharges, converting septic tanks to sewer and strengthening agriculture BMPs.
Improving agriculture BMPs is part of the SB 712 on water quality improvements, which passed its first committee hearing today in the Senate Appropriations Subcommittee on Agriculture, Environment, and General Government.
"We highly support strengthening BMPs," said Gene Lollis, president-elect of Cattlemen's and Ranch Manager for Archbold Biological Station's Buck Island Ranch, which promotes research and conservation on ranch lands. "Agriculture and the natural environment coexist to protect endangered species and provide many benefits to the environment."