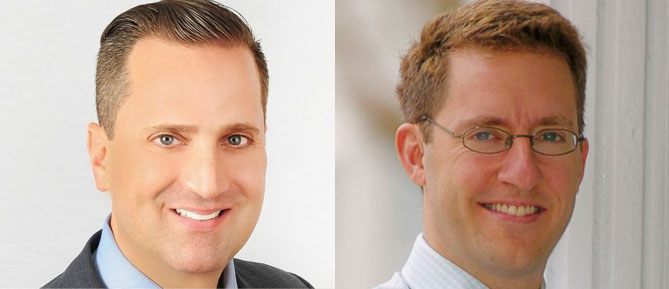 A young father was killed, and law enforcement knows how — and why.
Michael Weinstein, a lifelong friend and sometimes-lawyer of Charlie Adelson (suspected co-conspirator in the murder of Tallahassee law professor Dan Markel), announced last week that he is running for HD 81, the seat vacated by Rep. Tina Polsky.
Weinstein is the son of Peter Weinstein, a former chief judge and former state Senator, who also happens to be godfather to Wendi Adelson, Markel's ex-wife.
Weinstein has appeared on "20/20" and other TV programs defending the Adelson family, saying that he was doing so not as their legal counsel, but as a friend. He would later appear to be listed as Charlie Adelson's attorney in joint statements made by his family, denying their role in the 2014 murder of Markel.
He's also represented Charlie Adelson in various minor infractions, such as driving 93 in a 45 zone.
To be fair, the Weinsteins aren't the only example of political connectedness the Adelson family boasts.
For example, Charlie Adelson's lawyer in an unrelated civil case is the sitting Mayor of Coral Springs, Scott Jonathan Brook.
Given the strong case State Attorney Jack Campbell and his team have presented, surely, these current and aspiring politicians are aware of the strong evidence relating to Charlie, Wendi and their parents, but are willing to align themselves nonetheless.
Who else among Florida's political and legal elite is connected to the Adelson family? Praising of them or worse, protecting them?
One curiosity relates to the mystery Tallahassee judge that matriarch Donna Adelson referenced to Charlie Adelson in a May 2016 call captured on a wiretap:
" … she [Wendi] and the judge [her boss] are talking. He had some stuff to tell her yesterday because evidently, he knows the judge in Tallahassee and he was giving her some information from that [the murder case]. He's been very nice to her."
There are multiple appointed South Florida judges who appear to remain friendly with the family. Maybe they don't know what happened. Maybe they're not guilty by association.
But you know who definitely knows?
Michael Weinstein.
Weinstein communicated with Jim Lewis, then-attorney for convicted hitman Sigfredo Garcia just after Garcia's arrest. Specifically, Weinstein assured Garcia's lawyer that neither Charlie Adelson nor anyone in the Adelson family would be cooperating with law enforcement. From there, Garcia's attorney is captured on surveillance audio providing this information to accused conspirator Katherine Magbanua, who in turn has declined to cooperate with investigators.
A young father was killed, and law enforcement knows how — and why.
Our elected leaders — including those aspiring to be elected — should rally behind these officers to bring justice.
Innocent until proven guilty is a tenet of law, but does not require the elimination of good judgment, or the intentional miscarriage of justice, either.
Only a person who feels multiple, powerful connections protect their family can impede the investigation of her ex-husband's murder, tell flagrant lies on the stand, and then say with smug confidence: "The state isn't going to arrest me."
The election of Michael Weinstein would no doubt bolster this type of confidence. It could further obstruct the future progress of a bill Sen. Jeff Brandes filed last year to create access to family courts for families like the Markels, who get cut off from visitation with children after a parent's murder.
And, perhaps even worse, it could erode the type of confidence that voters in HD 81 deserve in the judgment of the person representing them.
The Markel case will likely bring additional arrests in the coming months, maybe even before the August primary or November election.
Perhaps voters in this district should watch carefully until then.
—
Update – Weinstein has responded to Florida Politics' analysis with the following statement:
As you know, I was never contacted regarding your article.  If I had been, I would have cooperated fully to the extent the attorney-client privilege would have allowed me.  At all times material, I was and remain governed by that privilege. Having said that, here is my statement.
On May 29, 2020 an opinion piece was published in Floridapolitics.com which misconstrues my involvement in a criminal case as it does not accurately take into account my duties as a lawyer.  I was never contacted about this article and if I had been, I would have cooperated. I am proud to be a candidate for Florida House District 81.  As for my background, I am a former Florida Assistant State Attorney, I sat on the Florida Bar Criminal Procedure Rules Committee, and have served on a professionalism committee.  I am AV rated by Martindale-Hubbell. Lawyers who have earned this display high ethical standards. Most importantly, I am Florida Bar Board Certified in Criminal Trial law.  Board certification recognizes attorneys' professionalism and ethics.  As an attorney I at all times have a legal duty to protect the client.  At no point in time did I align myself with a position as stated in the article, I advocated for a client. Quite simply, I did my job. Therefore, I want to offer some clarifying statements about my professional involvement in this matter.
I was a friend since childhood of the Adelson family.  Well before Mr. Markel's death, Charlie Adelson hired me to provide legal advice for his personal and business matters. Charlie Adelson then contacted me during the initial investigative stages of the case referenced in your article. He had not been charged with a crime, and was seeking my counsel. The article unfairly portrays me aligning myself with someone suspected of murder. In truth, I timely came to the aid of a current client and acted as a zealous advocate for that client. Because of the aforementioned relationship since childhood, I recommended that Charlie get another attorney to guide him, and continued my role as counselor at law until another attorney was retained and a transition could be made. Up until that time, I offered general guidance and handled media inquiries.  Because of our professional relationship, and my role as his personal attorney at all times, whether speaking to the media, counseling the client, or speaking with other lawyers the attorney-client privilege was in effect.
In that regard, the article creates an illusion that I am withholding what happened in this case. This is categorically untrue. It is required for an attorney to speak with witnesses and attorneys to gather information. During my role in the case, I am always and forever governed by the attorney-client privilege.  I am also guided by my ethical obligations as a lawyer.  The article should have advised the reader I have a duty to the client and I am governed by the attorney client privilege.
Lastly, the article fails to advise that Charlie Adelson did what I asked and shortly into the investigation hired David O. Markus, Esq. as his counsel. I stayed on briefly during the turnover and then relieved myself of any further legal obligation and cut ties with the family.
As a licensed member of the Florida Bar for over twenty-one years, I value my professionalism and integrity and upheld my oath as an attorney. This case shows my ability to take on the toughest issues which will serve the residents of District 81 as State Representative well.  My ethics, integrity and professionalism are important as a husband, father and attorney.  I come from a family of public servants who have served in Tallahassee and locally and I believe the voters will see that I have the best experience to be an effective Legislator to serve District 81, Palm Beach County and Florida.