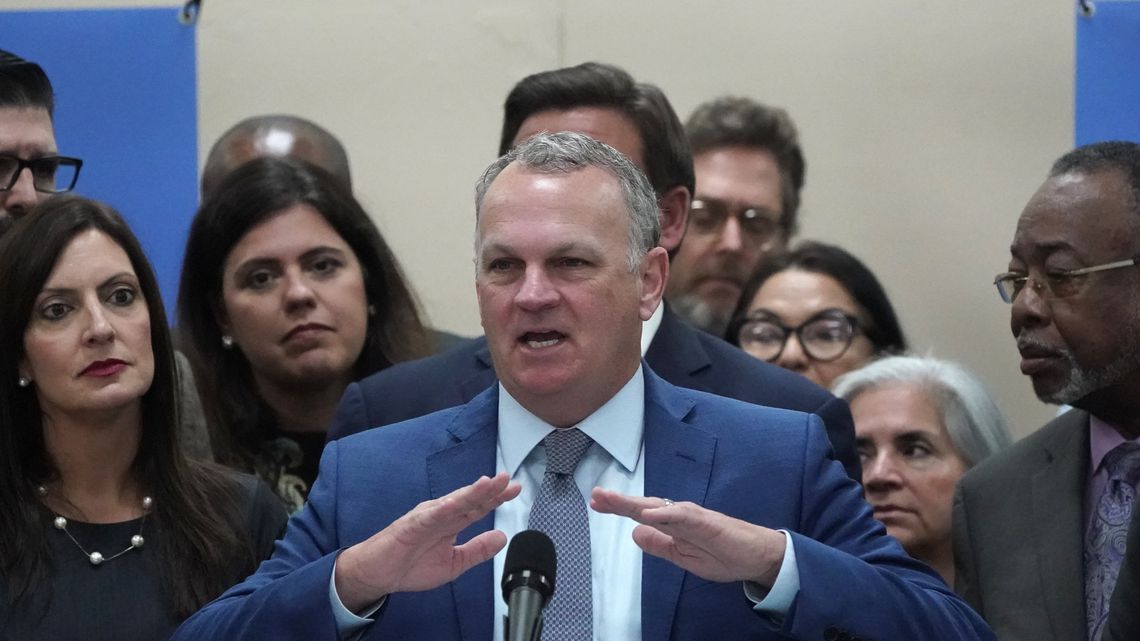 The Pasco Republican moves on.
Richard Corcoran, a contentious figure in Florida education who navigated a pandemic in public schools, penalized some local school boards and banned culture-war race theories, is stepping down before the end the school year.
A lawyer and former House Speaker, Corcoran took the role of Education Commissioner on Jan. 8, 2019, and followed the commands of Gov. Ron DeSantis throughout the turbulent COVID-19 crisis. In a move that alarmed the federal government, Corcoran faced off with local boards and docked the pay of certain elected board members over mask mandates.
The Florida Department of Education announced Corcoran's departure in a press release Thursday, stating that he is stepping down to spend more time with his wife and his six children and returning to private life.
But it's not clear what his post-DOE life would look like or what his future political aims are, if any.
In 2021, Corcoran was a candidate for Florida State University's next president, with President John Thrasher stepping down. But his bid failed and he wasn't selected for the post.
But Corcoran could seek other university positions. The University of Florida, for example, is currently pursuing a new president.
Corcoran and his Department of Education has been a vessel for DeSantis' conservative priorities and policies.
For example, when DeSantis determined that critical race theory would be his next culture-war enemy, the Florida Department of Education soon after banned it from classrooms last summer.
Even though critical race theory is originally a graduate study in law school which analyzes how American society perpetuates racial inequity, Republican officials have used the misnomer of "critical race theory" to criticize a wide variety of activities examining the role of racism in American society.
In June, the Florida State Board of Education approved a new rule that prohibits critical race theory in classrooms, claiming that the theory "distorts historical events" and is "inconsistent" with the state board's approved standards.
In 2020, DeSantis closed public schools as COVID-19 began to spread across Florida.
But later, DeSantis and Corcoran forced open Florida's brick-and-mortar public schools for in-person instruction, even as many districts were unsure if it would be safe for faculty, staff and students to do so.
And they banned districts from placing strict mask mandates.
One of the more recent notable moments for Corcoran was announcing a huge shift for Florida's statewide assessments. Instead of big state exams at the end of the year, there would be three sets of assessments throughout the year in mathematics and reading. The idea is to keep track of students' progress throughout the year and potentially reduce testing time, but there are concerns as to whether that will happen and if the U.S. Department of Education will OK the new testing system. Federal education law requires state testing.
The bill that will bring in the new testing system has just passed in the House and Senate, but Corcoran might not be around as commissioner to see if the transition goes over well or falls short.
Here are a few other notable moments during his time as education commissioner:
— Saying he would encourage everyone "never to read" the Washington Post or the New York Times at a state school board meeting;
— Prompting a cease-and-desist complaint from the U.S. Department of Education for withholding certain funds from Florida school districts over their mask mandates. The issue fizzled out, but not before the Florida Department of Education retained a lawyer just in case;
— Submitting a "state plan" on how Florida would use federal COVID relief funds months after the due date, despite billions of federal dollars being on the line.
The Thursday press release includes Corcoran's achievements during his tenure, such as securing "the highest ever K-12 public school and per-pupil spending totals in Florida's history," and overseeing "the largest expansion to educational choice opportunities."