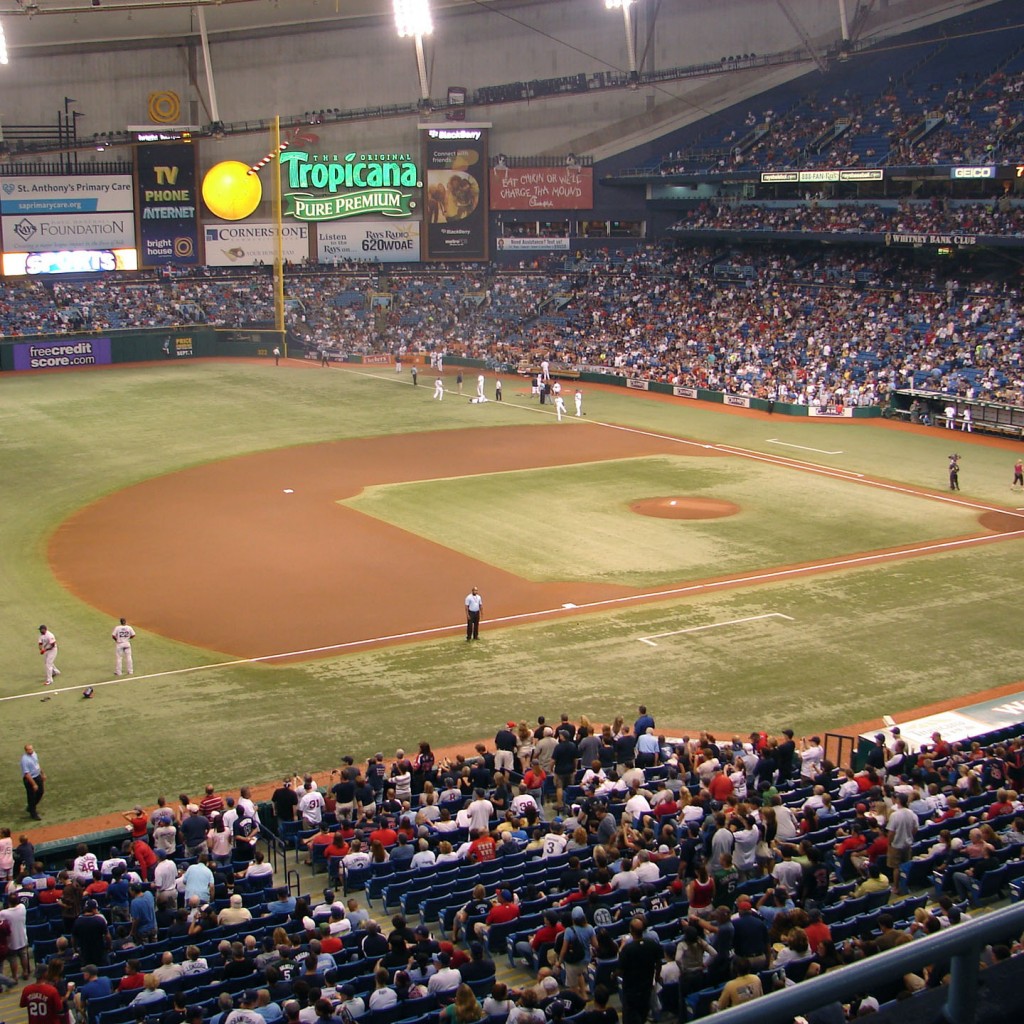 The Tampa Bay Rays may have just finished up a really, really crappy season, but that doesn't mean St. Pete is giving up on them.According to a new survey via St. Pete Polls commissioned by SaintPetersBlog, voters in St. Pete don't want the Rays to leave the city. They don't even want owners of the baseball franchise to talk about leaving the city.
When asked if Mayor Rick Kriseman should allow the Rays to look outside St. Pete for new stadium prospects 65 percent of respondents said no.
That could be a problem for Kriseman who appears ready to strike a deal with the Rays to begin looking for stadium sites outside the city.
With little progress made on the Rays stadium debacle, Kriseman appears no closer to reaching a deal with the team regarding their future in St. Pete than his predecessor Bill Foster.
The Rays have a contract to play at Tropicana Field in downtown St. Pete through 2027, but Foster said if the city doesn't allow them to consider other locations, there might not be a 2028 season in Tampa Bay. Foster lost to Kriseman who disagreed with his stance arguing if the Rays wanted to cheat on their contract, they'd have to pay for it. The Rays' stadium issue was considered one of the nails in Foster's mayoral coffin and now Kriseman appears to be following suit.
The St. Pete Polls survey shows strong support for the Rays in St. Pete. Seventy-one percent of the 889 respondents said the Rays should build a new stadium in St. Pete. Seventy-four percent said a stadium should be in Pinellas. But while 56% said they would be OK with using hotel bed tax funds to build a stadium, 61% oppose using other taxpayer-funded sources.
The funding question is one of the largest issues in the debate. The Rays are contractually prohibited from discussing stadium sites outside of St. Pete, but that hasn't stopped Hillsborough County Commissioner Ken Hagan and Tampa Mayor Bob Buckhorn from talking amongst themselves. Buckhorn has suggested the city could feasibly bring $100 million to the table to entice the Rays to play ball in his city. That money would come from $13 million in annual bond payments that are being freed up by the end of 2015.
Likewise, Pinellas County is going to have $6 million in annual bond payments freed up next year when debt on the Trop is satisfied. The county could roll that over into new bonds for a shiny new stadium.
While the latest poll regarding the Tampa Bay Rays shows dismal support for letting other areas court St. Pete's baseball team, both the Tampa Bay Times and the Tampa Tribune have suggested, or flat out written, that St. Pete and Kriseman should think regionally and look at all stadium prospects whether they are in St. Pete, Pinellas County or on the other side of the bay. Or else, as Shadow of the Stadium blogger Noah Pransky describes the Tribune's fear tactics, the boogeyman may steal away with our beloved Rays in the night.