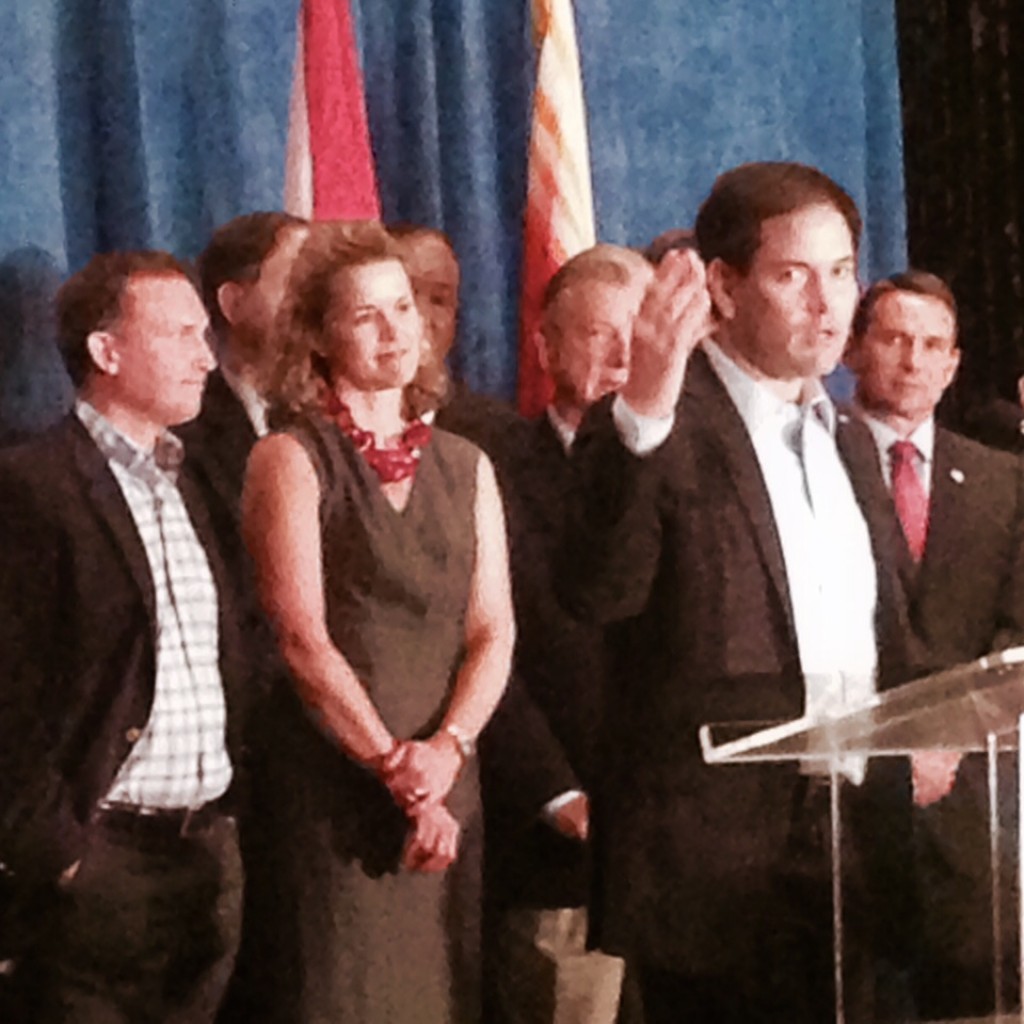 U.S. Sen. Marco Rubio and Lt. Gov. Carlos Lopez-Cantera, two of the brightest stars in the Florida Republican Party, came to Jacksonville on Monday afternoon to support another rising star: Lenny Curry, the Republican mayoral candidate who spent the last year rising from a name recognition deficit to a dead heat with incumbent Mayor Alvin Brown.
A cavalcade of GOP luminaries filled out the stage behind the three. They included Aaron Bean, Janet Adkins, Lake Ray, Paul Renner and Charles McBurney from the local Republican state delegation; Richard Clark and Robin Lumb from the Jacksonville City Council; along with State Attorney Angela Corey; and all three at-large council candidates.
The focus was on Curry, though, as Lopez-Cantera made clear, describing him as a "businessman" with "common sense" and a "vision for Jacksonville."
Lopez-Cantera took the long view in imparting the race's significance, saying that not just the future of the city, but also the "future of the state and the country" were at stake.
Clearly, 2016 is on his mind.
Rubio has always been at home in Duval County, a point he made when he recalled that the Duval Republican Executive Committee was among the first to let him speak when he started his run for U.S. Senate.
"This city can be anything that it wants to be," Rubio said. However, he added, Jacksonville is hamstrung by being "less safe than it was four years ago." The senator delivered Curry's talking points as if they were his own, demonstrating the important skill of making all politics seem local.
"I've never seen any city advertise 'Move here because the crime rate is higher than it was three years ago,'" Rubio said, before lambasting the mayor as saying problems were "someone else's fault."
"You haven't had the leadership you deserve," Rubio said, describing the city's fiscal management as "inexcusable."
"In elections like this, 30 votes can make all the difference in the world between victory and defeat," Rubio said.
Rubio introduced Curry, who acknowledged that the campaign has "been a long road."
"We started this campaign almost a year ago as underdogs," he said. "We are in a competitive race that we can win tomorrow."
"A year ago, most said this wasn't possible."
Curry spoke at some length about solving the "problems of today," including the budget debacles and violent crime, mentioning the "kids getting shot on a school bus" last week.
"You've had four years of a mayor who says the budgets are council's fault, and violent crime and murder are the sheriff's fault," he said.
It will be a "close election and the future of Jacksonville is at stake," Curry said.
Part of the reason the race ended up being this competitive: the growth of Lenny Curry himself.
During the past 12 months, I've covered more Curry events than I could have expected. A year ago, much of his platform and presentation was not field-tested.
Curry has not only talked the talk but walked the walk, through virtually all parts of Jacksonville, taking an orthodox Republican message and making it resonate in neighborhoods that aren't usually part of the GOP voter calculus.
His language about "neighborhoods that have been left behind" due to a lack of jobs and the feeling residents have that "no one (in government) cares about them" is real.
It is a fact that a Republican, and especially a Republican who emerged from party leadership, might have a tough job selling those points. But Curry makes them, repeatedly, often speaking about social justice issues with more specificity than his Democratic opponent.
Have voters heard him? The ultimate answer to that question will be revealed Tuesday night. The Monday afternoon event served as a reminder to the Curry loyalists that the candidate that they supported has grown throughout the campaign. He's also done the best job of any local candidate in recent memory of finding a way to deliver a free market conservative message in a way that meaningfully addresses the very real divisions and issues the consolidated city of Jacksonville has faced for years, indeed, for decades.