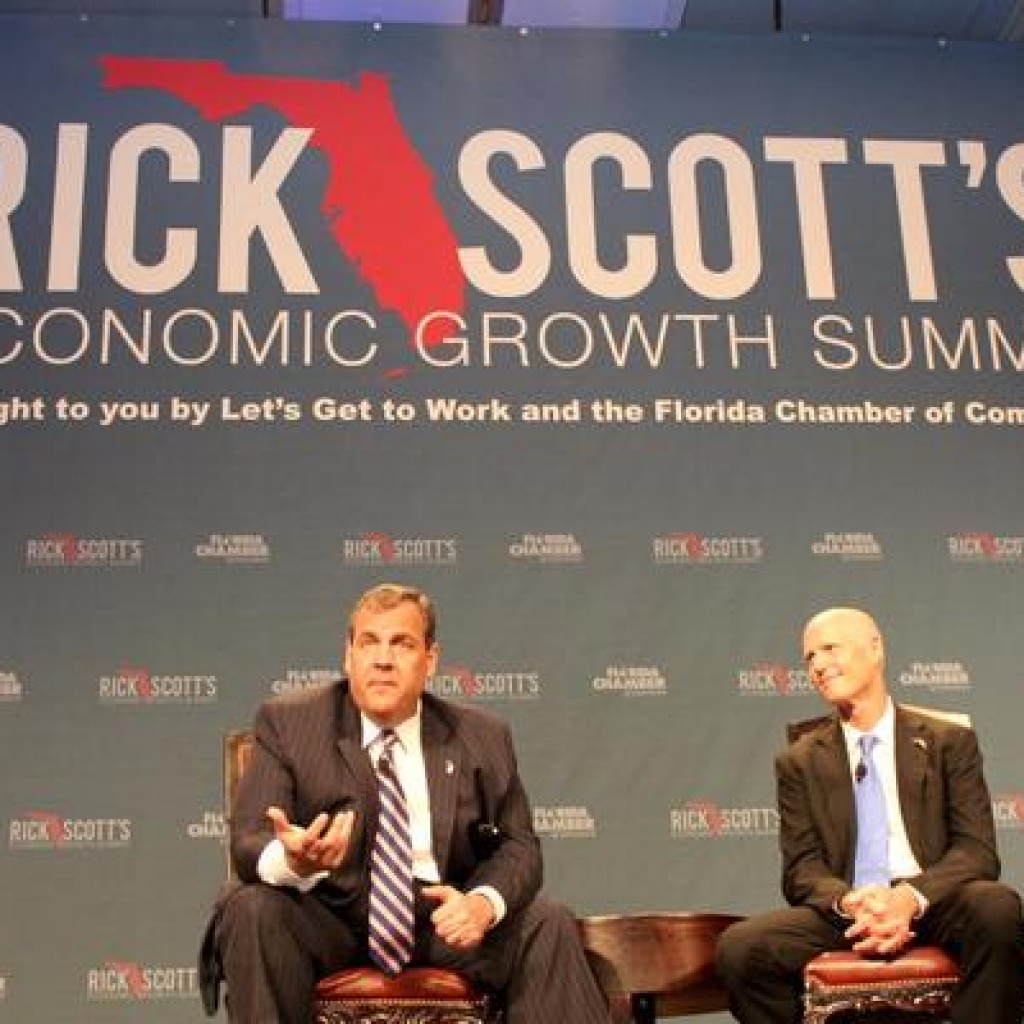 Chris Christie's road to the White House looks rough right now.
Still facing fallout from "Bridgegate," New Jersey's governor hasn't officially announced he's a candidate for the GOP presidential nomination. However, his announcement in Orlando on Tuesday that he'll make a major speech on immigration reform this month indicates that the scandal be damned: It's full speed ahead for 2016.
Christie is banking that his frankness about reforming Social Security and Medicare will inspire Americans to respond to him in the primaries next year.
Pointing out that 71 percent of the federal budget goes to entitlement programs, he said rhetoric about education, national defense and tax cuts means little unless there's discussion about what to do about Medicaid, Medicare and Social Security.
When an audience member asked about the lack of funding for scientific research, he turned back to entitlement spending, saying that as a government, "We're making choices that our hurting our future." He said funding for the National Institutes of Health is up by only .1 percent this year, while Medicaid spending is up more than 16 percent. He said that all of the things that led to the tech and bio-tech boom in this country "we can't even imagine right now," because of the vast amounts devoted to entitlements.
As he has done on the campaign trail in other places, Christie contended he's the only candidate talking these hard truths. "Who else is talking about this?" he said, and asserted that the people are ahead of the politicians on this issue.
On immigration, he said there needs to be a common-sense way of dealing with the issue, "and for me, it's not about building a wall or fence around the entire border. That's not only inefficient and ineffective, but I've never seen a wall or fence that someone with human will and spirit can't find their way over, under or around."
He said employers should be pressured, using E-Verify to penalize those who use undocumented workers.
Christie has worked with a Democratic Legislature in New Jersey, and he joked about how messy it's been. He also said one under-appreciated aspect of leadership is the ability to build personal relationships.
"A lot of the folks in the Legislature, I can't stand them," he said, adding that he's made that exact comment in front of members of the Jersey Legislature. "But I don't have the luxury to say, 'I'm not going to deal with you.' I'm the governor."
To reinforce the point, he told of an exchangewith FBI Director James Comey, when Christie was a U.S. Attorney in New Jersey and Comey worked in the Justice Department under President George W. Bush. Comey said he was about to speak with the editorial board of The New York Times.
After Christie asked Comey why he was meeting with a (presumed) part of the media that wasn't fair to the Bush Administration, Christie said Comey told him: "Chris, you don't get it. It's much harder to hate up close."
"Think about it," Christie said in recounting the story. "It's an important piece of governing advice. It is much harder to hate up close."
Christie is still not an official candidate, but he sounds like he's going there. He did not meet with members of the media after his stage appearance  in Orlando.