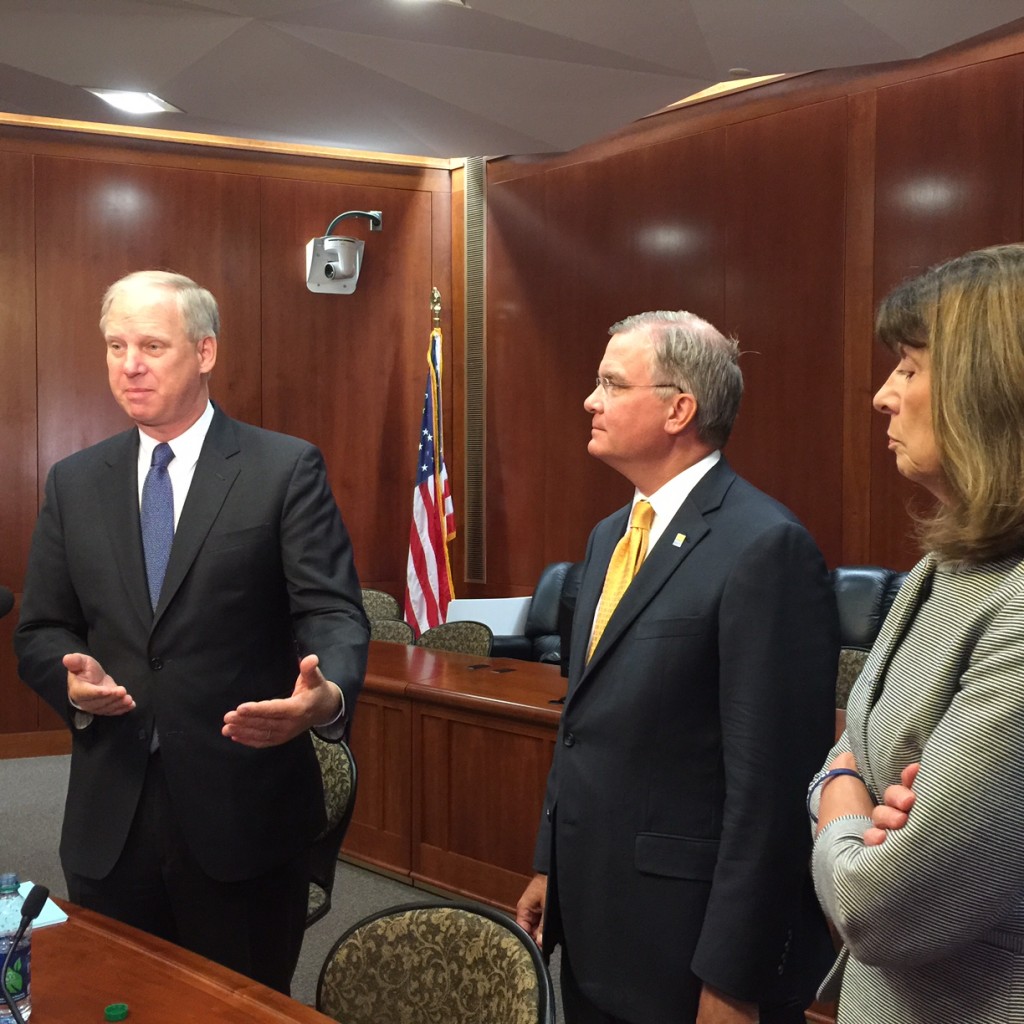 The Commission on Healthcare and Hospital Funding met in the bowels of the Capitol in Tallahassee on Thursday morning before a small audience. Meanwhile, while those with an interest in health care debate watched the House of Representatives take up a bill to bring more Medicaid fiunding into the state to fund health care access.
Assembled in the Cabinet room in the Capitol's basement, the commission heard presentations from Agency for Health Care Administration staff on hospital profits. Members also were told details about the new Low Income Pool proposal that Deputy Secretary for Medicaid Justin Senior sent to the federal government just days before the Legislature's Special Session on budget and health care.
Stacey Lampkin, an AHCA actuary, told the commission that the agency has not yet received approval on the new, alternative formula that Senior had floated for the $1 billion funding in 2015-16. However, she said it hopes to have approval from the federal government soon. Discussions on 2016-17 funding with the federal government have focused on the $600,000 LIP limit and not how the state will direct the money, though Lampkin did acknowledge that the agency is looking at a similar funding formula for the $600,000 LIP pool.
The health care panel will meet in Tampa on June 17 where, commission members and agency Secretary Liz Dudek said, the panel hopes to hear from two to four area hospital executives discuss how their hospitals run. The idea is for the group to hear from hospitals that appear to be efficiently run and others that aren't as efficiently operated.
Tampa is the first stop on the so-called "Transparency Tour." Other cities include Jacksonville and Miami. Scott announced the tour as his commission — created to examine how taxpayers' money is spent in health care — grapples to get information from hospitals that the governor requested they submit, including salaries and compensation packages for chief executive officers.
Many hospitals still have not provided the information and Dudek said at the Thursday meeting that the governor's staff is pulling the information from federal tax filings.
At publication time it had not been decided which hospitals would be asked to appear at the meeting or even where the meeting would be held.
Although Scott created the group to examine taxpayer-funded healthcare and included more than just hospitals, the group's focus has been on hospitals, only and on Medicaid only.
Dudek said it had been the intent to have discussions outside the hospital industry but she isn't sure that the group has finished its discussions and she doesn't want to "short change the members from getting the information they need."
She said she also wants to make sure that the Office of Insurance Regulation would be available to address the members.
"It was going to be on the next calendar," Dudek said, adding that continued discussions have pushed it back. "It will be on a future calendar for sure."
Commission Vice Chairman Tom Kuntz, who chaired Thursday's meeting, agreed with Dudek and said the commission will broaden its scope to to look at insurance companies and health plans when it's ready "to get to the next step."
"We will get to others, but we want to make sure we want to understand that we are ready to get to the next step. It's just a process," said Kuntz. "I think the biggest mistake we could make is if we just tried to move from one thing to another without accomplishing what we want to accomplish."