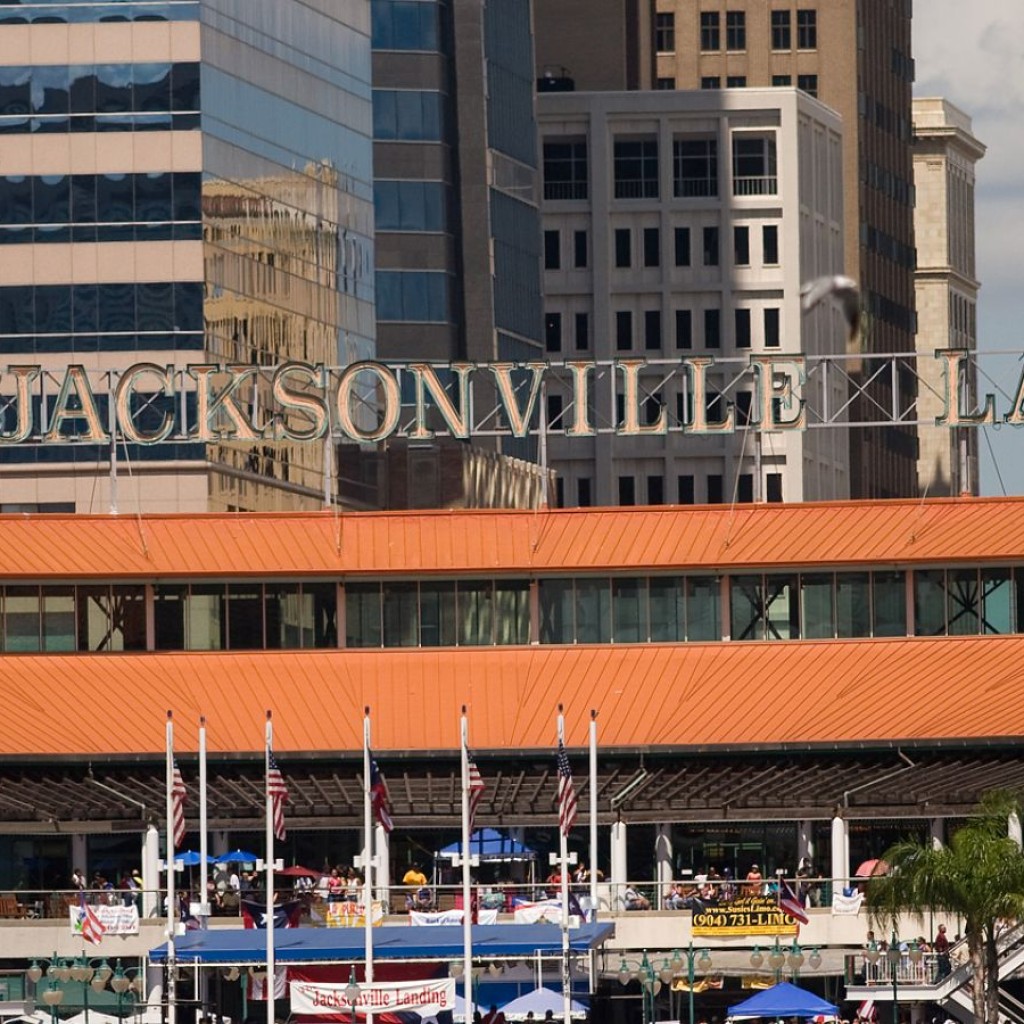 Could the iconic downtown Jacksonville Landing be torn down and a rebuild started from the ground up?
That question will be on the table Tuesday night at a workshop on the Landing's future sponsored by the city's Downtown Investment Authority.
"We are starting from scratch," DIA board member Doris Goldstein says. Goldstein spoke during an appearance on WJCT's First Coast Connect, and said the evening meeting at the Landing's Blue Room will be the first in a series of public and private sessions aimed at identifying a vision for how the Landing should be used and the role it should play in the city's urban core.
"There has been plan after plan," she acknowledged. "But what's different this time is it's a collaborative effort. We know nothing can be done without everyone agreeing. So rather than tossing plans back and forth, we've decided to get together with an expert design team with urban waterfront experience."
The DIA has tapped design consultants Wakefield Beasley & Associates and Urban Design Associates for the Landing redo. Goldstein said UDA was involved in a major redesign of Pittsburgh's waterfront, and also, Cincinnati's riverfront.
"They're anxious to get going. We're going to come up with a plan that has everybody's input and a lot of enthusiasm," she said.
Jacksonville's downtown has a lot of interesting moving parts at the moment, and as the new Lenny Curry mayoral administration takes the reins of power July 1, urban core advocates are watching closely to see whether the momentum of the past several years continues.
"It's an exciting time for downtown," said Tim Gibbons, editor of the Jacksonville Business Journal. "If we get the Shipyards, the Landing, and the Laura Street Trio and Barnett Building, downtown will be a radically different place."
Cynics might point out that when it comes to downtown development efforts in Jacksonville, bold designs and plans have often fallen victim over the years to funding shortfalls and shifting political winds.
Goldstein said this time, change really is in the air.
"I understand the cynicism, but this is a really different approach."
Added Gibbons, "There is a lot of excitement. At the same time, we have a new mayoral administration dealing with a laundry list of pressing financial concerns and a promise not to raise taxes. So this is something to watch."