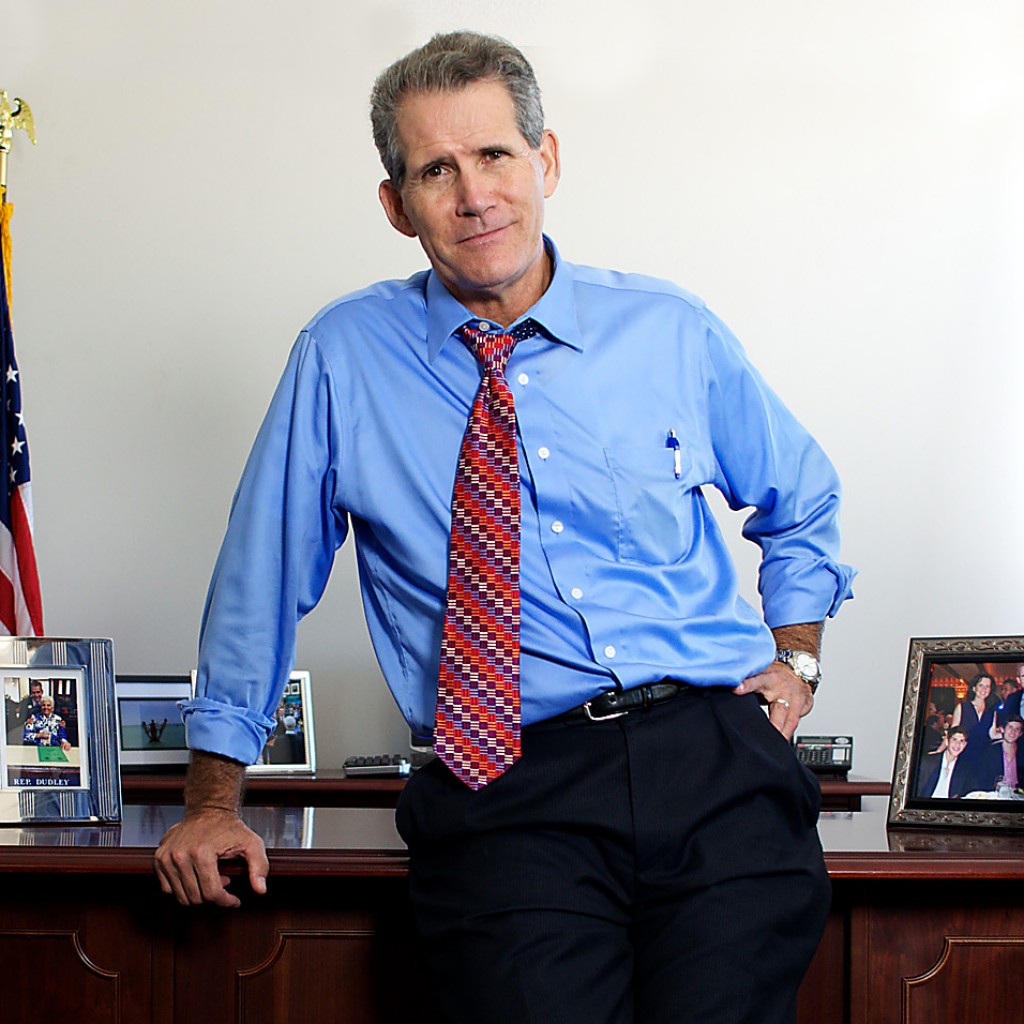 No "fracking fees."
That was the message from a press conference held Monday afternoon in St. Petersburg, as state Representatives Dwight Dudley (D-St. Petersburg), Jose Javier Rodriguez (D-Miami), and Amanda Murphy (D-New Port Richey) spoke out against a decision last week by the Florida Public Service Commission that would allow Florida Power & Light to collect up to $500 million per year from customers to further invest ratepayer money in natural-gas production. FP&L has roughly 4.6 million customers, but none in the Tampa Bay area (where Duke Energy and TECO are the main providers).
Fracking is the controversial process of drilling down into the earth before a high-pressure water mixture is directed at the rock to release the gas inside. Water, sand and chemicals are injected into the rock at high pressure which allows the gas to flow out to the head of the well.  It's controversial because of concerns that potentially carcinogenic chemicals used may escape and contaminate groundwater around the fracking site. The industry has suggested pollution incidents are the results of bad practice, rather than an inherently risky technique.
"Consumers are getting screwed again," Dudley said in a phone call with Florida Politics late Monday afternoon. "A five-member panel of unelected people decide they're going to allow this huge corporation get $500 million a year from ratepayers to subsidize and pay for fracking – drilling exploration and production of natural gas and oil," he said with obvious disdain, adding, "It's a staggering ripoff."
Energy companies are using more natural gas than ever in terms of their energy portfolio in Florida and across the nation. They're acquiring that through third parties that are doing hydraulic fracking in other parts of the country. Fracking is not happening right now in Florida. In late April, a proposal by Naples Republican state Senator Garrett Richter that would put "responsible regulations" in place for fracking failed to advance.
What is new here is that FP&L is now in the gas drilling business. That actually started last December, when the PSC allowed them to recover over time the cost of its investment in a natural gas company in Oklahoma called PetroQuest. The Office of Public Counsel, which represents taxpayers in utility matters have appealed that decision by the PSC up to the Florida Supreme Court. They say the project will benefit the company's shareholders at ratepayers expense.
Now that their request has been approved, FP&L will earn a 10.25% rate of return on related natural gas fuel charges, which have historically been a pass-through cost. The PSC has estimated that the initial investment will save two dollars annually for the average household, a savings that Dudley openly mocks.
"Let's have a party!" he says sarcastically. "Oh, that's right. I can't have money of a party for $2 a month, can I?"
But Florida Power and Light says they are avoiding a middle-man now, which they say over time will save money for its customers.
"Since 2001, our investments in natural gas energy have prevented more than 85 million tons of carbon emissions and saved our customers more than $7.5 billion on fuel costs," says Mark Bubriski, a spokesman for Florida Power & Light. "Today, our typical customer bill is about 30 percent lower than the national average while our system is among the cleanest in the U.S. Our latest proactive initiative is designed to continue saving customers money by obtaining a portion of the clean, U.S.-produced natural gas we use directly from the source, cutting out the middlemen that our customers currently pay."
The Democratic lawmakers are not calling for any legislation to attempt to reverse the decision. Dudley says they just want people to be aware what FP&L is up to, warning energy customers in the Tampa Bay area and other parts of the state that while Florida Power & Light is allowed to collect this money directly from ratepayers, other energy companies will soon emulate them.
"It's coming to Duke-land. It's  coming to a city and a town near you," he gloomily predicts. " We have got to take action. We have got to stand up to these greedy bullies and push 'em back. That's what's gotta happen. All these companies have a deep interest in getting free cash."