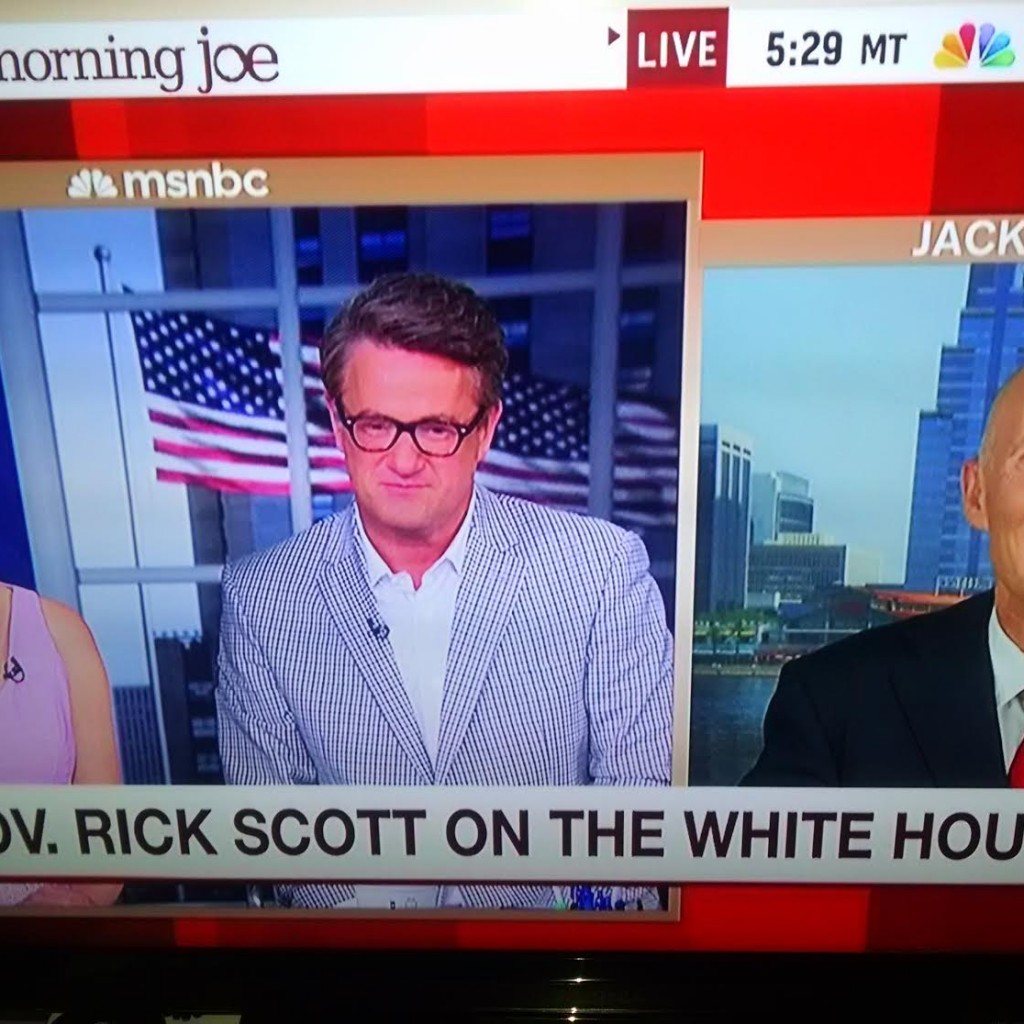 Since being elected in 2010, Rick Scott has never been shy about traveling across the country aiming to recruit companies to do business in the Sunshine State, regardless of whether he's been invited. Already this year he went cold-calling CEOs in California and Pennsylvania, and Thursday he visits another blue state: Connecticut.
In advance of his two-day set of meetings, the governor teamed up with Enterprise Florida last week to cut a radio ad touting the tour He also got five minutes on cable news Thursday morning to make a pitch to Nutmeg State CEO's and those across the country as well in an appearance on MSNBC's Morning Joe program with hosts Joe Scarborough and Mika Brzezinski.
"Connecticut is a beautiful state. Wonderful people," Scott said to Scarborough, a Connecticut resident who has blasted recent tax increases in his state. "But your children, and your grandchildren when you have them, are not going to be able to get a job, because they're ruining the business climate in Connecticut. You know, we've added 879,000 jobs in a little more than four years, because our taxes are lower, we have less regulation. We loooove companies in our state, and we've love, of course, Mika and all of you to come down here."
"Well, it's not going to happen," Scarborough said with a smile, saying that his children are in schools in Connecticut and he has no desire to move back to Florida, though he says he frequently returns to visit his home state.
There's no doubt, though, that some business executives would at least like to have leverage with Connecticut lawmakers and are open to being recruited.
General Electric has its headquarters in Connecticut and CEO Jeff Immelt recently notified staff members he would begin exploring options for moving the company out of state. The Connecticut Legislature maintained a temporary corporate tax increase in its most recent budget, keeping the rate at 9 percent.
"No customer is going to say, 'I'll pay you more money for your product or service because you pay higher taxes or caused you to comply with unnecessary regulation, because it cost you a lot of money to get a permit, or because you can't find the right work force'," Scott said when asked how he can appeal to a CEO.
"So it's education," he said. "It's workforce. It's income taxes. Property taxes. Sales taxes. Attitude. Does your government at the state level, at the local level, do they help your business? Do they help you attract the right employees? We're doing all those things in Florida. That's why last year 250,000 people moved to our state. We have almost 300,000 job openings in our state. Our workforce is growing. We've got the No. 2 most number of aerospace and aviation establishments, three most number of technology companies. This state is on fire. We are really doing well."
Scott was noticeably less expansive when asked who he favors in the GOP presidential sweepstakes, saying that it's still too early in the campaign. When asked whether he preferred Jeb Bush or Marco Rubio, Scott added Florida residents Ben Carson, Mike Huckabee and Donald Trump to the mix (Trump has an estate in Palm Beach County). He ignored Brzezinski's query as to whether Trump should be considered a serious player in the race.
"I like all the Republican candidates," he responded blandly.